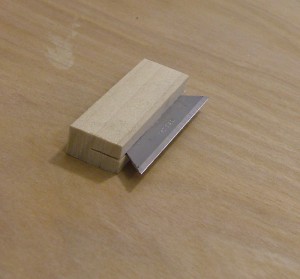 I came up with this nifty tool out of necessity while doing a custom cabinet installation. I had to fabricate some pieces on the job and noticed that there were milling chatter marks and tool burns on some boards that I had to finish and get installed that day.
I didn't have a cabinet scraper with me, so I grabbed a utility blade and started scraping away the marks. Holding the bare blade was far from comfortable, so I reached for my little trim saw and cut a short length from 1/2″ thick hardwood, about 3/4″ high, and about 1/4″ shorter than my utility blade. I then cut a 3/8″ deep kerf lengthwise and tapped the blade in for a tight fit. Voila! The comfort level was acceptable and I found that I could add some additional elbow grease with each pull–due to the new wood handle.What I like about this little tool was that I could get right into recesses and tight spots if I needed.
I've also used this tool for refinishing antique furniture to get into awkward corners. When the blade gets dull, I just slip in a new one. Here's another tip: If your hand saw cuts a kerf a bit wider than the thickness of the blade, just mix up a little 5-minute epoxy and glue the blade into the slot.

Become a Member or Log In to see the entire article!