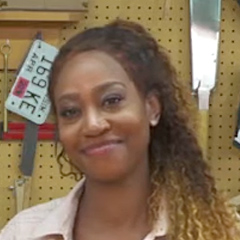 The Unknown Tooth
Char Miller-King
I'm not a huge hand tool guy, but I do have some nice handsaws in my shop. A few of them were given to me by my mentor George Johnson. One of those saws, a rip saw, has a weird little tooth or hook on its top edge, near the far end of the blade. I've often wondered what the deal was with that tooth, and took advantage of Char Miller-King being in the shop to talk it through.
Char's guesses
Char had a few ideas about the tooth. Is it an indicator of where to stop on the pull stroke so you don't pull the saw out of the kerf? Could it be related to nails in boards?
From George
Some people say it could have to do with hanging the saw on a wall, but there are reasons that doesn't make a lot of sense. Maybe it's a "starter tooth" that you would use first to create a starting point for cuts.
The bottom line
At the end of the day, neither Char nor George know exactly what The Unknown Tooth is all about. But it's very fun to speculate why it was once added to handsaws. If you have an idea, leave it in the comments.
More about handsaws
Whether you're a hand tool user or not, handsaws definitely have a place in a wood shop. Get the lowdown on handsaws to help you choose the best saw for your shop.
Popular Hand Tools videos
Explore videos by Char Miller-King