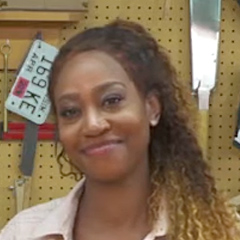 Choosing a Table Saw Blade
Char Miller-King
Choosing a table saw blade can be an intimidating task. There are numerous materials that are used in a shop, along with several different types of cuts, and a wide variety of blades that are purpose built for nearly every task that you can imagine on your table saw. If you own a table saw you owe it to yourself to understand the differences in the range of saw blades that are available today. Choosing the right saw blade will allow you to cut through your material without overworking your saw's motor, and will leave an appropriate surface on your work piece.
While there seem to be an infinite number of variations of saw blade attributes, choosing a table saw blade is not a daunting task if you understand the three higher level categories of blades:
1. Ripping blade. A ripping blade features a lower tooth count and a deeper gullet, allowing for rapid cutting with the grain as you rip a wide plank into narrower strips. This style blade is designed to maintain a straight cut as it travels quickly through stock, placing minimal stain on your saw's motor during this "workhorse" operation.
2. Crosscut blade. A cross-cut blade has a higher tooth count compared to a ripping blade, and uses a tooth grind pattern that is designed to make a crisp, straight cut as it moves across the grain of your work piece.
3. Combination blade. The combination blade captures some of the attributes of a ripping blade as well as a crosscut blade, delivering the capability to perform most tasks on your table saw without having to swap out the blade.
When you are choosing a table saw blade, keep these categories in mind, and choose a table saw blade that is most suitable for your woodworking requirements.
Explore videos by Char Miller-King