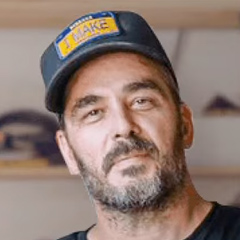 Making Thin Pieces on a Table Saw
Jimmy DiResta
Many projects require a woodworker to rip a thin strip on a table saw. There are jigs available to assist with that, making a repeatable and safe process. But when you get down to that last remaining rip, and you just want to shave a small amount, the jig that you are using might not be able to deliver the quality and safety that you require. That's a situation where you can benefit from the experience of expert maker Jimmy Diresta.
Jimmy's approach provides a solution to one of the problems associated with ripping a thin strip, where the cut-off or the strip itself can get caught in the opening directly behind the blade, creating a dangerous situation.
A couple of important notes before using this approach:
First master the table saw. A good fundamental knowledge of how to safely use a table saw is important before taking on advanced techniques such as this.
Safety first. The blade guard is removed for Jimmy's process, making it an advanced technique that requires extra precaution. If you prefer an approach that allows you to keep your blade guard in place check out this cool sled that George designed. Used with a zero clearance insert it can deliver similar benefits as the approach that Jimmy shows us here.
Safely completing the rip. When ripping thin strips, one of the challenges is how to control the piece as you complete the cut, where your jig or push stick passes the blade. Notice the clever technique that Jimmy uses as he completes the rip.
This approach is a good one to have in your arsenal. As you consider safe approaches to ripping thin strips on a table saw, also take a look at this article that looks at three alternative commercially available thin rip jigs.
Explore videos by Jimmy DiResta