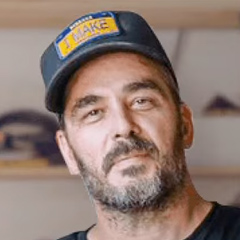 Making Bandsawn Letters
Jimmy DiResta
Jimmy Diresta spent a bunch of time as a kid cutting names out of boards, working for his Dad at events like fairs. He developed some great techniques for easily laying out and cutting the letters, all done freehand. This is a very fun and fast way to make bandsaw letters, and provides you with a great new bandsaw skill.
Blade selection
Blade selection for this process is important. You need a few attributes; the blade should have fine teeth so you end up with a good surface after the cut, and the blade should be narrow enough to allow you to turn a fairly tight radius. These features come together in a 3/16" 10 tpi (teeth per inch) blade.
Nibbling
Any time you're doing details with your bandsaw knowing how to nibble away waste is a great skill. Nibbling allows you to use the teeth of the blade like a power rasp, quickly, cleanly and accurately removing small amounts of waste. Jimmy shows you how to do this on his hand-cut letters to give them better definition and clean them up.
Layout
You could use a tape measure and square to lay out the letters, but it's more fun to do the layout freehand. Once you do a few times you'll get the hang of it, and get good at it. Doing the layout and letters freehand gives the sign a very custom, hand-made look.
Where to start
Jimmy treats the easy letters like a warm up exercise for making the sign and does those first. Letters with straight lines and few curves are the easy ones.
More about bandsaws
WWGOA has LOTS of great info on bandsaws. Be sure to check out our bandsaw articles and videos.
One

Response to "Making Bandsawn Letters"
Explore videos by Jimmy DiResta