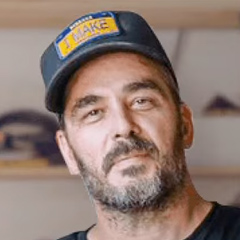 Where Do New Woodworking Ideas Come From?
Jimmy DiResta
As woodworkers we are always on the lookout for new woodworking ideas. But how do we maintain a practice of finding and developing these new woodworking ideas? When George hosted Jimmy Diresta in his shop recently, the two veteran makers compared notes on how they discover and refine new woodworking ideas.
Some of the techniques that came out of this conversation about finding and developing new woodworking ideas include:
Be observant. Train your mind to constantly be on the lookout for new designs and ideas that could be adapted to your own projects, perhaps in ways that the original designer never considered.
Think about how you can improve on an existing idea. As you work on a design for a new project, review existing examples and ask yourself how you can make it better, and make it your own design. Sketch your ideas, try variations, don't let yourself settle on an early draft.
Keep an "ideas notebook." Jimmy finds that carrying a notebook is not only a great way to capture ideas in the moment where he sees something interesting, but it is also a constant reminder to be on the lookout for new ideas to capture on the blank pages of his notebook.
Tap into your inner ten year old. Thinking like a child can encourage us to consider a more whimsical approach to our project designs. Children are not encumbered by tradition or convention. They see things with a fresh perspective that can inspire new approaches to solving design challenges.
Whether your next project is for your shop, home or garden, allow yourself the freedom to explore creative new woodworking ideas to add some unique flair to your design.
Popular More Woodworking Projects videos
Explore videos by Jimmy DiResta