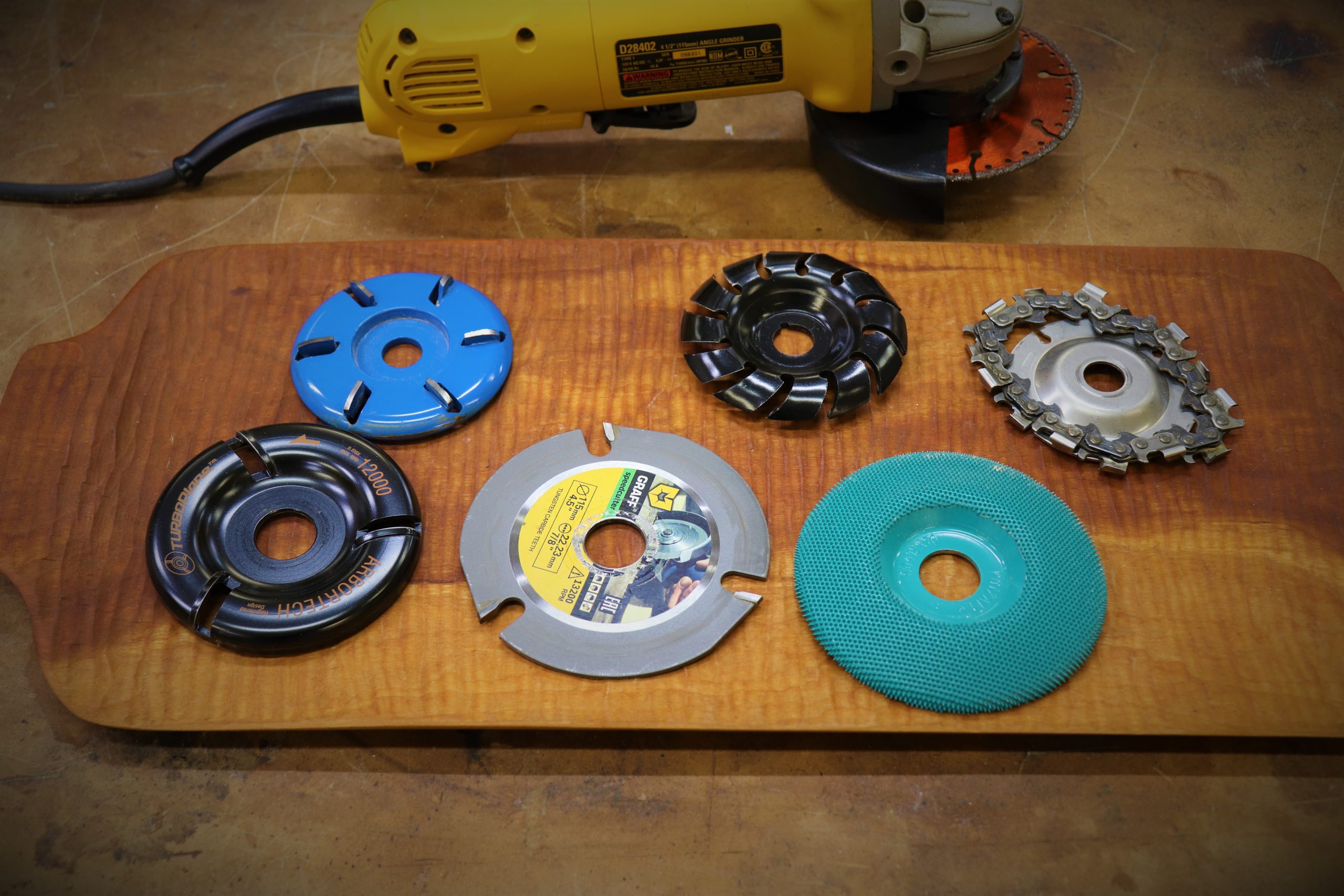 We woodworkers can sometimes find ourselves stuck "in the box," producing projects with a large majority of flat surfaces and square corners. For many projects, this is just fine, but sometimes we need to explore the boundaries of our wood shaping capabilities.
Power carving offers a great way to introduce some contoured surfaces into our projects. It can even open a world of projects that are not readily available to us with our traditional shop tools. But with the overwhelming array of tool options on the market today, where do you begin pursuing power carving? One popular approach is to begin by adding a carving disc to the angle grinder that you probably already own for other applications. While that narrows your options to the carving discs that will work on your angle grinder, you will find that this approach still leaves a dizzying number of options.
My goal is to help you understand some of the different styles of carving tools that are available and to help you choose one (or a couple) that will best help you to achieve your goals.
There are four basic functions that a power carving disc can perform, and the design and build quality will determine their effectiveness at each task:
Scoop out material, creating a concave shape. This is commonly done when removing the bulk of material for a bowl or a tray.
Round over or chamfer, creating a convex shape around the edge of a project.
Flatten an irregular shape, such as the bottom of a log that you are preparing to cut into boards on a bandsaw.
Cut detailed lines, such as features on a face or shadow lines.
In looking at carving discs, I included six different styles, evaluating them in terms of their capabilities to perform each of the tasks listed above as well as the safety of each unit. The primary safety factor that I examined was the tendency for the disc to suddenly "grab" or pull when encountering a non-ideal cutting situation such as a knot, or engaging two opposing surfaces at once.
Exploring Options
Arbortech Turbo Plane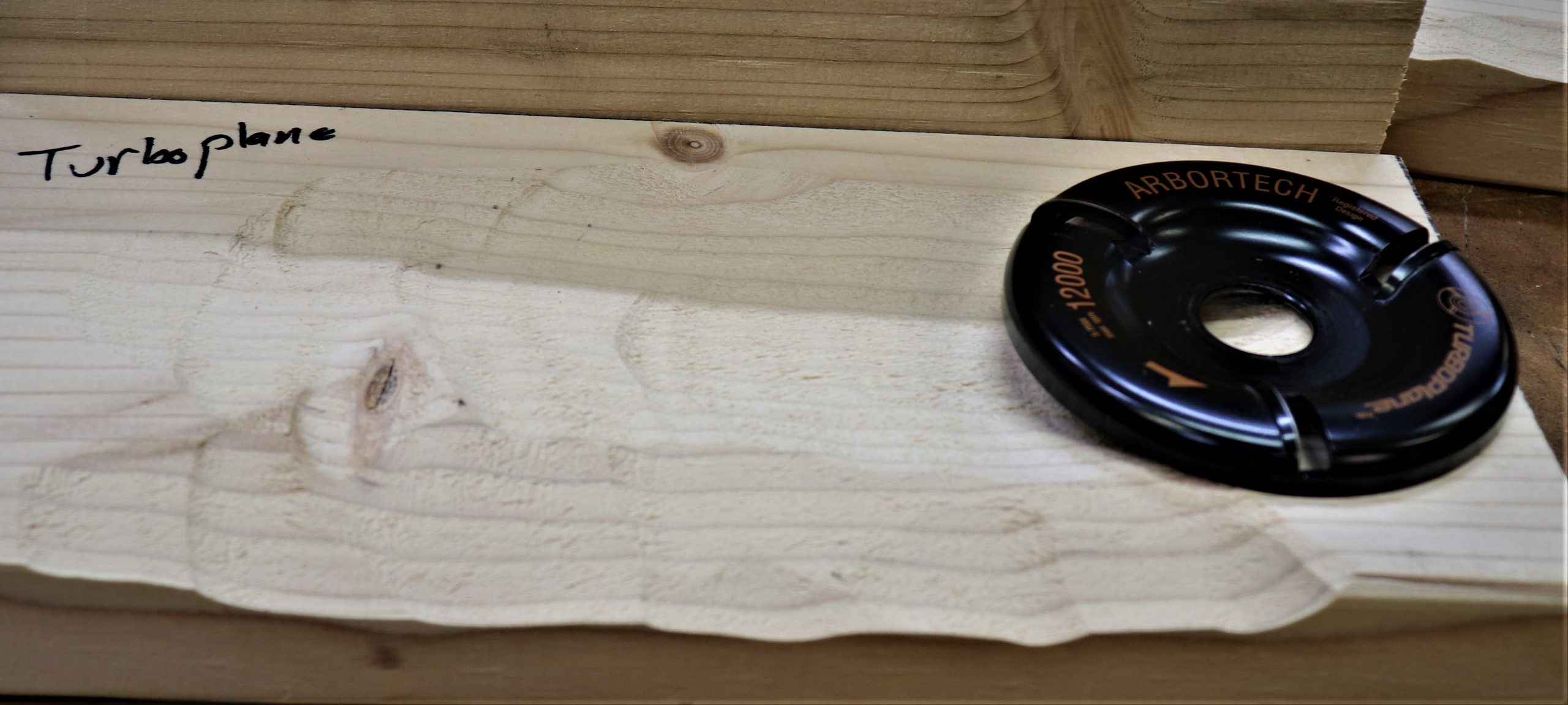 This is a high-quality disc designed to operate like a planer, with carbide cutters welded onto a sturdy steel frame. The cutters apply a shearing action to the wood, which produces a pleasant pile of fluffy shavings rather than dust, as it removes stock. The Turbo Plane removes stock quickly, excelling at flattening uneven shapes, and scooping out material. The cutters do not extend to the top of the disc, so the non-cutting top edge can be used for pattern cutting (like a bearing on a router bit), a useful capability for projects such as sculpting a rocking chair seat. This non-cutting top edge means that Turbo Plane isn't great at detail work, which requires cutting on the edge of the disc. The Turbo Plane left a superbly smooth surface and was only a bit grabby when I hit knots, particularly on hardwoods.
King Arthur Tools Lancelot 14-tooth Disc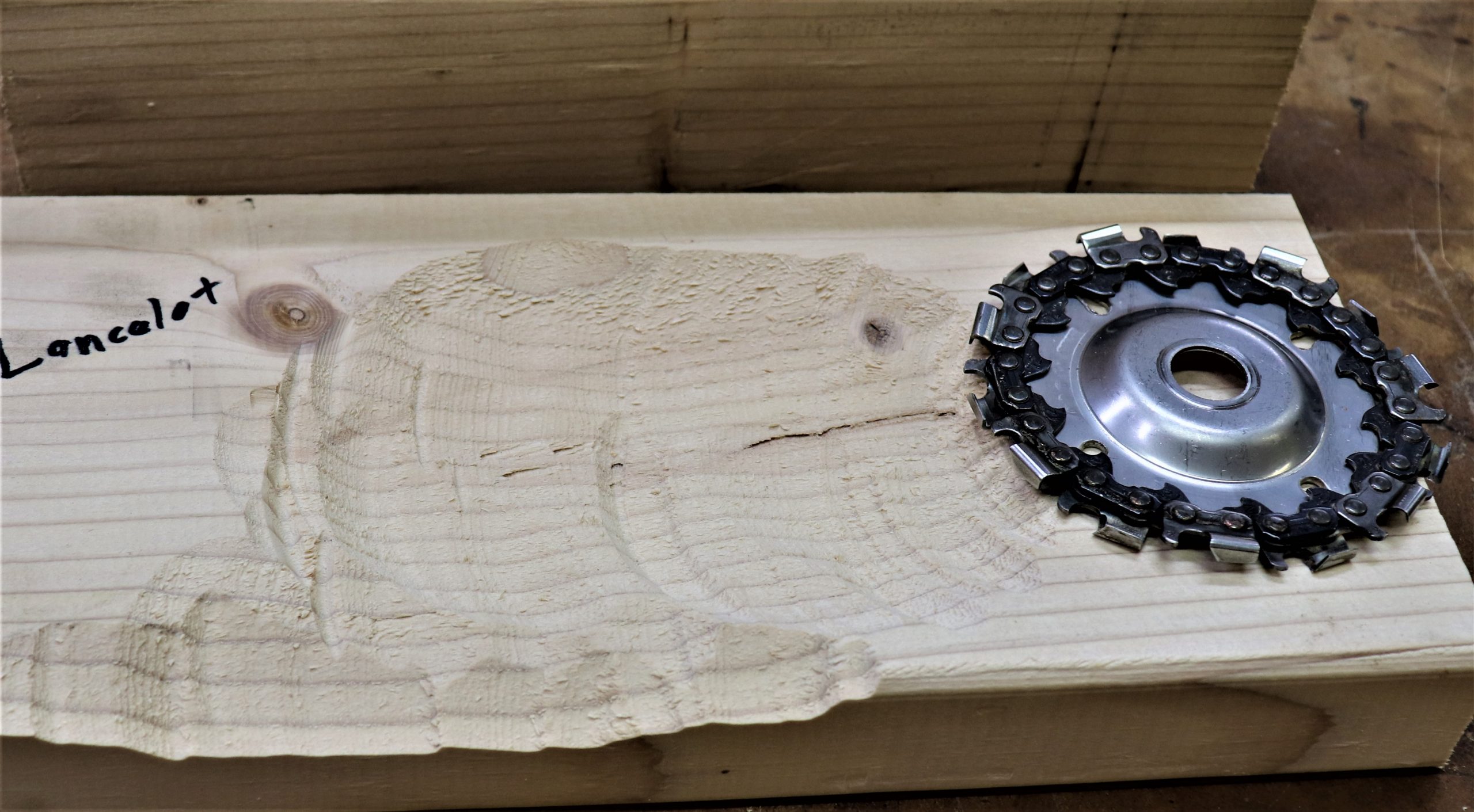 The Lancelot uses a chainsaw style design and cutting action capable of quickly removing stock for any cut style, leaving a rough surface behind. This tool excels at stock removal, but the aggressive cutting leads to frequent grabbing and jerking, making it the most difficult tool in the test to control. This propensity to grab and kick back leads me to issue a stern cautionary warning to any new carvers interested in exploring power carving.
ToolCool Shaping Disc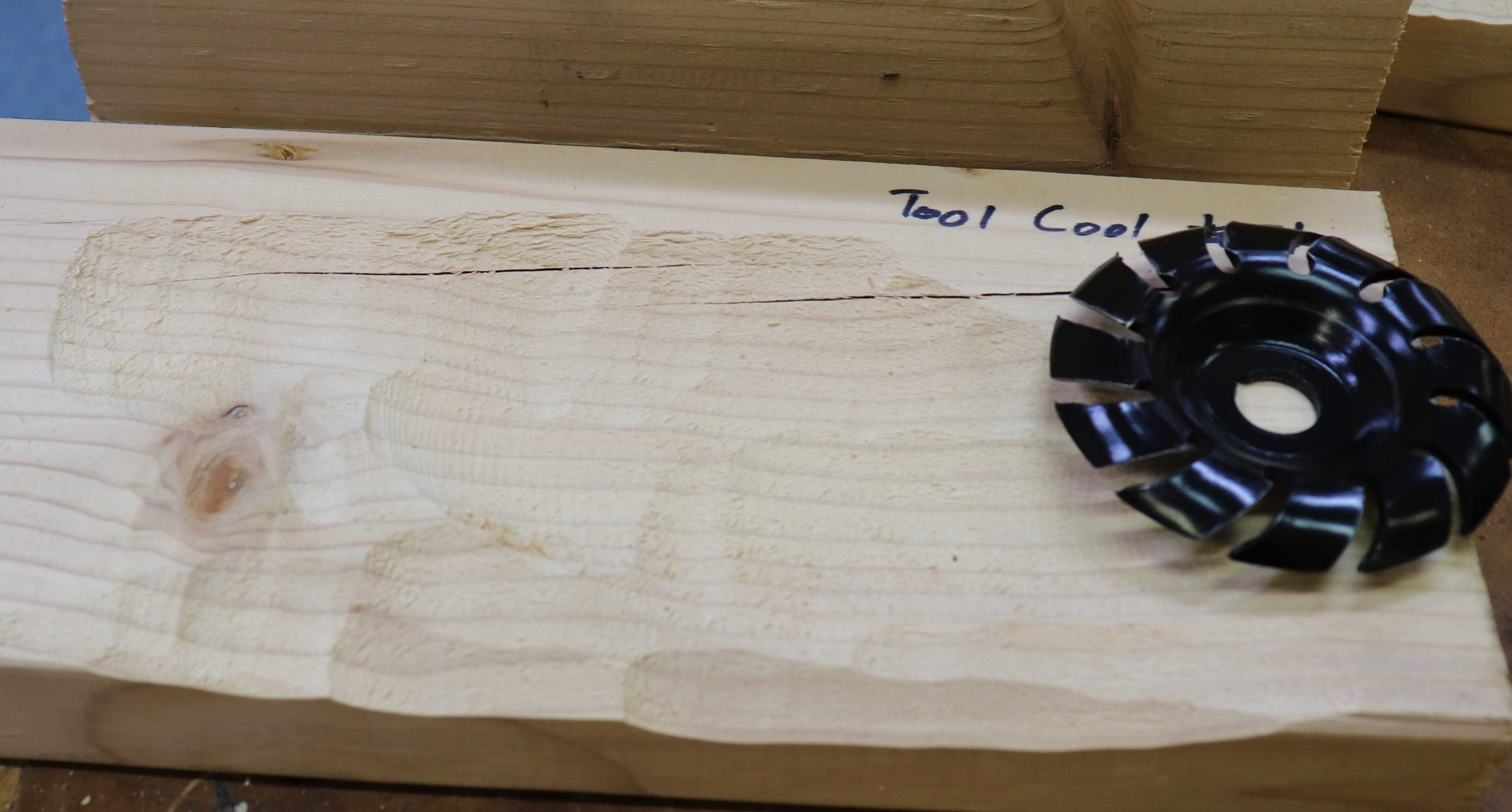 This unique lightweight fan-style design offers slow, controlled stock removal for scooping or rounding over applications, and leaves a nice surface behind. The gentle cutting action creates a safe shaping experience, and I didn't detect any tendency for the tool to grab and create an unsafe situation. The large radius edges are not ideal for detail work, the manganese steel cutters dulled more quickly than the other tools, and appear to be challenging to sharpen.
AxPower Six Tooth Carving Disc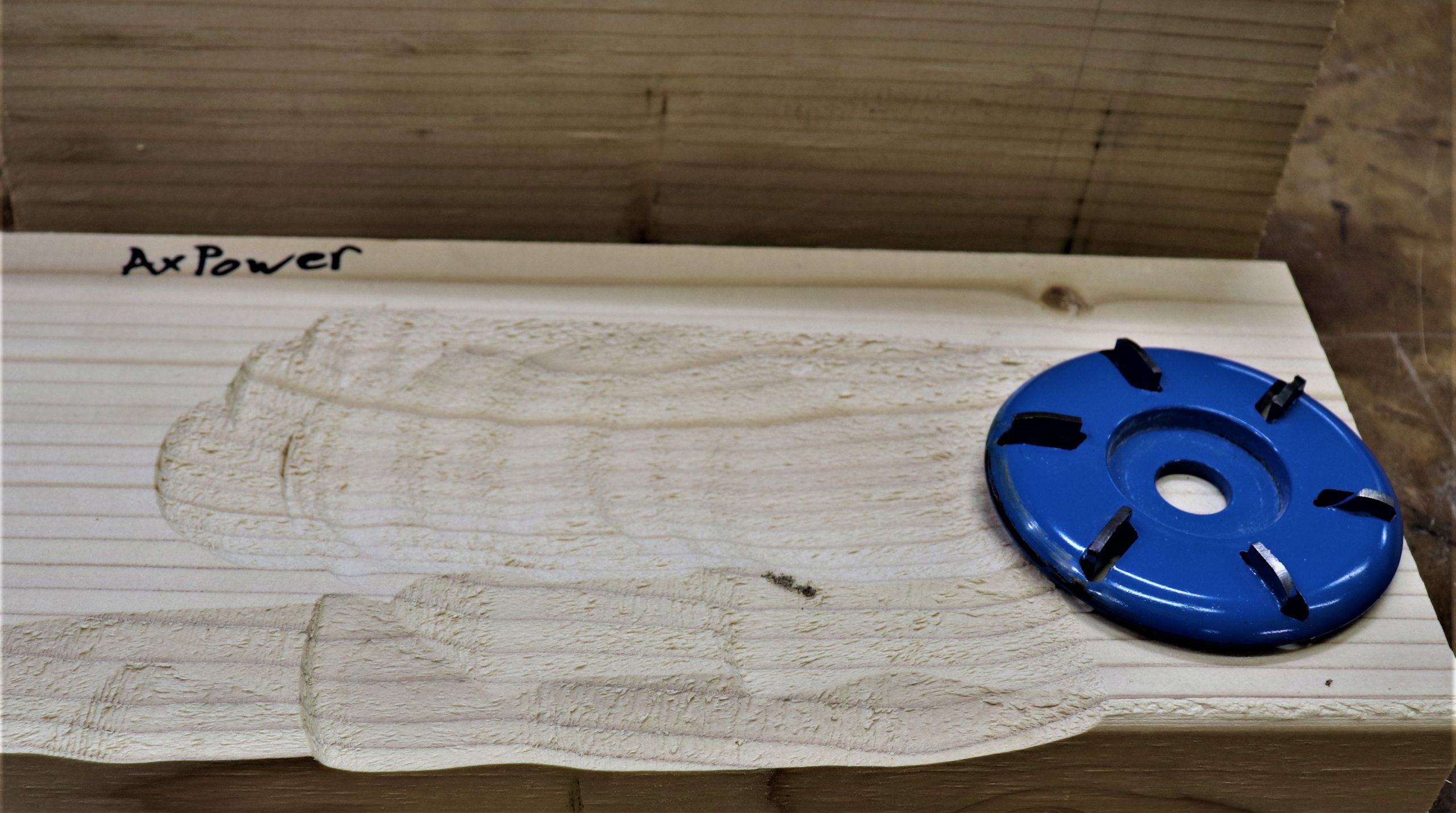 I wanted to include a lower cost planer style tool, and this one hit the mark. The design is simple and less refined than the Turbo Plane, with a smaller radius and more aggressive cutter profile where the teeth extend 3/16" past the base of the disc, as opposed to 1/16" on the Turbo Plane. The length of exposed teeth raises safety concerns. Also, the build quality on this tool was marginal as it arrived with one badly chipped tooth. I also had to buy and modify a special flange nut to mount this tool onto my angle grinder as the standard flange nut wouldn't fit.
Graff Speed Cutter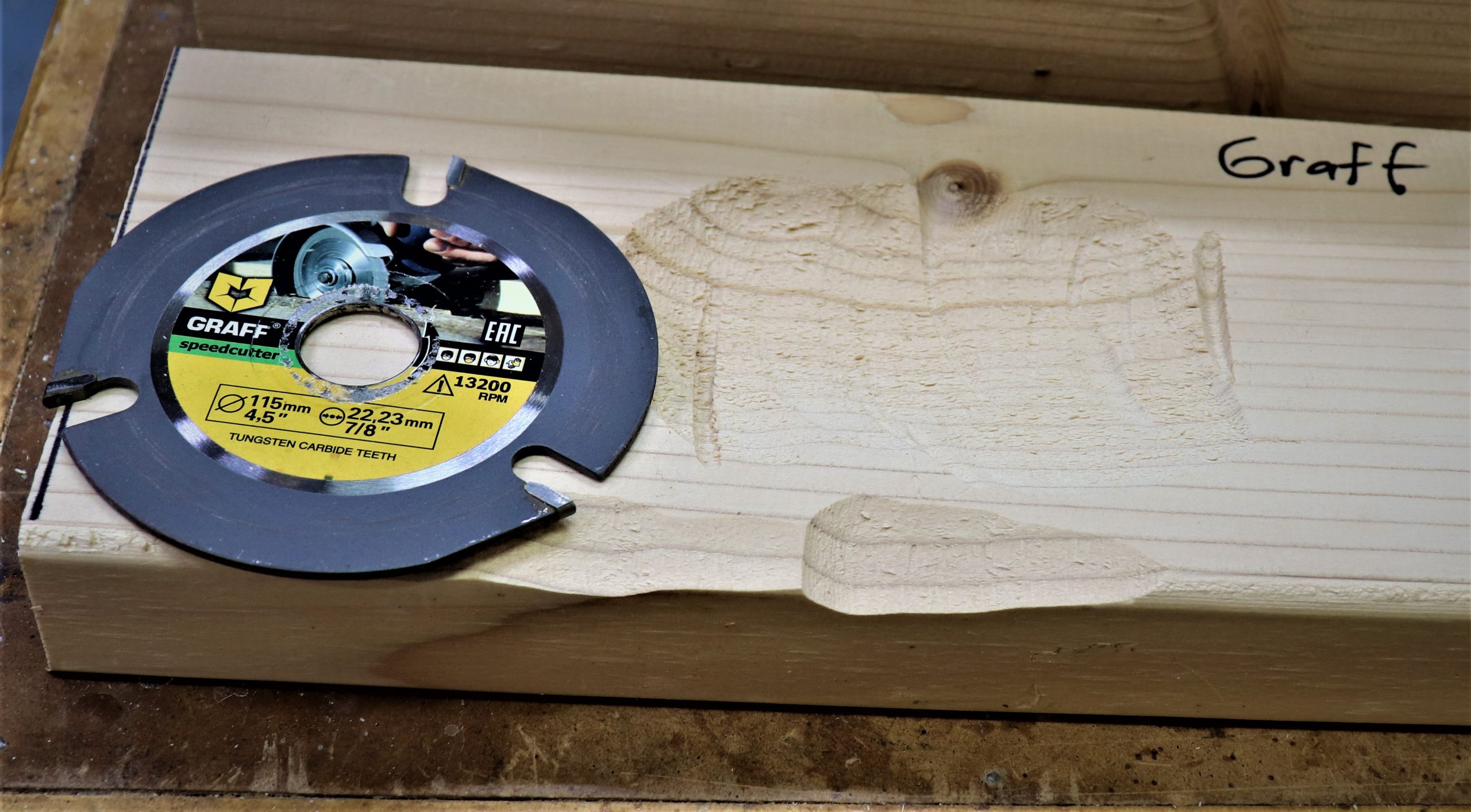 I like the concept that Graff has incorporated into this design; starting with a saw blade, and optimizing it for carving functions by modifying the tooth geometry and positioning. This design provides versatility in that it can not only perform all of the designed carving functions (scooping, rounding, detailing), but with a 1/8" kerf, it can also be used for occasional cutting duties, such as lopping off an end of a workpiece that you are carving. As a good utility tool, I found that it was adequate but not excellent at convex, flattening, and concave shaping functions. It left a fairly rough surface, and I noticed a tendency to grab a bit on hardwoods and knots. With its thin kerf, it provides great control for detail work.
Kutzall Extreme Shaping Dish – Medium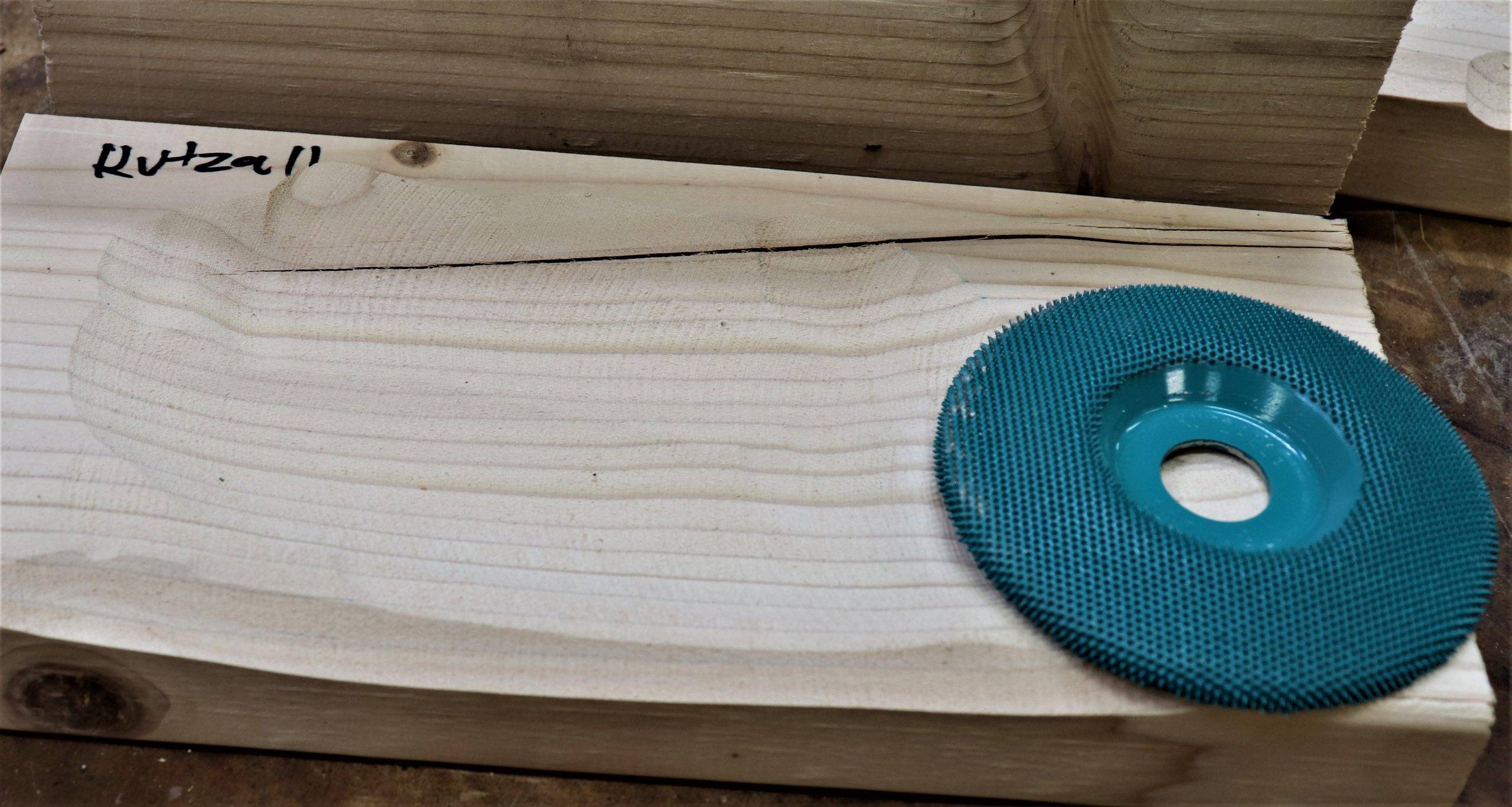 This disc features a unique rasp-like design, with Tungsten carbide teeth that abrade the surface rather than cutting it. The experience of shaping wood with this product is extremely satisfying, providing a user-friendly, controlled contouring experience. It maneuvers through hardwood, soft wood, knots, tight spaces, all without challenging the operator's ability to maintain control. The teeth extend to the edges, which taper thoughtfully to a gentle rim that can be used for detail work. The great controllability allows you to achieve the shape that you want without any learning curve, and while the rasp design doesn't create the smooth surface of planning style discs, the sanding required is bearable. The abrasive action means that the disc produces dust rather than shavings, making for a messy working environment. The stock removal performance of this disc is good, but not as fast as the Turbo Plane. For higher performance, Kutzall offers a more aggressive tooth geometry in their "coarse" model.
Recommendations
My favorite tool out of the bunch is the Kutzall Extreme Shaping Dish. I was pleased with the outstanding control and safe operation that it provides. The innovative design provides a non-intimidating way for newbies to experience power carving, and the performance and durability will be attractive for production users. For an economical option, I'd suggest taking a look at the Graff Speed Cutter, which offers great versatility or the ToolCool, which provides a safe experience for gentle scooping and rounding. Both offer an economical price point.
Sources
ToolCool Grinder Wood Carving Disc, $18
AxPower Six Tooth Carving Disc, $26
King Arthur Tools, Lancelot 14-tooth, $53