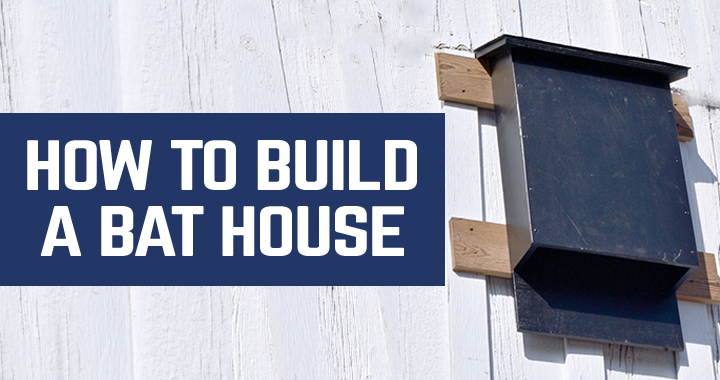 Why a Bat House?
I have bats in my belfry. Well, actually, they're in my barn where I store my lumber and I'd like to get them out. Although my initial research was aimed at getting rid of the bats, I ended up building them a house. Here's why: I discovered that many of my long held beliefs about bats were completely wrong. I was surprised to learn that bats are not blind and can see as well as any animal. They do have radar designed to hunt flying insects at night, but their eyes work just fine. Also, bats are not common carriers of diseases. They do not spread rabies or disease any more than other mammals. Finally, only three of the more than 1300 species of bats feed on blood. Most eat fruit, insects or nectar. Turns out, bats aren't as bad as I thought!

On the plus side, I learned that bats offer a great many positive benefits to a homeowner with a little property. For starters, most North American bat species eat insects – lots of insects. Some will consume up to their body weight in bugs every night! Think of them as living bug zappers without the annoying noise. They also produce guano (a fancy word for bat droppings). Guano is a potent fertilizer and is actually mined for profit in bat caves in the south.

After all this research, I resolved to build my bats a house instead of remove them. Building a bat house helps you choose where the bats live, so they won't come into places you don't want them. I chose to build the basic four chambered unit featured on the Bat Conservation International website. They have a wealth of information about bats and bat houses. Be sure to check them out. Here's what BCI has to say about bats and bat houses.
The Plans
The bat house plan we're using offers a perfect opportunity to work with youth or large groups. All the parts can be pre-made into a basic kit that's fun to assemble. It's a great way to do something positive for the environment (bats are great) and introduce kids to woodworking.
I modified the plans I found on the BCI website slightly, substituting plywood for cedar and eliminating the ventilation slots as they are not needed in the far north where I live. The bat house we present here is designed for the northern tier of the US. Warmer climes may need to add slots for ventilation. Consult the Bat Conservation International website to see what modifications you may need for your part of the country.

Working with Kids
I enlisted the help of my oldest granddaughter, Jadyn, to help me build a couple bat houses. To keep the project approachable and safe for young woodworkers, I developed a system for cutting up plywood sheets into accurately machined project parts without the hazard of a table saw. Even the angled edges are made using a router bit. All you need to build this bat house is a jigsaw, a router, and a couple router bits (See Sources). Jigsaws are relatively safe tools for young adults to handle under skilled adult supervision. You may want an adult doing the routing. For younger kids, it's best to have them pick up the project at the assembly stage. Assembly requires nothing more hazardous than a drill. People love the opportunity to build a tangible object that they then can later observe in service. Kids will get a kick out of seeing something live in their project.
Machine the Parts
For tools, all you need is a jigsaw, a router and a screw gun. That's it. I will show you how to use these tools to cut and machine the bat house parts without having to muscle huge pieces of plywood around on a table saw. For a detailed look at how this technique works, check out this video:

Assemble the House
Finish the House
charts on the Bat Conservancy International website for the best color to use in your area. great information on properly installing bat houses.
Sources
Bat Conservation International www.batcon.org
Router bits
3/4″ Pattern bit #817-393 30 degree chamfer bit #115-574 Woodworkers Supply www.woodworker.com (800) 645-9292