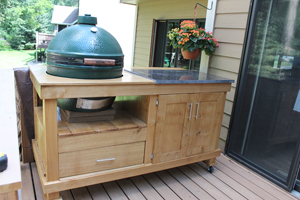 I occasionally like to take on unusual woodworking projects, so when my friend asked if I would help him build a rolling cart for his new "Big Green Egg" grill, I didn't hesitate to dive in. My only concern was that putting wood so close to a source of fire gave me the "willies", but he assured me that this particular grill contains heat so well that it would not be a risk.

We started by wrestling with some design ideas. He wanted a level of "fanciness" that was appropriate for this high-end grill/smoker, so he opted to go with quarter sawn white oak. We found a stash of wood that had brilliant ray fleck patterns throughout the boards, and we used this high-quality material for all of the external visible parts, while we opted for cheaper pressure treated materials for less visible interior components.
---
The Big Green Egg Cart Build Process:
A couple of construction tips if you want to take on a similar project:
Material choice:
Choose a material that is known to resist rot, such as cedar, teak, cyprus, or white oak. This is a big project, so you won't want to build a new one every 5 years.
Adhesive:
You will want to use adhesive products that can withstand exposure to water. We used a combination of Tightbond 3 and construction adhesive, both of which are proven winners in this area.
Fasteners:
Get good quality corrosion resistant fasteners, as ordinary interior grade fasteners will stain your project over time and may eventually even fail.
Finish:
Use a good exterior grade finish to protect your project. We applied three coats of spar varnish which gave the white oak an amazing glow.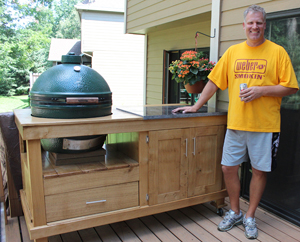 If you want to look like a world class BBQ chef, a cart like this might be in your future!
Photos By Matt Christianson and Paul Mayer