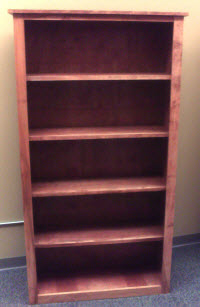 This bookcase plan is designed to be large enough to handle all of the books belonging to the voracious reader in your family, virtually indestructible to withstand years of abuse, and easy on the pocket book using inexpensive materials from your local home center. For about $100 you can have a bookcase that would cost $600 – $800 at a retail furniture store.
Using these bookcase plans, I built three of these for my children's school about five years ago (five years in an elementary school is equivalent to a hundred years in a typical home). They have seen tons of abuse, and have held up beautifully. The school can't wait to get their hands on more of them to replace the "bargain" bookcases they got from a furniture chain which have needed extensive repairs over the same five year period.
You can easily build one of these in a weekend using a few simple woodworking tools. In fact, if you were thinking about buying a similar bookcase from a fancy furniture store, I bet you could buy the materials and the necessary tools for about the same as it would cost to buy the bookcase.

Materials list:
1 sheet 3/4″ x 4′ x 8′ sheet of furniture grade plywood
1 sheet 1/4″ x 4′ x 8′ sheet of furniture grade plywood
8 board feet of hardwood (for top, shelf edging, and face frame)
Bookcase Cut List Diagram and Cut List Table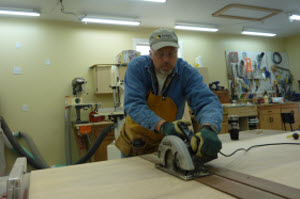 Break down plywood
Following the cutting diagram, crosscut plywood along the line marked "first cut". Take the smaller of the two rip 3/4″ plywood according to diagram and cut list. For safety and easier handling, use a circular saw with a good quality blade (following a straight edge guide for a straight cut) for first cross-cut on plywood. If you are not confident in your circular saw's ability to cut straight lines with no tear out, leave yourself 1/4″ of extra material (there is enough extra material in a 4′ x 8′ sheet of plywood to do this) and make your final cuts on the table saw.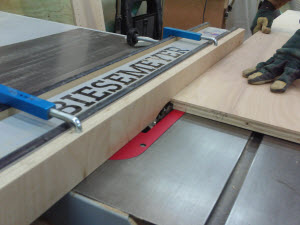 Rabbet back edges of side panels to receive plywood back
You can do this with a dado blade, or alternatively, you can simply make two passes with a standard kerf table saw blade. I often do the "two pass method" for 1/4″ dado and rabbet cuts simply to save time, avoiding setting up a dado blade. Set up a sacrificial fence on your table saw because you will be spinning the blade right next to the fence. Set your blade height to 3/8″, and remove a width of 1/4″.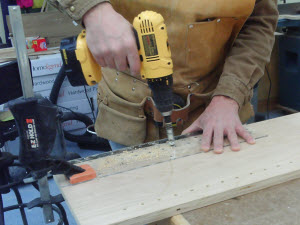 Drill holes for shelving pins
Place the holes 2-1/2″ from the front and back edges. Use a jig to get the appropriate vertical spacing (I like to place them 1″ to 1-1/4″ apart vertically which gives great flexibility for shelf placement), and a solid depth stop so that you don't blow through the sides of your bookcase. If you accidentally go all the way through the plywood, plug it with a dowel to hide the error, and then re-drill. I recently broke down and bought a fancy jig and drill bit for this operation, but I have drilled many shelf pin holes using pegboard as a spacer jig. The only downside to doing so is that the holes can become sloppy with repeated use, leading to wobbly shelves.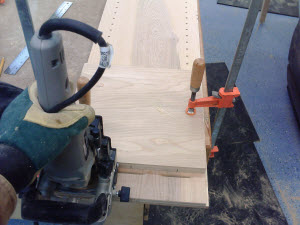 Assemble carcass using biscuits or dadoes
I generally use biscuits for this (three per joint), and I have never had a joint fail (and a bookcase spending five years in an elementary school is a pretty fair test), but dadoes work great here as well. To assist with accuracy and consistency when using biscuits, mark your biscuit locations on a piece of scrap, and then use the scrap as a guide as you mill biscuit slots in each carcass member. The carcass top is attached so that it is flush with the top of the carcass sides. The carcass bottom is attached so that the top of the panel is 2-1/2″ above the floor (or the bottom of the side panel).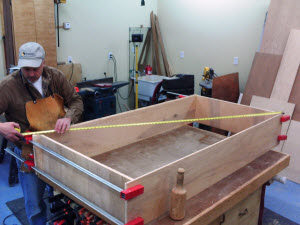 Check the distance from corner to corner to ensure square
If an out-of-square condition exists, use clamp pressure to pull carcass into square.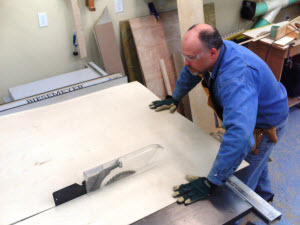 Cut plywood back to size
Measure back opening (the plywood sits between the protruding outside edges of the sides that were formed from the rabbets that were previously milled, and fully overlaps the backs of the carcass top and bottom panels). Cut 1/4″ plywood to fit snugly. Even though I have a large cabinet saw equipped with ample outfeed support, I like to make the cross-cut first using a circular saw for a safer, more controlled operation, and then rip to width on a table saw. Be careful when cutting 1/4″ plywood on a table saw, as it can flex, allowing the material to rise above the blade which can cause a dangerous kickback. Use a slow feed rate, apply steady downward pressure when needed, and be sure to use your blade guard for this operation.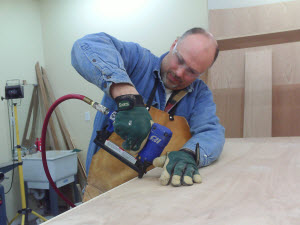 Attach back
Glue and tack the back panel into place with staples or brads. I prefer staples for this operation because they are less likely to pull through, but if you also glue the back into place as I do, it is highly unlikely that you will ever have a problem with brads.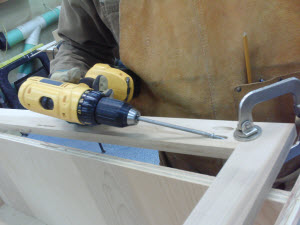 Construct the face frame
Stiles are 2-1/2″ x 72″, the top rail measures 1-1/2″ x 32-3/4″, and the bottom rail is 2-1/2″ x 32-3/4″". My favorite way to assemble frames is with a pocket hole jig, but you can also choose to use biscuits, or simply use brads to nail individual face frame pieces into place. I sometimes use that approach for large built-ins, where it may be cumbersome to construct a face frame on-site during the installation process. The school that will receive these bookcases requested that the face frame go all the way to the floor to prevent pencils and other items from rolling underneath. I generally prefer to keep the face frame about 2″ from the floor to lighten the appearance, but this is a stylistic choice. On larger pieces, such as armoires, I like to keep them high enough to allow a vacuum cleaner to pass underneath.
A couple design variations to consider:
Paul Mayer lives in Lakeville, MN and is a hopelessly addicted hobbyist woodworker. He also assists his father, Vernon Mayer, in his woodworking business Vern's Wood Goods where they build serving trays, cutting boards, kitchen utensils and other fine crafts.