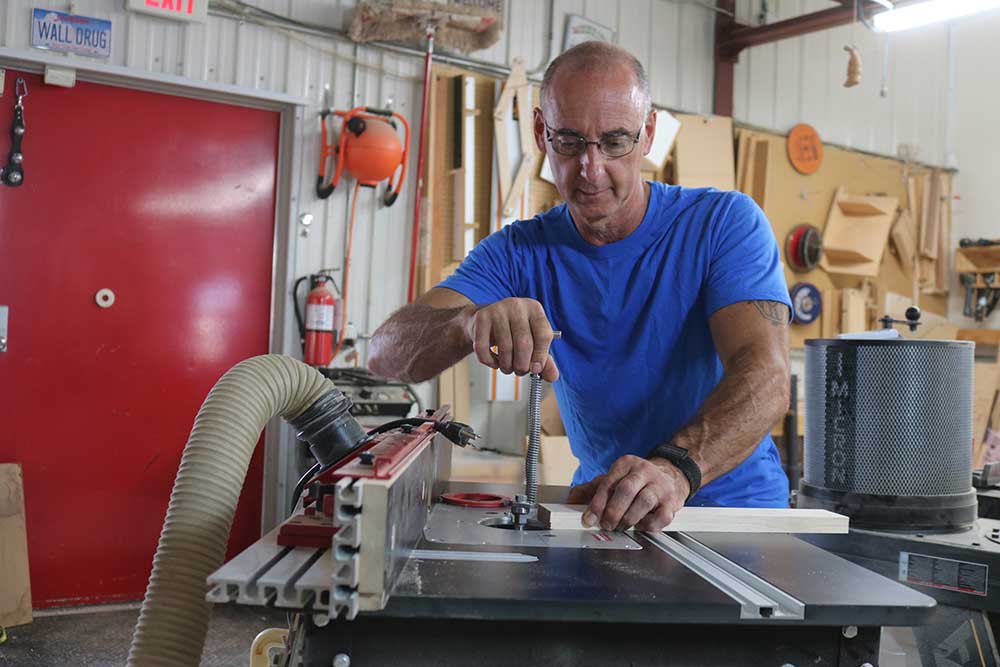 Cutting Strips on a Table Saw with a Partner
George Vondriska
It's not uncommon to need thin strips for woodworking projects. You might want them for an accent strip, to cover the edge of a plywood shelf, to band the front of a European-style cabinet…there are lots of applications. We're talking about pieces that are ¼" or so thick. It's great to be able to cut these on the table saw. The saw guard often becomes a problem, preventing you from getting the rip fence close enough to the blade to make the cut. Problem solved.
A simple jig
The process shown here requires a simple jig; simply two pieces of plywood fastened together to create an L shape. With the jig clamped to your rip fence, you no longer have the problem of the guard hitting the fence.
However…
There's no such thing as a free lunch, or a free rip. This approach works great, but the set up makes it nearly impossible to use a push stick to finish the cut. No problem, we've got a solution for you. The technique taught here makes it very easy, and safe, to rip as thin a strip as your project calls for.
More than one way
One of the cool things about woodworking is seeing the many ways woodworkers have found to solve problems. This is no different. We've found lots of ways to rip thin strips. Have a look at the alternative approaches, and you'll find one that's good for you.
Lots of table saw info
The table saw is such a major tool in the shop, it's important that you know how to get the most out of it. Resawing, cutting dadoes, calibrating the rip fence, tapering legs…if you want to know more, we're here to help you learn how to use a table saw.
Popular All Woodworking Videos videos
Explore videos by George Vondriska