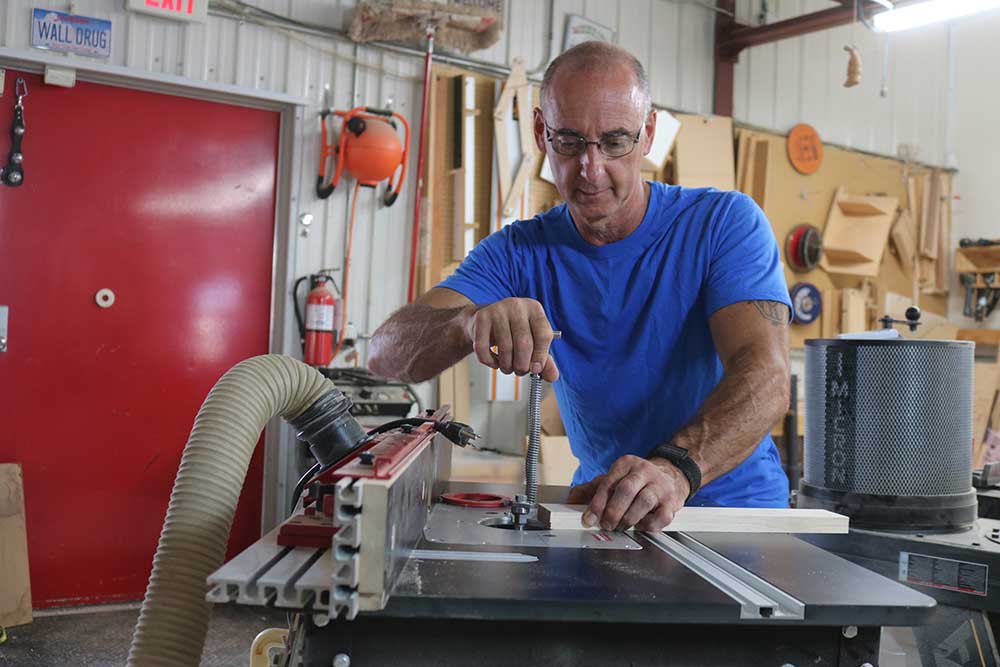 How to Make a Wooden Bowl or Tray With a Router
George Vondriska
Watch this complete step-by-step video to learn how to make a wooden bowl or tray with your router. With the help of patterns and bits, your plunge router can transform a huge chunk of wood into something your lathe just couldn't handle.
Material Prep
If you watch woodturning videos you know that lathes have limitations regarding the size blank you can turn, but with this router method, you can go big! When choosing the material you'll use for your blank, consider the pattern size and the depth you need to make the bowl or tray so they serve their intended purpose. If you're wondering how to make a wooden bowl that's unique, consider gluing up your blank using contrasting colors of wood to create interesting patterns.
Start Removing Wood
Now comes the "boring" part — removing the bulk of the waste wood. With your biggest Forstner bit in your drill press you can remove lots of wood fast. Don't cut away the perimeter waste because the pattern will be screwed to it later.
Router and Base Setup
You'll need a plunge router, a large base, a rounded pattern-style bit, and, to make the deep cuts, you'll need to add a collet extension.
Routing the Interior
Finally, here's how to make a wooden bowl with a router: Screw the pattern onto the waste wood, set the depth of cut, clamp it up and have a shop vacuum nearby. Start to hollow out the bowl. Make a pass, inspect your work and make additional passes until all ridges and dimples are gone. Then, remove the pattern, rotate it and repeat the process in the next spot.
Sanding the Interior and Creating the Outside Shape
A flap sander works well to clean up marks left by the router. Mark the outside edge and cut it out on a bandsaw. Use a disc or random-orbit sander to smooth the outside. Ease all of the corners with a roundover bit and, as with all woodworking projects that come in contact with food, apply a food-safe finish.
Click here to download a PDF of the resource information
Sources
Below you will find information that will guide you to the sources referenced in the video.
CMT
Bit #851.502.11B
Collet Extension #796.001.00
http://www.cmtusa.com
Eagle America
Bit #144-2005B
Collet Extension #415-0660
http://www.eagleamerica.com/
MLCS
Bit #7817
Collet Extension #9465
http://www.mlcswoodworking.com
(800) 533-9298
Whiteside Router Bits
Bit #1376B
http://www.whitesiderouterbits.com
Bowl Patterns (May include bit and collet extension)
CMT – #BTS-001
MLCS – #9179
Eagle America – #401-8300
Explore videos by George Vondriska