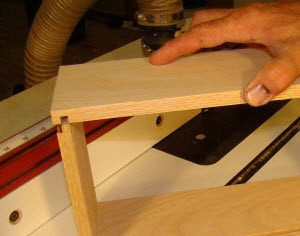 Here's an easy way to create a rabbetted drawer lock joint, using only a 1/4″ slot cutter. One set up will do all the joinery and allow you to cut the grooves for the drawer bottom. It's easy and it's fast. Here we go!
The Bit. This process relies on a 1/4″ slot cutter router bit. They're pretty common, handy to have around, and not too expensive. See Sources.
The Set Up. First machine your drawer box pieces to size. The joinery process creates some blow out, so it's best to leave the parts too wide, then cut them to finished width after the joinery is complete.
When using a 1/4″ slot cutter the box parts need to be a perfect 1/2″ thick. You can use this joinery technique with other size slot cutters. Just make sure your parts are exactly twice as thick as the dimension of the cutter. Take your time and make sure the thickness is correct.

Set the height of the cutter so it's even with the top of the material you're machining.
Position the fence so the bit penetrates the material by half the thickness, in this case 1/4″. I like to use brass bar stock for this type of set up, see Sources. Make the tip of the cutter even with the bar stock.
Test Cuts. Make test cuts in scrap. Machine one piece with its face against the fence.
Machine a second piece with the face down on the table. The test pieces need to be the same thickness as your project pieces.
If the horizontal cut leaves a "feather" on the board, your material is too thick.
Test the fit. If the fit is too loose, you need to raise the bit. If the fit is too tight you need to lower the bit.
You'll eliminate a lot of chipping on the drawer sides by making a zero clearance fence. With the cutter running, push the infeed side of the fence into the bit.
Machine Drawer Parts. Machine the drawer sides with their inside faces against the fence. Use a push pad to hold the material, and cut both ends of both pieces.
Machine the fronts and backs with the inside face down on the router table, again using a push pad to hold the material.After these cuts are complete cut the parts to their final width, which will also eliminate any chipping that occurred on the outfeed side of the cut.
Cut The Groove. Cut the groove for the drawer bottom in all four pieces. Be sure the inside face of each piece is against the fence.
Assemble. Cut a bottom to fit, brush glue into the joint, and assemble. You've made a one-set-up drawer on the router table.
Photos By Author
Sources:
1/4″ Slot Cutter
#822.364.11
CMT
(888) CMT-BITS
Brass Set Up Gauge Set
#144932
(800) 225-1153