With woodworking being one of those really old trades–the kind of trade that people have been engaging in for hundreds if not thousands of years–it's amazing that modern technology has managed to make such a big difference in the way it's handled by enthusiasts.
Read part 1 of must-have woodworking apps here!
Modern woodworking apps can help users in all manner of ways. From pocket calculators to construction apps, leveling apps to wood identification apps, there are tens if not hundreds of different software applications available today. Woodworkers with a penchant for technology and looking for the latest apps will find themselves faced with some difficult choices when it comes to woodworking apps. Which ones to download? Are apps that cost money worth the price? I ran these apps on my iPhone 5c and was pleased with the quality and functionality of these apps.
I.D. Wood
OS: iPhone
Price: $4.99
Maker: Double Dog Studios
I.D. Wood is a pocket guide to wood identification. With specs and information about over 200 wood samples, I.D. Wood can help everyone from beginners to advanced woodworkers find the right type of wood for their project. The database includes an option to filter wood by criteria, so you can find exactly the type of wood that's right for your needs. The database features wood grain pictures, descriptions and common uses.
Actually, the I.D. Wood application is like a suite of apps all combined into one, because it includes a board feet calculator and a slew of reference charts for all purposes, including a hardwood lumber sizing section, a grading section that defines parameters for F and S, SEL, 1Com and others, a nails by weight interactive chart, and much more.
Some other nice features of this app include the Board Feet and Cost section, which allows you to enter the number of board feet and project a total cost for your project. The Plywood Veneer Grades section defines the different grades and provides a thorough description of each one.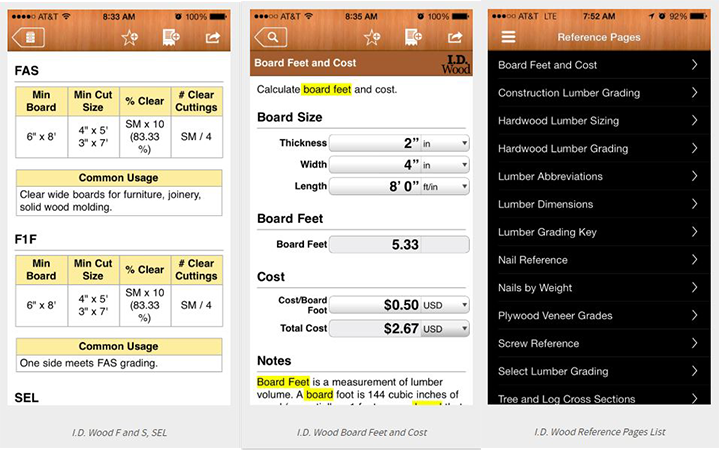 The wood search function on I.D. Wood is very effective. The search criteria include:
Region
Use
Durability
Sustainability
Each descriptive page of the 200 woods includes the botanical name, common uses, woodworking properties, gravity, Janka hardness, end samples and wood sample images. The I.D. Wood app also allows you to save your search results and calculations for future reference.
The calculator function in I.D. Wood allows users to flip back and forth between standard numerals, inches and feet-and-inches calculations. The calculator also easily converts results from inches to feet, or feet to inches. The calculator doesn't covert to metric, but the app itself can be changed to a metric setting in the app tools section.

If there's one thing to complain about here, it's the lack of clear instruction on how to use the app. It seems to be a powerful little tool, but the app itself comes with only a single tour which shows little about what the app can actually do.

iHandy Carpenter

OS: iPhone, Android
Price: $1.99
Maker: iHandy

The iHandy Carpenter software is a four-tool-in-one app, including a ruler, level, plumb and protractor. It's very simple and very useful. I've used the level to install shelves in my home, and the protractor for making miter cuts on wood. The level is my favorite feature on this app and the one that I use the most. While the ruler is handy, it's really most useful for measuring things under 4 inches (the approximate length of my phone screen) and anything beyond that becomes cumbersome.

All tools in this app are very easy to use and require no real tour or training. It's also easy to switch back and forth between the tools—simply click the wooden area beside the tool and the control panel will appear. The graphics in this app are very attractive and the tools are very sensitive to small movements.

iHandy Carpenter is a very handy app at a very low price. You can't always carry your level or plumb around with you everywhere, but if you carry around your phone (as many people do), then you'll always have this pocket full of useful tools to help you with woodworking projects, or even just normal DIY handyman stuff.Ad-Free Unit Converter
OS: iPhone, iPad, iPod Touch
Price: Free
Maker: William Jockusch

A simple but effective tool, the Ad-Free Unit Converter converts measurements of all kinds, including metric to feet. I use it for board measurement conversions primarily, but the Ad-Free Unit Converter can actually be used to convert units of speed, time, volume, area and much more.

This app makes tasks like converting square feet to square meters really easy, so taking room measurements for upcoming carpentry projects becomes totally simple. This app also has practical applications that extend beyond the wood shop. For example, I can use this app in my daily life to convert Celsius to Fahrenheit and convert minutes into hours–both of which are useful with tasks like cooking.

This is a no-frills app. It does what it says it will do and really not much more. However, there's something to be said for simplicity. I was able to start using this app right away, without a tutorial. There's no learning curve, and I like that.

Whether you're looking for a pocket chart of different woods, a tool for your workshop, an all-in-one suite, or a straightforward board feet calculator, all these apps are very useful for your woodworking needs and are highly recommended. Be sure to check out our original post on woodworking apps for more app ideas to assist you with your projects.