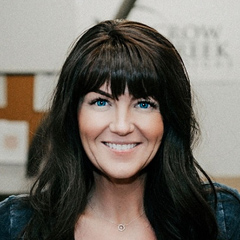 Making a Wood Bowl with Resin Accents
Jess Crow
There are lots of things to like about bowl turning. It provides pretty fast gratification, offers lots of room for creativity, and requires tools that don't take up too much space. In this video, we're going to take bowl creativity one step further. With help from resin expert Jess Crow we'll be adding a beautiful resin accent to the bowl bottom resulting in not just a bowl, but a wood bowl with resin.

The lathe
We'll be doing the work on a Laguna 1216 lathe. This size lathe is great for lots of bowl and spindle work; small enough that it doesn't take up much space in your shop, but large enough to let you do the work you want to do. It has electronic variable speed, which makes it easy to fine tune the lathe rpms to the work you're doing.
The resin
Jess will be using MakerPoxy to create the resin accent in the bowl. She adds color to the resin by using Mixol dye. She'll take you through the process, step by step.
More about resin
Resin can add A LOT to your woodworking projects. You can use it to create accents, like we've done here and, with a little creativity, do lots of other things, too. Have a look at WWGOA's resin-related content.
More info
For more info on the Laguna lathe and other products visit lagunatools.com.
8

Responses to "Making a Wood Bowl with Resin Accents"