A customer came into my shop the other day and asked me to replace their uncomfortable and broken fiberglass kitchen stool seats. They wanted to reuse the adjustable chrome bases, but change the seats so they were cushioned and upholstered. I said sure, no problem, and I suggested a simple wrapped padded cushion. The techniques shown in this story will give you the confidence to try an upholstery project of your own.
Here's how the newly wrapped seat cushions look…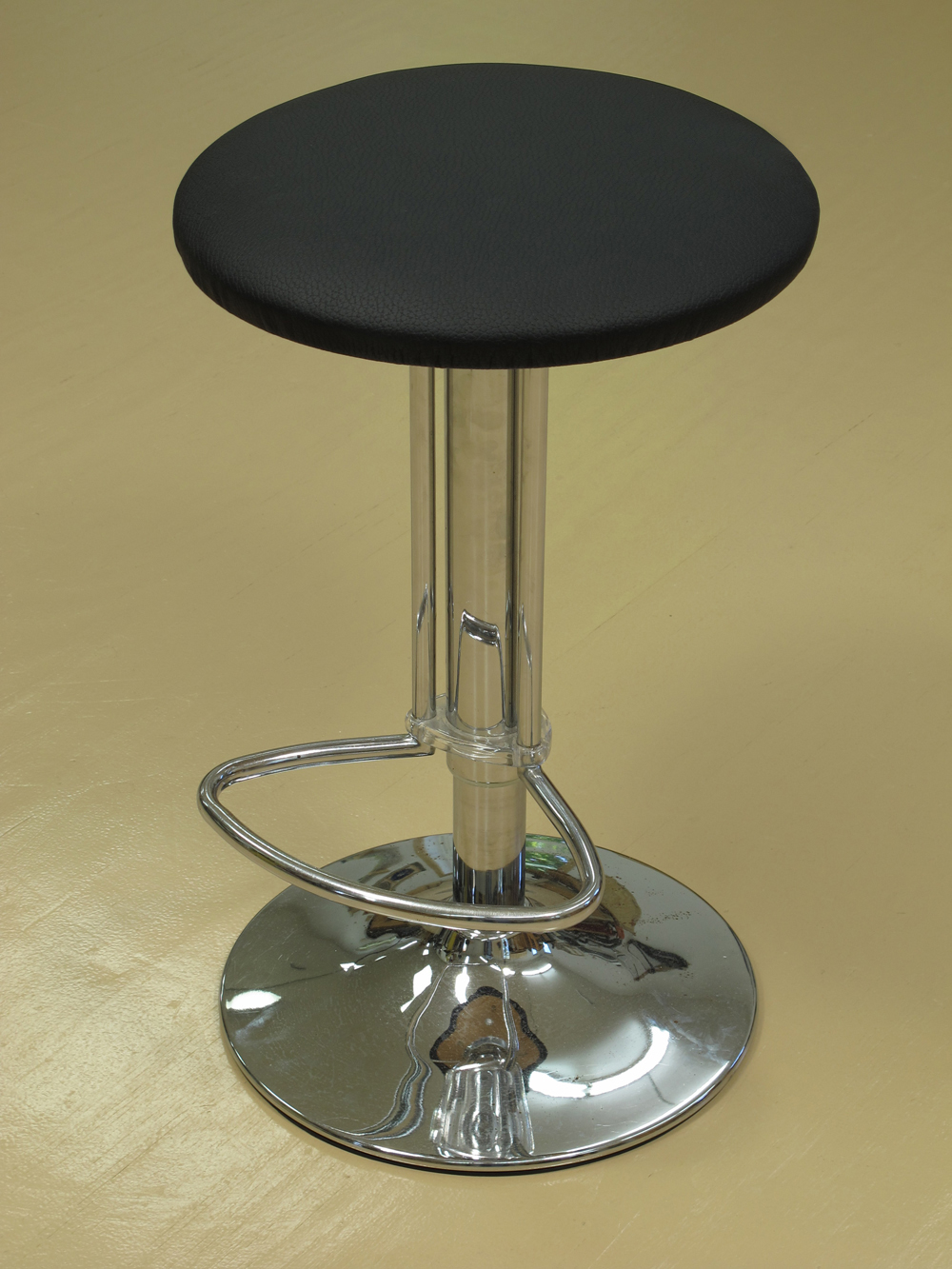 This is what the seats looked like before!
Now for what I didn't tell them… I'm just a novice upholsterer! I've made some sewn and wrapped seats and cushions for myself, but if there's "serious" upholstering to be done I contract the work out to a professional. Upholstery is like any skill, the more you learn and practice, the better you get at it. I've done enough simple upholstery to be confident that I can get good results, and wrapping cushions like this is a great place for anyone to start learning to upholster.
Upholstery Wrapping Overview
Typically, 1/2″ thick plywood is used for seat frames (platforms) of seat cushions that drop into, or mount on top of chair frames. In this case I used 3/4″ thick plywood because the seats are mounted on pedestal bases and need the added stiffness the 3/4″ plywood provides. This is the same approach you should take if you're making a seat for a wooden stool base. 1″ dia. vent holes are drilled through the plywood. 1″ thick foam is adhered to the plywood, and 1″ thick Dacron batting is adhered to the foam, and then faux leather (vinyl) is stretched and stapled over the top. The combination of materials gives the seat a thinner, nicely crowned look, which is also comfortable to sit on.
Advanced Upholstering
Moving beyond this simple upholstery wrapping technique can open up an entire world of possibilities. Imagine reupholstering a Queen Anne style sofa! You could go on to learn about folding corners, webbing, sewing, piping, welting, tufting, cambric, fillers, and so much more. All of which you can learn from books (see References), classes at a local trade school, or by contacting a local professional upholstery association to find out what learning resources they might suggest. It never hurts to ask a professional upholsterer too.
Potential Snags
There are a few things you need to be aware of. Using thick fabric can make the work very difficult; it's hard to wrap, and hard to eliminate creases and puckers. Using very thin fabric is not good either; it's not durable enough to hold up to the rigors of everyday use. Upholstery grade fabrics are your best choice. It's never good to wrap fabric over sharp edges; it will wear very fast and then split. It's best to ease the edges of wooden parts being upholstered to reduce this effect. And the thing you will run into most often… inferior foam, or you choosing the wrong foam for your seats, which I've done far too often! Buy your foam from a local upholstery supply house or foam supplier if you can, and give it a "sit test" to feel its compression and comfort. For most seating using medium firm or firm foam works best. Here's a link to some very good foam cushioning material information: Foam Information And Specifications
Tools Needed:
Manual or pneumatic staple gun and 1/4″ long staples.
Band saw or jigsaw.
Drill with a 5/16″ dia. bit and a 1″ dia. spade bit.
Electric kitchen knife. Yes! It's used to cut the foam, and works better than you would think. Router and 1/8″ roundover bit.
Scissors.
Staple puller.
Trammel point set.
Materials Needed To Make And Wrap These Seat Cushions:
3/4″ thick plywood.

#20 x 1/4″ T-nuts. (for this project. Not always necessary)

#20 x 1/4″ x 3/4″ machine bolts.

3M Foam Fast 74 spray adhesive.

1″ thick medium firm urethane foam.

1″ thick Dacron batting.

Faux leather vinyl.

Cut The Seat Frame Plywood Shape.
Use a jigsaw or band saw to cut out the shapes of the plywood seat frames, and then smooth the sawn edges using a stationary disk or belt sander, or with a hard sanding block. Notice I have the T-nut holes and vent holes laid out. The pedestal bases of this project call for T-nuts. Wood screws could be used to fasten the seats to a wooden base that doesn't have a cantilever like these stools do, so you could drop T-nuts in that application.
Drill The Vent Holes
Use a 1″ dia. spade bit to drill 4 equally spaced vent holes. The seat foam can retain a lot of air, which needs to be relieved when the seat is sat on. Don't skip this step. If you did, then sitting on your cushions will be like sitting on a balloon that's slowly leaking air!
Round Over The Plywood Edges
Use a router and an 1/8″ roundover bit to ease the top and bottom outside edges of the seat plywood pieces.
Trace The Plywood's Shape To The Foam
The foam should be 1″ larger in diameter than the plywood. Use a "Sharpie" marker pen and a spacer to get the correct diameter.
Cut The Foam.
Use an electric kitchen knife to cut the foam. I bought a cheap one at my local hardware store. Using a knife beats the heck out of trying to cut this stuff with scissors! Be very precise when you cut the shape. Any sloppiness here will show in the final wrapped seat. A word of caution; don't be tempted to cut the foam on a bandsaw, that would be very dangerous.
Trace the shape of the foam to the Dacron and cut it out using a scissors. Again, be precise with the cutting. Cut the vinyl 8″ larger in diameter than the plywood.
Adhere The Foam To The Plywood, And Then The Dacron To The Foam.
There are a lot of spray adhesives available, but in my option 3M Foam Fast #74 is the best there is for adhering foam. It makes the work fast and sure; others are more work. Coat both surfaces and then join the pieces. Use it to adhere the Dacron to the foam too. Make sure the T-nut side of the plywood is up so the foam is placed on top them.
Watch This Video Of Wrapping This Seat, And Also Wrapping A Square Corner.
Trim Away The Excess Fabric.
Use a scissors to trim away the excess fabric. I needed to add more staples along the trimmed edge so the little ridge of buckling didn't show when the cushions were mounted to their bases.
References
Here's a great online site with a lot of useful information:
Professional Upholstery & Soft Furnishings Group
Books I find useful:
Beginners' Upholstery Techniques by David James
Matthew Haly's Book of Upholstery
Singer Upholstery Basics Plus by Steve Cone
Sources
1/4″ 3-Prong T-Nuts (#20), 8-Pack, item #47583
Rockler
www.rockler.com (800) 279-4441
3M Foam Fast 74 Spray Adhesive Orange, 16.9 oz. Aerosol Can
Amazon.com
Upholstery Supplies and Tools
We Sell Upholstery Supplies Online (800) 262-5790