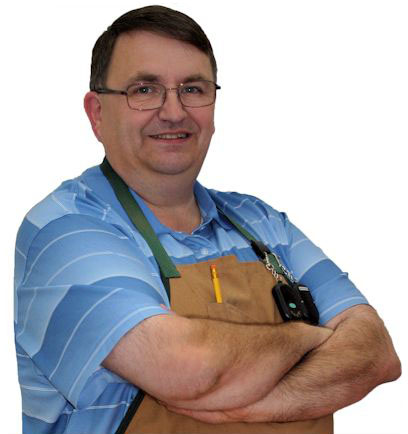 Meet Steve Good, winner of the "Best Plans & Projects Blog" category in the 2016 WWGOA Blogger Awards! October 2016, WWGOA hosted a competition dedicated entirely to all those talented woodworkers out there who share their work with the blogosphere. We asked you to nominate and vote for your favorite bloggers, and now we're thrilled to be able to announce the winners!
Steve's blog, Scrollsaw Workshop, is dedicated to using… surprise! The scroll saw! He's made a vast amount of patterns and projects since he started blogging in 2007, and continues to provide the online woodworking community with quality scroll saw information and education.
We asked Steve to share a little about himself, his blog, and his work so the WWGOA community can learn more about this talented woodworker. Read on.
Q: When did you first begin woodworking?
Steve Good: I am 58 years old. Like so many of my generation I watched Norm Abram on the New Yankee Workshop. I drooled over the power tools he used to create those fantastic projects. It amazed me he could build a Queen Anne Highboy in 30 minutes. In the mid-1980s I started to buy what tools I could afford. That was the beginning of a hobby that would last a lifetime.

Q: Who taught you how to woodwork?
With the help of Norm and other TV personalities like Roy Underhill and Scott Phillips, I slowly started to understand how little I knew. I bought books and sought the help of friends to advance my skill. This was before the internet. We had to actually leave the house and go to a bookstore, library, or local woodworking group to feed our desire to learn. I guess you would say I am self-taught but the reality is I am still just starting to learn.
Q: What was your first project?
The memory of my first project is lost in the cobwebs of time. More importantly to me is the first project I made for my blog. On May 1, 2007 I posted my first project/pattern online. It was an all wooden decorative handsaw with a patriotic scrolled theme. That first post started something that would change my life forever. I never imagined at the time that nine years later I would have produced thousands of patterns with tens of millions of downloads. I get to converse with people all over the world and have a blast every day.
Q: What is your favorite type of project to make in the shop?
Obviously the answer to that question is scroll saw projects. I spend more time in front of the computers designing patterns than I do in the workshop but I still love making saw dust. Other than designing and making scroll saw projects it's always rewarding to make a toy box for a child in the family. I have made wedding gift boxes and other personal family and friend projects that I enjoy.
Q: What is your shop like?
A mess right now! I have full use of a two-car garage, and it is wall to wall tools. Because I am primarily a scroll saw pattern designer my shop is geared toward that work. My scroll saws are the Excalibur EX21, Jet JWSS-22, DeWalt DW788 type 1, and a DeWalt DW788 type 2. The rest of my tools are all geared toward taking rough lumber and turning it into scroll saw ready boards, with the exception of my CNC machine. It is a fairly complete workshop with table saw, 14″ band saw, 6″ jointer, 12″ planer, floor model drill press, and router table.
I also have a full assortment of sanding machines. I enjoy all the tools in my shop but they all have to take a back seat to my collection of computers. For a blogger and content producer these machines are my connection to my online presence. I sit in front of six 24-inch monitors attached to three high end computers. All the computers are network connected with one keyboard and mouse. This setup allows me to edit video, write a blog post, and design a pattern all at the same time without having to wait. The more content you produce, the more hours it takes. Having the computer resources available to multitask those jobs is critical.

Q: What are you currently working on?
I am currently in the holiday season. The last three months of the year are everything in my niche. Many of my daily patterns are holiday themed. I also design a set of custom name Christmas ornaments every year. I take orders for those and customize the pattern with customer's names. They are a huge hit every year and take up quite a bit of my time.
Q: What project have you been most proud of?
That is a very difficult question! I have designed and built thousands of projects. Some are more successful than others. I recently designed and cut a pattern of the Statue of Liberty, which is a current favorite. I also design and sell two books of Wooden Vases built with the scroll saw. Both of these eBooks are self-published and have done extremely well. I am proud of that project and the many hours I spent making it successful.
Q: What woodworking tool could you not live without, and why?
For me that's an easy question. It's the computer. Without my ability to be very prolific with my designs my blog would not exist. I produce a new project almost every day. I can and have designed patterns by hand with pencil and paper, but trust me when I say it is way easier with a computer! My workflow is designed at every step to be quick but not rushed. Almost all the time spent on a new pattern is in the concept stage. Once I have the idea I can design the pattern in 30 minutes to 3 hours.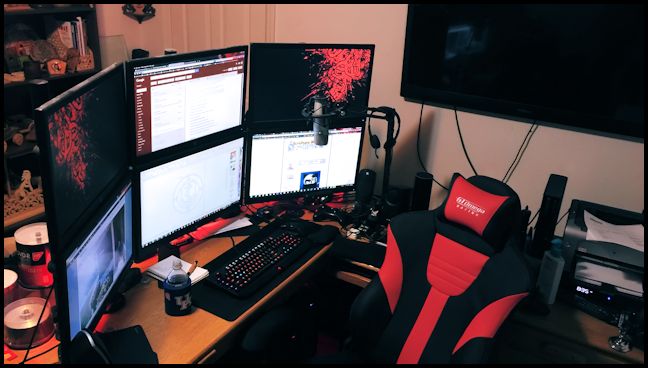 Q: What's your favorite species of wood to work with, and why?
I have used many different species of domestic and exotic woods. I guess if I had to pick a favorite it would be walnut. I also like to use soft maple as a contrast to walnut. They may not be the most sought after woods but they are easy to find, cut great, and look nice when finished. For scroll saw projects you need to pick woods a little differently than traditional woodworkers do. Most of the time we are not as concerned with the beautiful grain pattern, instead we look for color and contrast. If you buy a board with incredible grain then cut it all away with fret work you have not used that wood to its fullest. If I build a fretwork box with contrasting walnut and maple then that wood is shown in its best light for that project.
Q: What would you say to someone who is just beginning woodworking?
Wow, I could write several paragraphs on this subject. I promise I won't. As bloggers we get email questions by the hundreds a week asking for help. I get way more email than I can answer so I tend to triage them. I always try to answer questions from people who are just getting started. That is simply the most rewarding part of being a blogger to me. It's also the hardest because of time. One theme that runs through many of those questions is the fear of taking on a project they think to too difficult. If you want to get better you have to push yourself past your comfort level. Don't be afraid to fail. Failure almost always teaches you something. Look at a perceived failed project as a question. What could I have done better? Study the parts that you think are not right. Make a plan to change those areas and try again. One nice thing about most scroll saw projects is they don't require large amounts of expensive lumber. Starting over on a scroll saw project is usually not a financial disaster.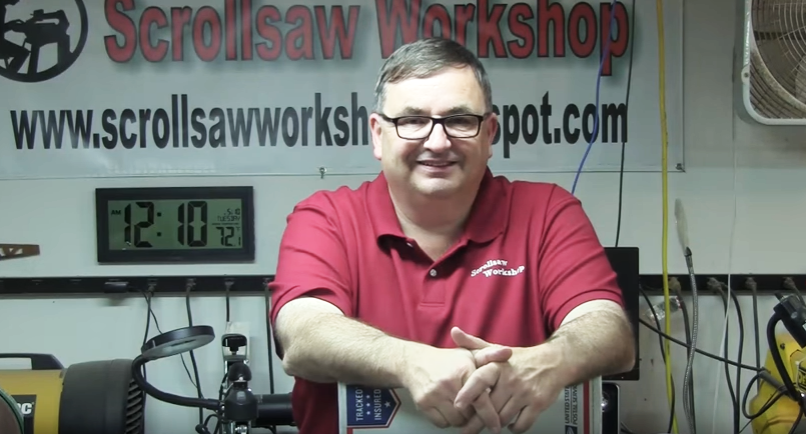 Q: What's your favorite thing about woodworking?
I am a maker at heart. I have a never ending desire to make something new. It is my passion. Wood is a building material; it just happens to be the most beautiful material there is. Wood is the most basic stuff on earth to make something from. Think about it. If you have a block of clay you can make a beautiful sculpture. If you have a slab of wood you can do the same. If you lay each side by side the block of clay looks drab and cold. The slab of wood looks beautiful with all its colors and grain on display. I just prefer to start with wood.
I want to thank the WoodWorkers Guild of America for sponsoring this Blogger Award. In my case it is especially important to see the scroll saw niche recognized. The scroll saw can be a very creative and rewarding machine. There are many scroll saws sitting in the corner of a workshop not being used to their fullest. I just want to challenge all the woodworkers out there to take a closer look at the potential of the machine.
Last I want to thank all the people out there who voted for my blog. All of the blogs are winners. It's very nice that you took the time to vote for me. The bloggers in this contest put in endless hours to produce great content. I follow almost all of them. The few I did not follow I do now. I encourage everyone to bookmark all of these blogs.

Learn more about the other WWGOA Blogger Award winners here:
"Best Hand Tool Work" Blog – Paul Sellers
"Best Cabinet Making" & "Best Furniture Making" Blogs – Charlie Kocourek
15

Responses to "Meet the Woodworker: Steve Good"