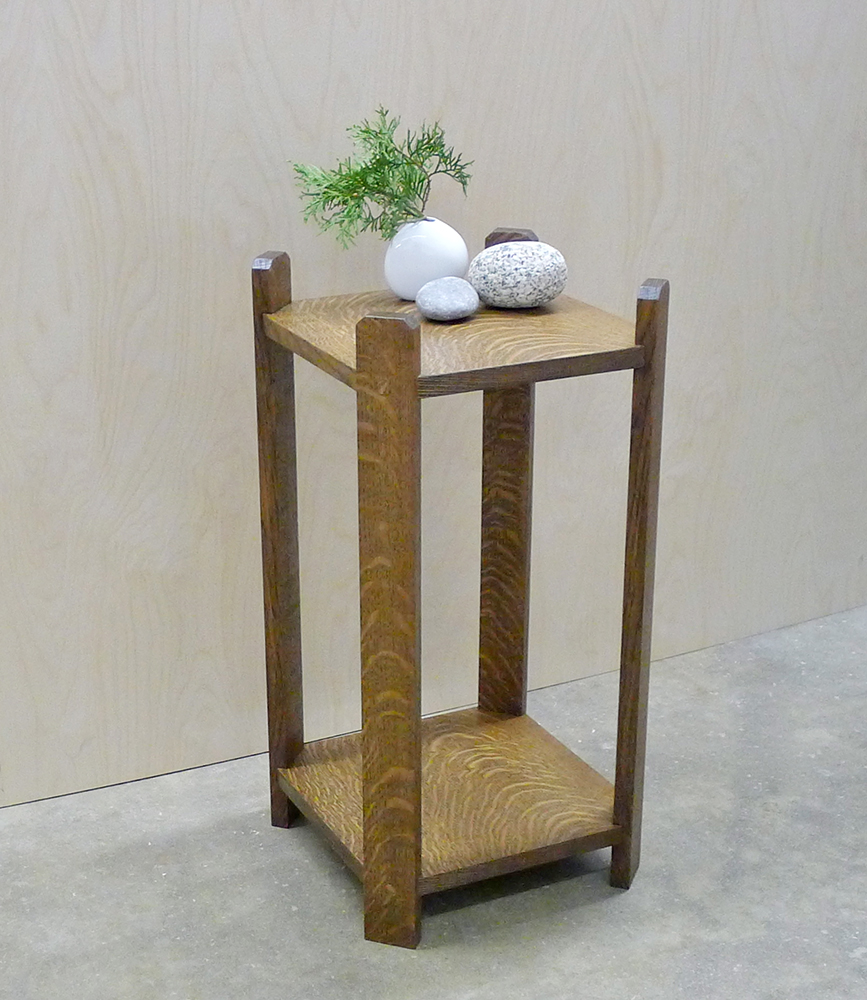 Joints on the corners make this table surprisingly strong.
This table is a marvel of engineering and efficiency. The legs are placed on the corners, providing remarkable lateral and torsional strength, and the two horizontal planes serve as both shelf and stretchers. I have given this particular version an Arts & Crafts flair, employing quarter-sawn white oak and a geometric 'dog ear' on the legs. Legs are attached to the shelf and top with screws and plugged, however, dowel or pocket screw joinery would work too.
Final finishing steps
Sand the table with a random orbital sander, using 120-grit sandpaper. to clean up the plugs. I skip up to 220 grit sandpaper and sand the rest of the table, and soften all of the edges with hand sanding. For a beautiful and protective finish, I start with Dark Walnut stain from Minwax, which is the perfect balance of dark brown and red tones characteristic of antique Arts and Crafts furniture. After the stain dries overnight, I spray three thin coats of Satin Minwax Polyurethane as a protective, waterproof layer. The polyurethane has a hint of yellow, which adds to the character of the table, and is remarkably easy to apply. While waterborne finishes cure somewhat faster than oil based finishes, they don't have that 'yellow' which is so perfect for this table. Now get out to the shop and start cutting! There's no time to waste.
Photos and Byline by: Seth Keller