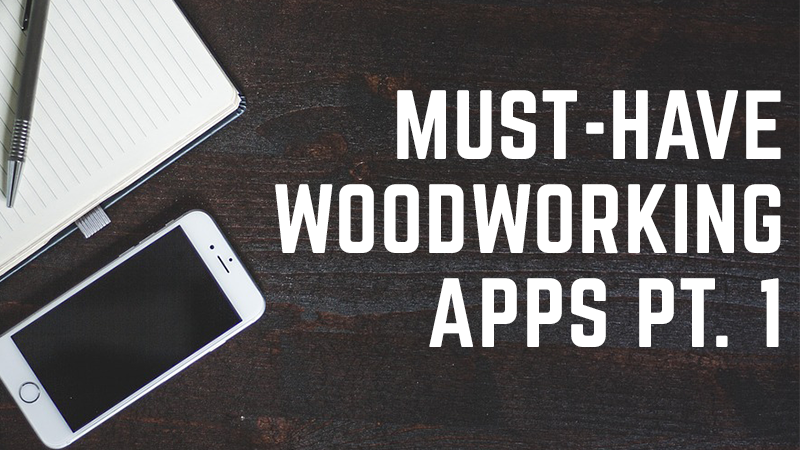 In the earliest days of woodworking (or even just a few years ago for that matter), who would have ever thought that we would be talking about how to best utilize our telephones in the woodworking shop? Well, times they certainly are a changin', and smart phones are capable of performing tasks that we would never imagined possible, so I went on a quest to see if there was any worthwhile functionality to help us in the wood shop. My smart phone platform of choice is Apple, so I was able to test a number of interesting apps on IOS 7. I also did a bit of searching around for Android apps and found that there are some options there as well, but I have not been able to personally try these. Please let us know if you have had any personal experience with apps on the Android or other platforms not covered here.
Read about three more must-have woodworking apps in part 2 of this article here!
Given the attributes of the iPhone and other smart phones (impressive processing power, quick access to applications, and relatively small display size), I have found that the most useful utilities seem to be those that fall into two areas; calculators and reference tools. There are other apps available that provide project plans, design tools, video libraries, etc., but I would prefer to use a computing platform with a larger display (laptop, tablet, television, etc.) for those tools.
After looking at a number of woodworking related apps on my iPhone 4s, my top picks include; WoodMaster, Woodshop Widget, and Basic Angle Finder. Here are a few noteworthy attributes of each application:
WoodMaster ($7.99), by John Lullie
This app is one of the more feature rich woodworking apps with an integrated suite of tools that focus on conversions, math and reference material. The impressive feature set includes the following items that stood out;
Board foot calculator: Allows you to calculate board feet, as well as multiply by the price for that species at your lumberyard, and also add up each board into a total purchase price. This is one of the more robust utilities that I have seen for board foot calculations.
Fractional calculator (both numeric and slide rule styles). The numeric version is nice, but I really liked the slide rule version. I will admit that I have never actually used a slide rule before, and I was surprised by how simple and fast it is to add fractions this way.
Golden ratio: This utility provides a simple calculator to determine the golden ratio of any entered measurement. For example, to divide a cabinet door into two sections using the golden ratio, simply enter the overall door height and the calculator will tell you what size each section should be.
Nail size/ screw size companions: Provides a detailed guide for size pilot holes to drill for each screw size, what size the shank is, and the length of common nail sizes. Prior to finding this app I would normally end up guessing on pilot hole size, so it will be nice to choose with confidence using this guide.
Joint types: Provides an extensive list of woodworking joint options with clear illustrations of each, and a link to youtube to learn how to execute each joint. The app itself doesn't provide the video content, but essentially launches youtube for you and enters the search criteria, trusting that there will be content available (which there is for all joint types, and WWGOA actually comes up on several of the searches).
Other capabilities in this app include a length conversion utility (converts measurements across various meters including centimeters, feet, inches, meters, millimeters, and yards), a chart that lists a variety of wood species with clear images of each, and a couple simple project plans for shop items.
The Woodshop Widget ($3.99)
Like to the WoodMaster app, The Woodshop Widget provides a suite of related modules that can be launched from a single console (a bundle of apps rolled into one). I like the concept of an integrated application suite because if it has been designed and integrated correctly it drives up the user experience across all modules as you learn to navigate individual tools. The Woodshop Widget does a nice job of maintaining design consistency across each of its modules and delivers on the integrated "platform experience". I also believe that the overlap is minimal between The Woodshop Widget and the WoodMaster app, so there is value in owning both.
Some of the functions that I found particularly interesting in The Woodshop Widget:
Decimal to Fraction: There are numerous free standalone apps for decimal/fraction conversions, but in addition to this being part of an integrated suite of tools, the other aspect that I appreciate about this utility is the reduction of fractions which can come in handy in the shop, and is also nice to have if you are ever tasked with helping a 7th grader with algebra.
Wood comparisons: I love this! This utility provides useful information about various wood species at a glance, such as hardness, density, and stability. It also lets you compare one species to another, which will be helpful in settling the debates that my father and I frequently have about which species is harder or more stable (although the next question that I will face is which one I trust more; my father or my phone).
Shellac calculator:
This is a simple utility that demystifies the process of mixing shellac to a particular cut. It allows the user to specify a specific cut (ex: 2 pound), and it provides the ratio of alcohol to shellac that should be used to achieve this cut. I believe that this would be a useful tool for people who use shellac occasionally but not often enough to remember the recipe, or to use as a quick sanity check before mixing.
Basic Angle Finder (FREE)This simple utility provides a digital measurement to determine angles. There are a number of similar apps out there, but what I like about Basic Angle Finder is the calibration feature which allows you to "zero out" the angle to any surface. As an example application, this feature allows you to place your iPhone on top of your table saw near the blade, set the calibration, then place the iPhone next to the saw blade to measure the angle of the blade relative to the table saw's top surface. While this might not quite as accurate as a dedicated digital angle gauge, it is pretty darned close. Based on some simple tests that I performed, I would say that it is consistent to my standalone digital angle gauge to within +/- .3 degrees, which is good enough in some situations.
For the Android
The three apps discussed in the text above are only available on iPhone/iPad/iPod Touch systems. Given the popularity of the Android I did some searching around to see if there were comparable apps available for that platform. I found some, but not as many as for the iPhone. A couple that looked promising include:
Woodworking Utilities (Free). This app includes various calculation and conversion tools as well as a pilot hole guide. Based on the screen shots I looked at the interface appears to be fairly intuitive.
Woodworking Calculators ($4.99). This provides an integrated collection of calculators to address a number of woodworking math challenges. The functions include calculators for the following; fractions, right triangle measurements, elipse design, golden ratio, board feet. This app also includes a pilot hole guide.
Angle meter (Free). This app provides similar functionality to the Basic Angle Finder described earlier for the iPhone, allowing a user to calibrate to a reference surface and calculate the angle of an adjacent plane. If this is as accurate as the Basic Angle Finder app it would be worth taking a look at, as there could be numerous uses for this in the shop.
What are your favorites?
I have shared some examples of cool apps that extend the functionality of a smart phone in the shop. Are there apps that you love to use the in shop? I'd love to hear about them in the comments section, or if you are really passionate about this topic send your thoughts to editor@wwgoa.com.
Read about three more must-have woodworking apps in part 2 of this article here!