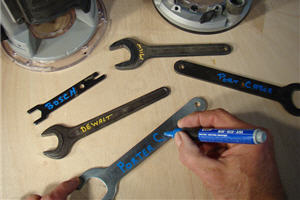 I have a problem which, admittedly, is a good problem to have. After a few years of woodworking (and thoughtful gifts from family and friends), I've got more than one router. The problem comes up when I reach for wrenches. Since the routers aren't all the same brand, the wrenches aren't interchangeable. Seems like I always grab the wrong one first.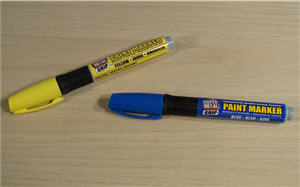 Paint pens provided a perfect prescription for problem solving. The pen looks like a felt tip, but instead of ink, it writes with paint. I haven't found a surface yet that the paint won't stick to, and it's permanent. The pens, about $3 each, are available in a variety of colors so you can make sure the color you use is visible on the surface you're writing on. I bought my pens in the paint department of a home center.
Outside of keeping my wrenches straight, I've also found that the paint pens are a good way to identify my tools – so my tool borrowing, woodworking buddy knows to bring them back when he's done.
Photos By Trent Johnson, a registered member of the WWGOA.
Submit your favorite woodworking tip to: editor@wwgoa.com and you could earn $100 if we publish your idea.