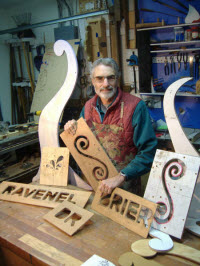 Using a Router and Template to Make Creative Designs. I would like to share some thoughts about creating repetitive designs with a router and a template. To make a template, we embrace the skills of our ancestors – the pattern makers. I am referring to the folks who carved patterns by hand, before the age of computers. The router and template is as close as I get to high tech duplication. We still get to make and shape the template by hand.(Photo 1)

In this article I will create a design, make a template and create that design on a project. We will walk through each step together. (Photo 2) shows some examples of design I have put on landscape planters I make.

Step 1. Decide on a project and design that might be duplicated. I think if you are going to create a design once, make a template or jig. If the template turns out well, then the next one is easier. Besides, you don't have to sand or paint templates, they're just fun to make. I used to look for the exact shape or pattern I thought I wanted and carefully enlarged or duplicated it. But, I found if you stretch yourself, you may find you can create a shape or curve that looks cool. I like to use a piece of cardboard or stiff paper product to sketch the design. Then I can cut it out and use it as stencil on the template material. If it is a small design, plain paper will work. The design can be transferred using carbon paper. You can see in (Photo 3) that I sketched an idea, enlarged it, then refined it by hand until I got what I wanted. Remember to oversize the design by the thickness of the guide collar (1/16″). When I'm satisfied, I use carbon paper to transfer it to a piece of file folder. By using the stiff paper, I'm able to play around with the layout till I get what I want for the template. Notice there are several reference lines on the template that help in the spacing of the layout and will aid in centering the template on the work before routing.

Step 2. Select the template material. 1/4″ plywood, masonite, or MDF (1/2″ or 3/8″) work well for templates. MDF has the advantage that it works easily and sands quickly. The drawback is that a little 'oops' can become a big 'oops' in the blink of an eye. I've used 1/2″ plywood because I had a bunch lying around, but it is hard to work with. If there is a lot of detail in the design, I'll reach for something else. The plywood is really durable for things like table legs or any time you will be routing a simple design on the outside of the template. What I want to share is routing on the inside of the template, like a stencil, so 1/4″ plywood or MDF, works best.

Step 3. Lay out the pattern. Cut out what you don't want to create the stencil.(Photo 4)

A coping saw, scroll saw or jig saw can be used to make the rough cuts.I then fine tune and smooth the edges using files, wood rasps, rat tail files, and sand paper. (This is where we get in touch with our pattern making ancestors).(Photo 5)

Step 4. Customize the template.

I like to create a space between the template and the wood to keep the bit from bogging down in sawdust. Sometimes you have to glue spacers in the middle of the design because the template material won't hold the weight of the router and causes deflection in the template. The router base and guide collar don't like deflections.(Photo 6)

I take into account alignment and securing when designing a template. Plan the surface area large enough to hold the router and secure the template to the project. Again, notice the center line and reference marks to position the template on the work. Double sided tape or hot glue work well to hold the template in place.

Step 5. Take it for a test drive. Keep in mind the direction of router travel in the template. For this template, clockwise works best. Notice the position of my right hand. (Photo 7)

This is necessary to control the cut and keep the router snug against the template – curves can be very tricky. In this picture,(Photo 8) you will see that I tried the template with two different bits and I found places in the template that needed to be adjusted.

So it is back to our pattern maker heritage- to 'sweeten' the curves by hand.(Photo 9)

Then I tried it again with both router bits.(Photo 10)

The design wasn't bold enough, so I went to a larger bit. The first thing I had to do was make sure a larger collar would fit in the tight places.(Photo 11)

But here is the catch: the collar is 1/2″ but the V bit is 5/8″. (Photo 12a)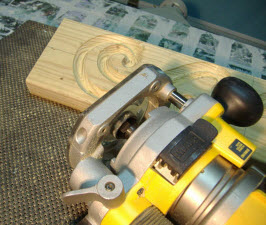 To make this tricky operation work, I had to lower and lock the router into the collar nut, (but not touching and leaving enough room to insert my wrench to tighten the bit.(Photo 12b)

Then I installed the bit to the depth I wanted (Photo 12c) (the thickness of the template + the gap between the template and the wood + the depth of cut desired=distance from router base to tip of V bit). The real skill is placing the bit into the template at a small end, contacting the wood, turning on the router and plunging the bit into the work manually. It's a short trip, just about 3/8 of an inch. Then just drive the router around the template.

It is worth the manual step. If I had used a larger collar, I wouldn't have been able to make as tight a radius. It is a much bolder statement in the wood–for sure.(Photo 13)

Step 6. Finish your project.

Once the template worked well, I applied a few coats of polyurethane to protect it.

You can see in the finished product that the painted wide deep V makes a bold statement (Photo 14). It won't look as big once it is part of a planter with top and bottom trim pieces. If a more delicate look suits you, a smaller diameter V bit would work as well.

Photos By Author

Jerry "Jake" Seabaugh is a registered member of the WWGOA.

Submit your favorite woodworking tip or technique to: editor@wwgoa.com and you could earn $100 if we publish your idea.