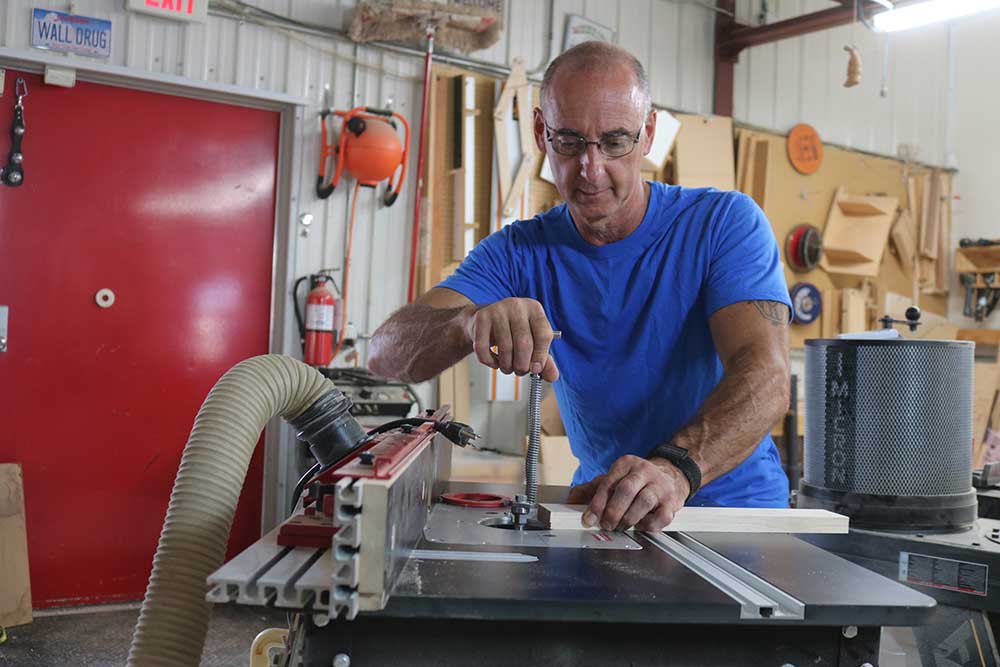 DIY Bagel Slicer
George Vondriska
I love bagels. I hate slicing bagels. I'm pretty good at working with my hands, but there's no great way to hand-hold a bagel and slice it without getting precariously close to my pinkies. Necessity leads to invention, so here you have it: a bagel slicer you can make from pieces of scrap wood.
Cut list
Base: 1 ½" x 2 ¾" x 6 ½"
Sides: 1⁄8" (match the kerf) x 6 ½" x 6 ⅞"
Cutting slots in the base
The easiest way to cut the angled slots in the base is at the table saw. A TCG blade (triple chip grind) creates grooves with a flat bottom. The geometry on most other table saw blades doesn't. Use a full kerf blade and set it to a height of ⅜", an angle of 3 degrees, 7⁄16" from the fence to the blade. Test the angled cuts on a piece of scrap before cutting your project piece.
Make the bagel grippers
If you have some figured hardwood in your shop, this is a great place to use it. Resaw or plane the pieces until they're close, then sand them to fit. If you own a drum sander, that'll provide a great way to custom fit the sides to the kerfs.
Add a curve
Draw and cut a curve on the top ends of the sides. The curve on these pieces was created by measuring 1" down on each edge and striking the curve to that point.
Assembly
Titebond Extend is a great glue choice for this project. Extend gives you the extra open time you need to make sure everything is lined up correctly before the glue starts to tack.
More kitchen stuff
If you want to keep going with handmade items for your kitchen, you could start working on this wooden spatula next.
More info
For more information on Titebond products, visit the company's website or call (800) 669-4583.
4

Responses to "DIY Bagel Slicer"
Popular Woodworking Projects videos
Explore videos by George Vondriska