I tried my hand at using a cabinet scraper a couple years ago and was frustrated that in spite of my best efforts to roll a proper burr on its edge, I just couldn't tune the scraper to produce more than dust and the occasional wimpy shaving. I followed all the instructions, and did everything meticulously, but just didn't have any luck. Then I had to admit to myself that I was taking one shortcut.
Rather than plunking down the dough to get a real burnisher, I was trying various substitutes that I had read about on the internet; the shanks of an old screwdriver or high quality chisel. I was led to believe that they would work just as well as a burnishing rod, but in my experience it just wasn't the case. A burnisher simply needs to be harder than the scraper, and in my case these items apparently weren't.
I finally broke down one day when I was at my local woodworking specialty store. They had a few burnishers to choose from, and when I saw that one of them was made by Ron Hock (you may recall that I am a fan of his) I took one of those home. Only by coincidence it was also the cheapest one, probably because it didn't have a handle which wasn't an important feature to me anyway.

I could feel the difference immediately as I used it to roll a real burr on my scraper, and I could actually see the surface of the metal becoming noticeably wider as I pulled the burnisher across it several times. After a series of strokes I checked the burr with my finger; holy smokes!!! I knew that I was feeling a burr that was more pronounced than any I had created in the past. This was the real thing.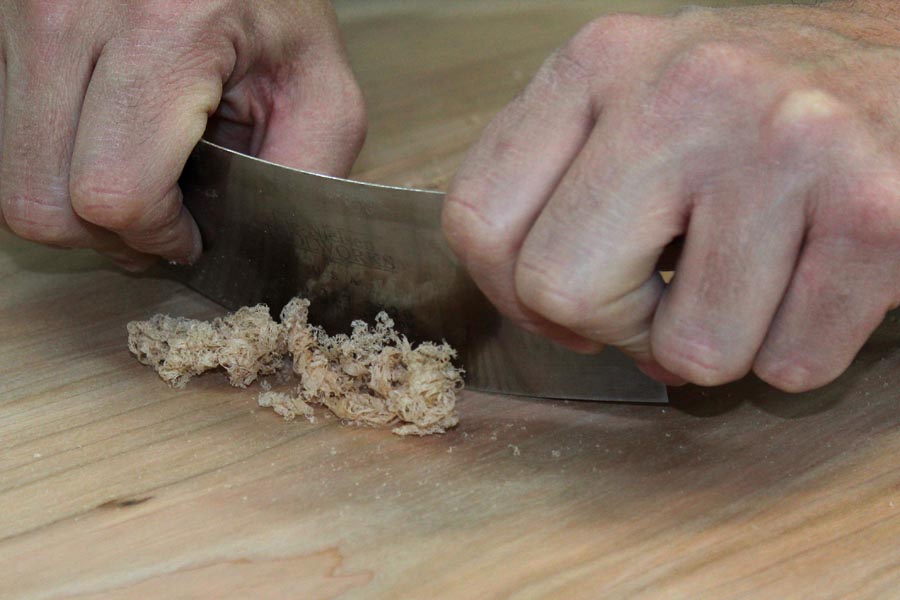 When I tried it, my anticipation was confirmed. The burr engaged solidly with the wood surface and produced great results effortlessly. With this one simple change my scraper now peels off magnificent shavings, just like a cabinet scraper is supposed to.
If you have experienced frustrations with applying a productive burr on your cabinet scraper, don't cheat yourself out of the full experience like I was. Try a real burnisher, use it properly, and you will enjoy the satisfaction of making feathery wood shavings with your scraper.
About Hock Tools
Ron Hock got started in this business over 30 years ago, making knives in his Mendocino, CA studio and touring around selling his wares at craft shows and other venues. Then he was persuaded by some staff and students at the famous fine woodworking program at the College of the Redwoods to make plane irons for them, which proved to be a defining moment for his business. Over the years, as Hock's reputation for quality tools grew, so did his business, and in recent years he has outsourced some of the blade manufacturing to facilities in the US and France that are required to meticulous follow Hock's standards for materials and quality production.
While these manufacturing partnerships have allowed some scaling of the business, the focus is still the high end discerning user who wants the best hand tools made with the finest steel available. The Hock Tools product line remains focused on a small number of items that are differentiated in the market by using extremely high grade steel, precision processing, and a high touch business that is available for direct interaction by its customers.
Click here to view the Sharpen a Card Scraper video. In it, George Vondriska gives you a brief overview on the easy woodworking process for sharpening a dull card scraper.
Photos By Author
Source:
#BR375 Burnisher 3/8″ x 6″ #BR375 $15 (888) 282-5233 www.hocktools.com