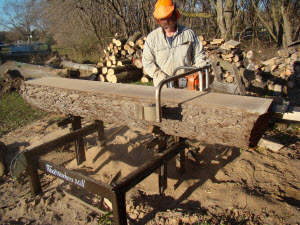 Portable sawmills open up a whole new world to woodworkers. What may be one man's firewood is a woodworker's treasure. I remember the first time I hired a sawyer with a portable mill. I had been a professional woodworker for over ten years and I knew where boards came from. But nothing prepared me for what I saw as the 36″ diameter walnut log was sliced open. I felt like a kid at Christmas. I could read the tree's life story as it was revealed with each cut. There were the buried scars from a fire it had survived; old branches that had broken off and were eventually sealed up under layers of trunk growth. It gave me a personal connection to the wood I never had buying stock from a local lumber supplier.I was lost in amazement when I heard the sawyer ask, "How do you want this part cut?" It felt like a waiter asking how I'd like my steak done at a restaurant. I had discovered another plus to sawing your own; you get to cut it the way you like it. After going over the options, we decided on a cutting strategy that left bark edges on most of the pieces and big 4″ thick slice right at the middle of the tree. That put the pith in the center of a very wide, thick slab, but yielded beautiful quarter and rift sawn stock on either side. I knew then and there that I had to get my own portable mill.
Of course after the fun of cutting there's a lot of work stacking and stickering the lumber for drying. I couldn't wait to use the wood.

Using my own custom sawn wood has provided me with some new design inspirations. Unlike rough stock from a lumberyard, I cut my wood so it still has the bark edge; sometimes referred to as a "free-edge" or "natural edge". I like to incorporate this free edge in some of my designs.
I was recently commissioned to build a set of three, free-edge walnut nesting tables. The following story will give you a peak over my shoulder as I turn rough slabs into finished tables. Along the way you may pick-up some useful tips and techniques for your own free-edge project. Also, in my article on Working with Big Wood I provide you information on how to prepare the wood used in this article.
Photos By Author
Related Videos:
How to Plain Saw Logs in to Lumber

21

Responses to "Slabwood Nesting Tables"