This simple clamp rack solves two problems. It holds a boat load of bar clamps, (there are 46 on mine) and it provides support adjacent to the table saw. You can build the whole thing from home center materials. Casters make it mobile so you can easily move it from bench to saw.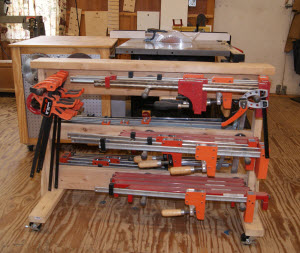 Here are the dimensions of the parts in my rack:
1 top: 2″ x 6″ x 48″
2 upper and lower rails: 2″ x 6″ x 43″
1 middle rail: 2″ x 4″ x 43″
2 verticals: 2″ x 4″ x ?
2 legs: 2″ x 4″ x 24″
2 plywood braces: 1/2″ x 8″ x 12″
4 2-1/2″ locking casters
14 1/2″ x 12″ gas pipe
14 1/2″ pipe caps
14 1/2″ floor flanges
72 #12 x 1″ sheet metal screws
Start by carefully measuring the height of your saw. From that number deduct the height of the casters, the thickness of the legs, and the thickness of the top. The number you end up with is the length of the verticals. I cut mine 1/8″ less than that.
Assemble the rack using glue and # 8 x 3″ wood screws to fasten the verticals to the rails. Glue and screw the legs to the bottom end of the vertical and the lower rail. Glue and screw the top to the top end of the verticals and the top rail. Attach the plywood braces (with glue and screws) and the casters (screws yes, glue no). Screw the floor flanges to the rails, positioned to hold your clamps, then thread the pipes into the floor flanges.
A Reality Check
A couple of things… The legs and center rail could also be 2 x 6 instead of 2 x 4. Honestly, I didn't have enough 2″ x 6″ to do the whole thing so I built this prototype (a year ago) with 2″ x 4″ substituted in, and have been using it that way ever since.
I made my rack long enough to hold 36″ clamps resting on top of two of the pipes, with quick acting clamps hanging from the third pipe on the rail. I liked it so much I made another one for 48″ clamps, but don't use it as table saw support.
Make sure you size your clamp rack/support stand to fit your clamps and your table saw. Once you have this in your shop, you'll wonder how you lived without it.
Photos By Author
Related Videos: