PART 1: GRIZZLY JOINTER SELECTION, RECEIVING, AND INITIAL SETUP
I bought my 6″ jointer in June of 1997, and outgrew it by January of 1998. I have been researching and planning for my upgrade to an 8″ model ever since. I like to put myself through something of a "cooling off" period when I get the urge to buy a new tool, so that I can be sure it is not a whim. My wife finally told me that she had heard enough about the specifications and innovations of every major tool manufacturer who plays in the 8″ jointer category, and she said, "If you had to choose right now with the (clears her throat) limited research that you have been able to pull together, which one would you get?" I told her I was leaning toward the Grizzly, and I offered to explain why but before I could even start she had visited the Grizzly web site and put the thing in my shopping basket. Done. 600 pounds of cast iron headed toward Minnesota. (I'd marry that girl all over again!)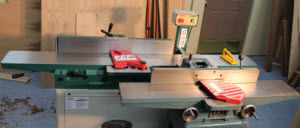 Why upgrade from my 6″ jointer to an 8″ model?It's all about capacity. The immediate thought would be the additional 33% width capacity, which is a great thing since I have recently got into buying hoards of rough cut lumber and drying it myself. More capacity and power are better for surfacing the rough stock.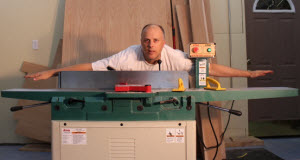 But it's really more about the additional length for me. My 6″ jointer has a 46″ bed, and my new Grizzly has a 76″ bed. I found myself hamstrung by the 6″ jointer on many larger projects, and this was the constant nudging that finally pushed me over the edge.
"Can't you just build an extension?" Asked one co-worker? Yeah, and you can probably buy a new motor for your Yugo so you can avoid buying the Mustang GT. Enough said about homemade jointer bed extensions. Another benefit that I was looking for in a jointer upgrade was more power so that I could utilize the tool for tapering large furniture legs, making deep cuts that would tax my 6″ jointer.
What was important to me? I had looked at every 8″ jointer on the market, but there is only so much you can gather from looking and reading about a tool. I read "bake-off" style reviews, but I have participated in enough of these to know that, while you can get a good cross-sectional point-in-time comparison of features in initial user experience, it is impossible in a point-in-time study to get a full sense of the customer experience. On that front, I read many woodworking blogs and discussion boards to see how people felt about their overall customer experience. I spoke to several woodworkers that I know about their jointers. After all of these various forms of research, I had a few prevailing thoughts.
First, there did not seem to be any total duds among the major manufacturers. In particular I believe that I could have been happy with a jointer from Grizzly, Delta, Jet, General or Powermatic. Customers of these tools seem to be generally satisfied.
Grizzly and General seemed to have the highest regarded 8″ jointers among companies who sell primarily through on-line and telephonic means, with limited retail presence or third party distribution.
Features on 8″ jointers across the various manufacturers have largely become commoditized with only a few differences, so for me ultimate selection was based more upon reputation for quality, service, and value. This a big ticket purchase for most of us (definitely for me!), so I needed a jointer that scored well on all three.
After learning about the advantages of spiral cutter heads (covered in a future separate article), I decided that I wanted one (a "nice to have", not a "must have"). Therefore, an important consideration for my jointer purchase was the reputation of the vendor's spiral cutter head, and the cost of this upgrade over a standard knife-based cutter head.
One of the key differentiators of jointer architecture is the mechanism by which the jointer tables are adjusted. The more common approach is for the beds to traveling on dovetail ways. A far cooler approach is for the jointer to incorporate parallelogram beds that allow the beds to be not only adjusted up and down, but also side-to-side rather than having to use random shims as you would with dovetail ways. Also, on jointers with dovetail ways the table gets further from the cutter as you set it for deeper cuts. This doesn't happen on parallelogram tables. The more I learned about that, the more I wanted that feature, and that separated out many of the models that I had considered.
The questions that I wrestled with during my research phase were:
Can I really have a good experience buying such a large tool from a company that has no direct physical presence or retail partner in my state?
Will it be a hassle to receive a tool from a truck using a lift gate at my home? (I ended up avoiding this by picking it up from the freight company's distribution center)
Can I justify the additional expense (generally about $300 – $400 for an 8″ jointer) of a spiral cutter head?
Will the additional expense of parallelogram beds be worth it?
If I have a problem and have only telephone and internet support, will I be able to deal with any problems that might arise?
I will address these items and more in three separate installments, including this article covering purchase decision and setup, the next article in which I will cover a thorough evaluation of the tool itself as I put it through some tests, and finally I will cover the differences of spiral cutter heads and traditional knife based jointers in a third article.
My choice: Grizzly 490X with spiral cutter head and mobile base. I chose the Grizzly 490X because I felt that it delivered an exceptional feature set for the price. I got every option that I was considering (spiral cutter head, mobile base, parallelogram beds), and paid a price that I felt was quite reasonable ($1,339 delivered). In fact, at about $2/pound, I think it is so cheap I can't imagine that a company could make money selling them. Similarly configured models from competing vendors were well over $2,000, and I figured even if there were some subtle differences, I believe that this machine should serve a serious hobbyist woodworker extremely well. The research that I did suggested the parallelogram beds on this unit were worth the price differential compared to Grizzly's popular GO656 series. Also, my research suggested that the Grizzly spiral cutter head is top notch, reasonably priced, and comes factory installed on this unit.
My only reservations were related to receiving a 600 pound beast via truck delivery to my home, and the lack of a local retail presence to give me a (perhaps false) sense of being better supported if something went wrong. But I figured that in reality I would not be bringing a 600 pound tool into a local shop for repair, and my local retailers don't make house calls, so I would be doing any repair myself anyway. So, I figured the savings made it worth the risk of using a remote vendor.
Delivery #1. I called to schedule a delivery time and found that the freight company was located near my office, so I decided to pick it up rather than having them deliver it to my home. That way I figured I would not have to schedule a half day off of work to be home to receive it, and I could easily arrange for a friend to help me get it out of my car and into my shop in the evening.The jointer arrived in two packages. I was able to load the base into the back of my SUV.
Delivery #2. For the larger package which contained the cast iron bed, I had to borrow my wife's Prius as it would not fit into my SUV. The guys on the dock were amused, as they have never loaded something so heavy into something so little. They questioned whether it would be easier to lift the crate into the Prius, or the Prius into the crate. (As a side note, the Prius got 42 mpg on the way home, even with such a massive payload, but this is not a Prius review, so I will move on.)
Serious packaging. The jointer bed and fence were enclosed in a custom shipping crate that was rugged, allowing for easy carrying (by two people) and durable. Everything had arrived in good condition.
Motor well secured for shipment. The motor was bolted to the inside top of the base, where it is safely secured for any rough treatment while in transit. It was easy to remove and attach to the motor mounts.
Called my strong neighbor. Setup was relatively easy, but time consuming at roughly 3-4 hours. I didn't mind spending the time assembling the unit, as it gave me a good opportunity to get to know the engineering of the machine. I was able to set up the base by myself, but called upon my weight lifter neighbor, Jerry, to assist with the cast iron bed. It was seriously heavy, but manageable for two strong adults with healthy backs.
Removed rust prevention goop. This was much easier than I had expected based upon my experience with other tool manufacturers. I used mineral spirits, and it was a breeze to remove the rust prevention goop that is added to most imported cast iron tools.
Checked for square & flat. I measured everything that I could check to see if there were any warped pieces of cast iron, or factory adjustments that were thrown off in shipment. Perfection all the way around. This thing was ready to rock and roll as soon as setup was complete.
Test flight. After it was all setup, I wired a dedicated circuit for the jointer, attached a plug, and fired it up. Unfortunately I hit a snag (hopefully minor), which can serve as a real-world test for Grizzly support. It made a loud bang as it started which didn't sound terrible, but didn't sound right. So I shut it down, and as it spun down it made an extremely loud vibrating sound for about two seconds which was unacceptable in my mind. I tested to ensure that everything was setup properly, pulleys co-planar, motor solidly attached, etc. Everything looked good. I made some minor adjustments and tried it a couple more times and it still made the noise, so I called Grizzly technical support. They were extremely knowledgeable, responsive and helpful, and diagnosed the problem to be a bad belt. The service representative indicated that a replacement would be shipped immediately, and should arrive within 3-5 business days. Hopefully that will solve the problem.
That is where I sit for now. Once I work out this vibration issue, I will put the jointer through its paces and give you a detailed report on the machine. I am optimistic, and I like the look and feel of this tool a lot, so I look forward to providing a positive update soon.
Photos by Author unless otherwise credited.
Source:
G490X, Grizzly 8″ Jointer with Parallelogram Beds and Spiral Cutter Head, $1,250 plus shipping.
800-523-4777