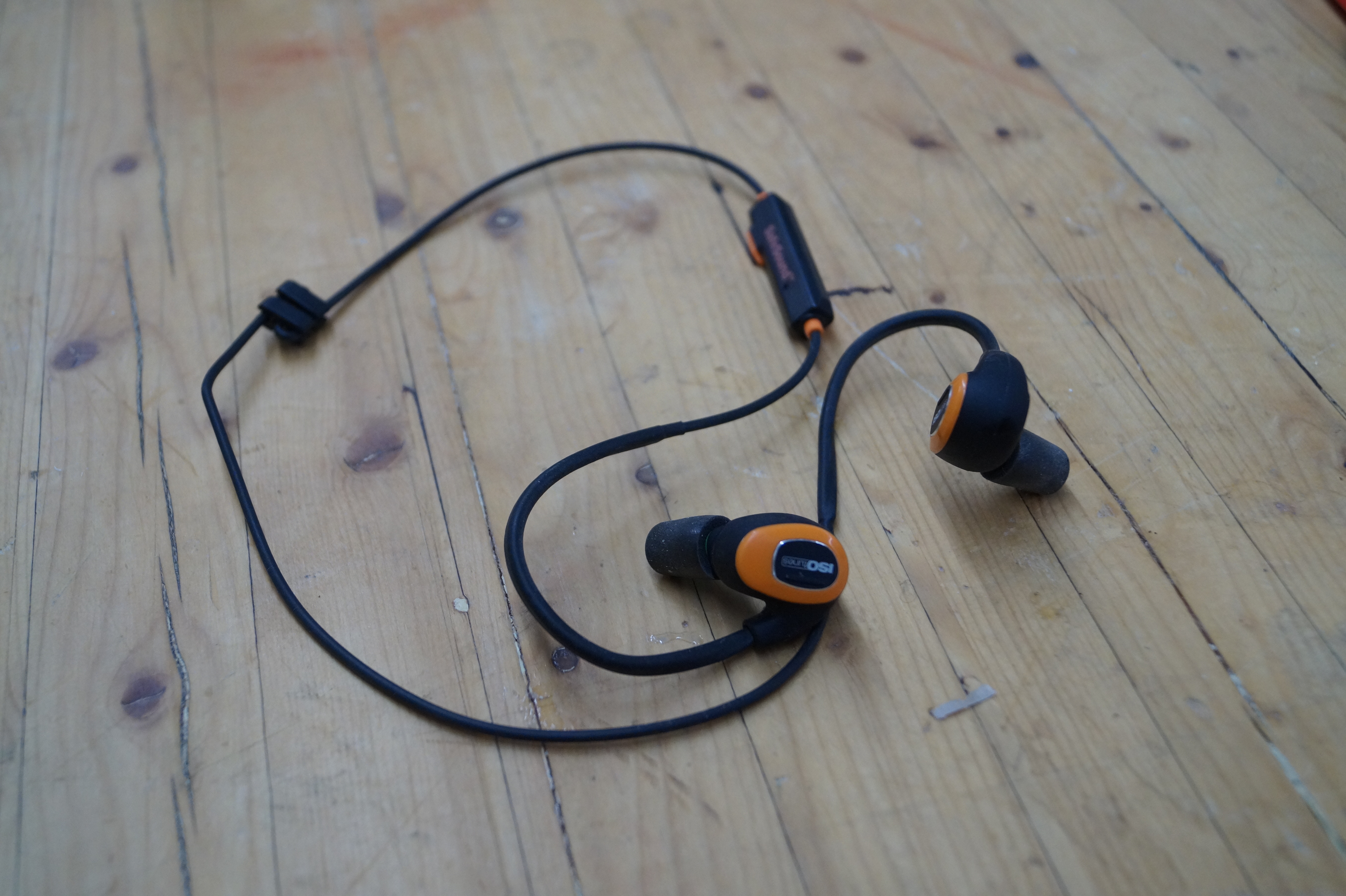 If you're going to be around tools, you've GOT TO use hearing protection. If you don't want to have to choose between music, phone calls, and hearing protection, you should have a look at ISOtunes Pro. Learn more about them with this product review.
I have my share (or more) of electronic devices, and I know I've tried more than my share of Bluetooth gizmos that connect to the devices. One lets me talk on the phone, hands free. Another gives me stereo sound while I'm working, or working out. But when it's time to run tools I have to dump 'em all and get my hearing protection on. When I'm looking at a long day of running tools, I hate that I'm no longer able to listen to music. Say goodbye to those days. ISOtunes Pro, $89.99, provides one stop shopping for my music, phone conversations, AND hearing protection. Plus there's a crazy cool feature I'll talk more about later.
What are ISOtunes Pro?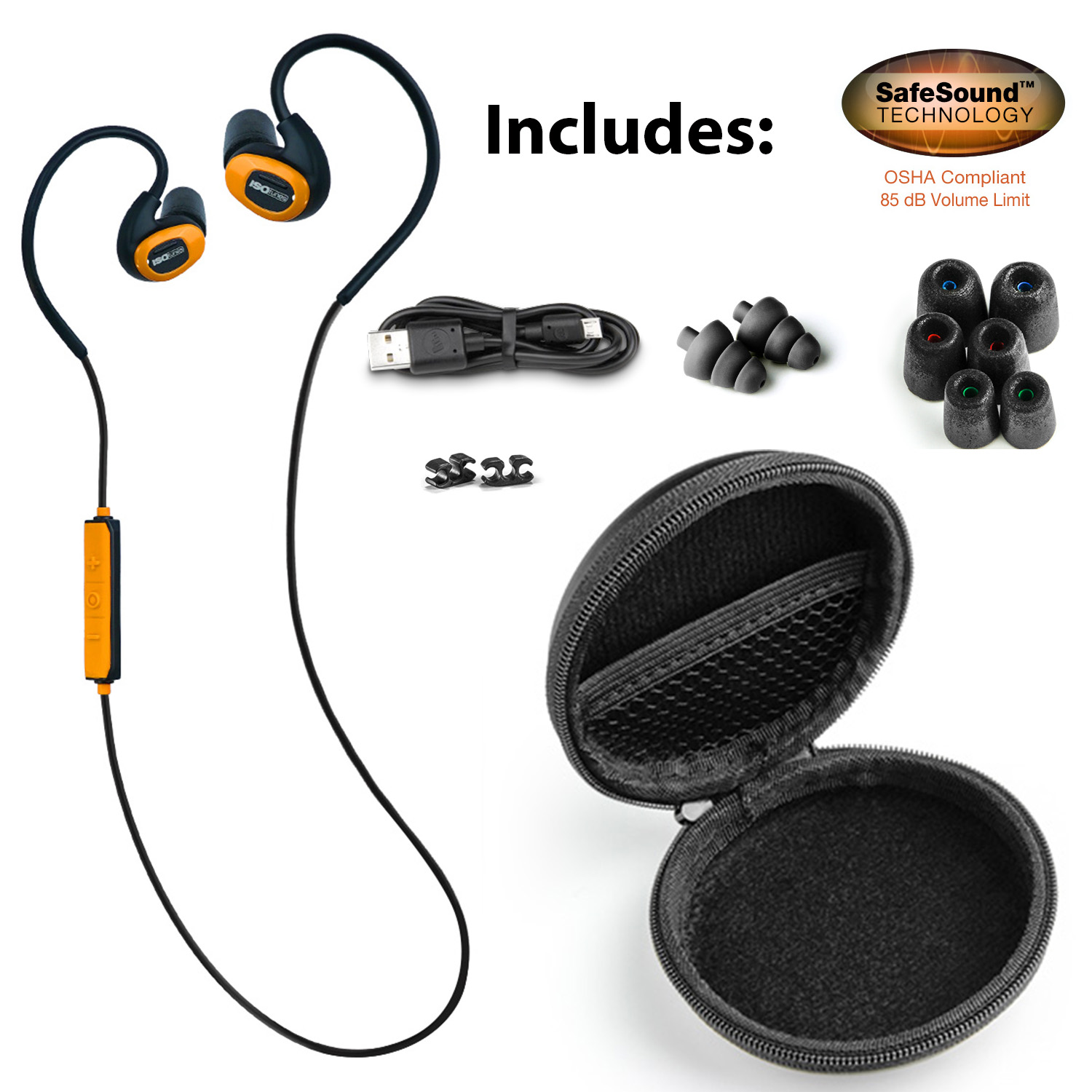 Here's the complete ISOtunes Pro kit; a great hard shell case, headset, three sizes of foam ear pieces, and a charging cord. Similar to using ear plugs, you'll roll or squeeze the ear pieces between your fingers before inserting them in your ear. Once in, they'll expand for a great fit, providing 27 decibels of noise reduction. To get a relative perspective on 27 dB of noise reduction… OSHA figures if you're below 85 dB, you're safe. Most woodworking tools run around 105 dB. Do the math. IT Pro gets you below the safe hearing level.
Hearing protection, check.
Phone use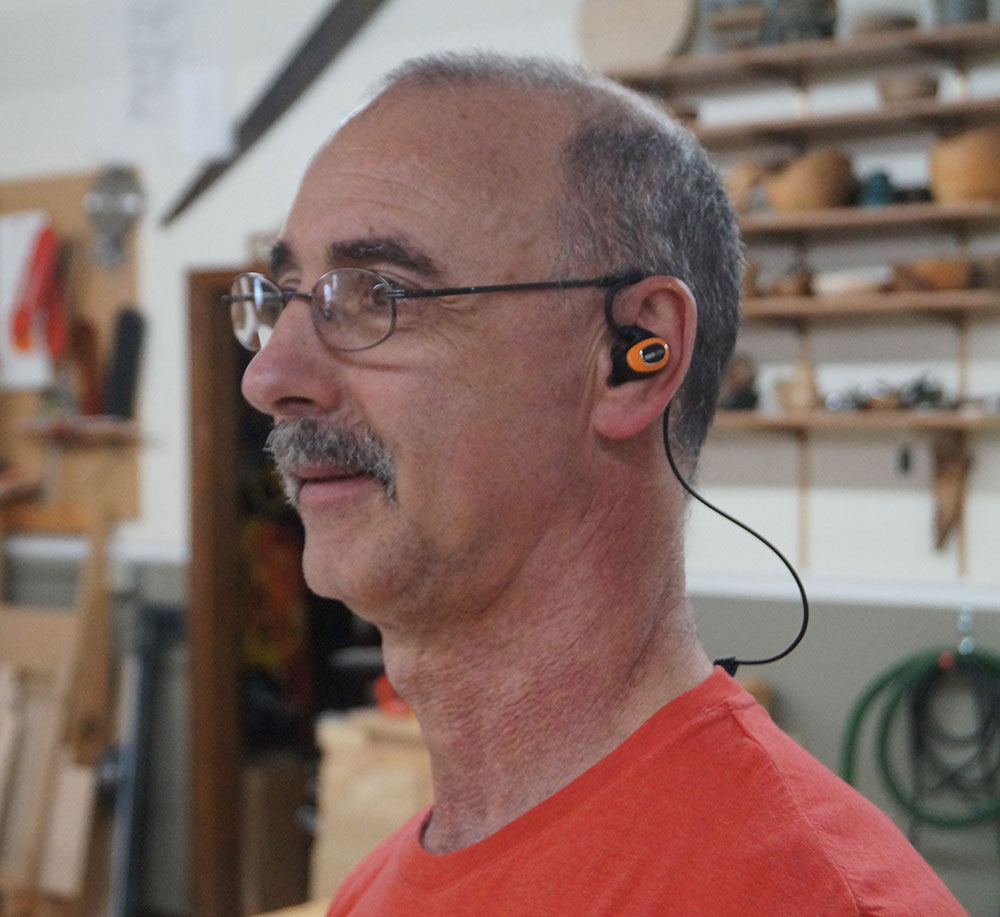 This part's simple. Pair IT Pro to your phone, and you can talk on the phone through the headset. When the phone rings, I hear the ringer through the ear pieces. Answer the call by hitting the answer/end button. (Guess how you end a call.) Increase or decrease volume with the volume up/volume down buttons.
I use an iPhone 6, and have had no connectivity problems. In fact, IT Pro has outshone many other Bluetooth devices I've tried. My shop is a steel building, which has a funky effect on wireless stuff (including the wireless mics we use for videos). I've tried a lot of Bluetooth headsets with my iPhone, with lousy luck at maintaining the connection. This hasn't been an issue with IT Pro. I've queried LOTS of people I talk to, and they've all told me audio quality on their end is great when I'm on IT Pro.
Want to talk to Siri? Not a problem. I can communicate with her (it?) through the headset, just as I do when I talk directly to the phone. But I've talked to other users, and they have no problems with this, so it may just be my voice.
I can also use the buttons to reject a call, transfer the call back to my phone, mute calls, and redial the last number. If I could choose one more feature to add, I'd like IT Pro to access my contact list and announce the caller. I've had this feature on other headsets, and love it.
Full functionality with my phone, check.
Music
When it comes to music I'm primarily a Pandora guy. And it's ALWAYS on. (So I was very bummed when noisy tools displaced my tunes.) Pause, there's a button for that. Skip a track, there's a button for that. Previous track, (on a playlist, not Pandora) there's a button for that. And, of course, volume up and volume down.
Music to my ears, check
Noise cancelling
I saved the best for last. I'm a busy guy. If I'm on the phone, I want to multi-task. In the shop that could mean running a vac or sander while I'm chatting, if I can get away with it. With previous headsets, no way. I'd get all sorts of complaints from the person on the other end about background noise. IT Pro has a noise cancelling feature that is, simply, amazing. Here's the deal. You're on the phone, you kick on a shop vacuum, the person on the other end hears it for a second, and then the mic cancels out the vac, but leaves your voice alone. It's like magic! Now all they hear is my melodic voice, and I can hear them perfectly.
I've successfully used IT Pro with random orbit sanders, shop vacuums, and a belt sander. It worked great. Does it work with routers, table saws, bandsaws? I don't know. When I'm running those tools, I'm not going to talk on the phone at the same time.
The noise cancelling feature works best on continuous noise. You turn on a shop vac and keep it running, you're golden. You turn something on, then off, then on, then off. Not so much. The best way to take advantage of the noise cancelling feature is to stop talking, turn on the noisy thing, give IT Pro a sec to catch up, and then resume the conversation. Watch the video and you'll see what I mean.
Work AND talk on the phone, check.
Working out
I run or bike nearly every day. I was concerned about the ear pieces staying in place on a run, but it hasn't been a problem. IT Pro is water resistant so can get damp (but don't go swimming with them in) and survive. A great feature when I'm sweating to the oldies.
Work out buddies, check.
Other stuff
IsoTunes says the range from your phone to the ear buds is 30-feet. I've set my phone down and been 60-feet away without losing touch.
Battery life is stated as 10 hours talk time, 240 hours on standby. I work a lot of really long days, and have never run out of battery. Well, I've run out of battery, but IT Pro hasn't. But I'm careful about charging every night. The headset beeps when the battery is running low, and a "fuel gauge" shows up next to the headset symbol on my phone, showing me how much juice is left.
Are you a two phone kind of person? You can connect to both, and toggle back and forth between them when calls come in.
There's another model you should know about, simply called ISOtunes, $59.99. You still get hearing protection, noise cancelling, tunes… but battery life is shorter, hearing protection is 26 instead of 27 dB, background noise suppression is (according the manufacturer) not quite as affective as on the Pro.
I love listening to music. I spend a boatload of time on the phone. I'm almost always surrounded by noisy stuff. ISOtunes Pro has changed that dynamic significantly for me, for the better. Everything I need is in one product, and I honestly feel I'm more productive as a result. And probably less cranky, since I don't have to go without my music.
Source
ISOtune Pro
$89.99
www.isotunesaudio.com
Available on Amazon.com