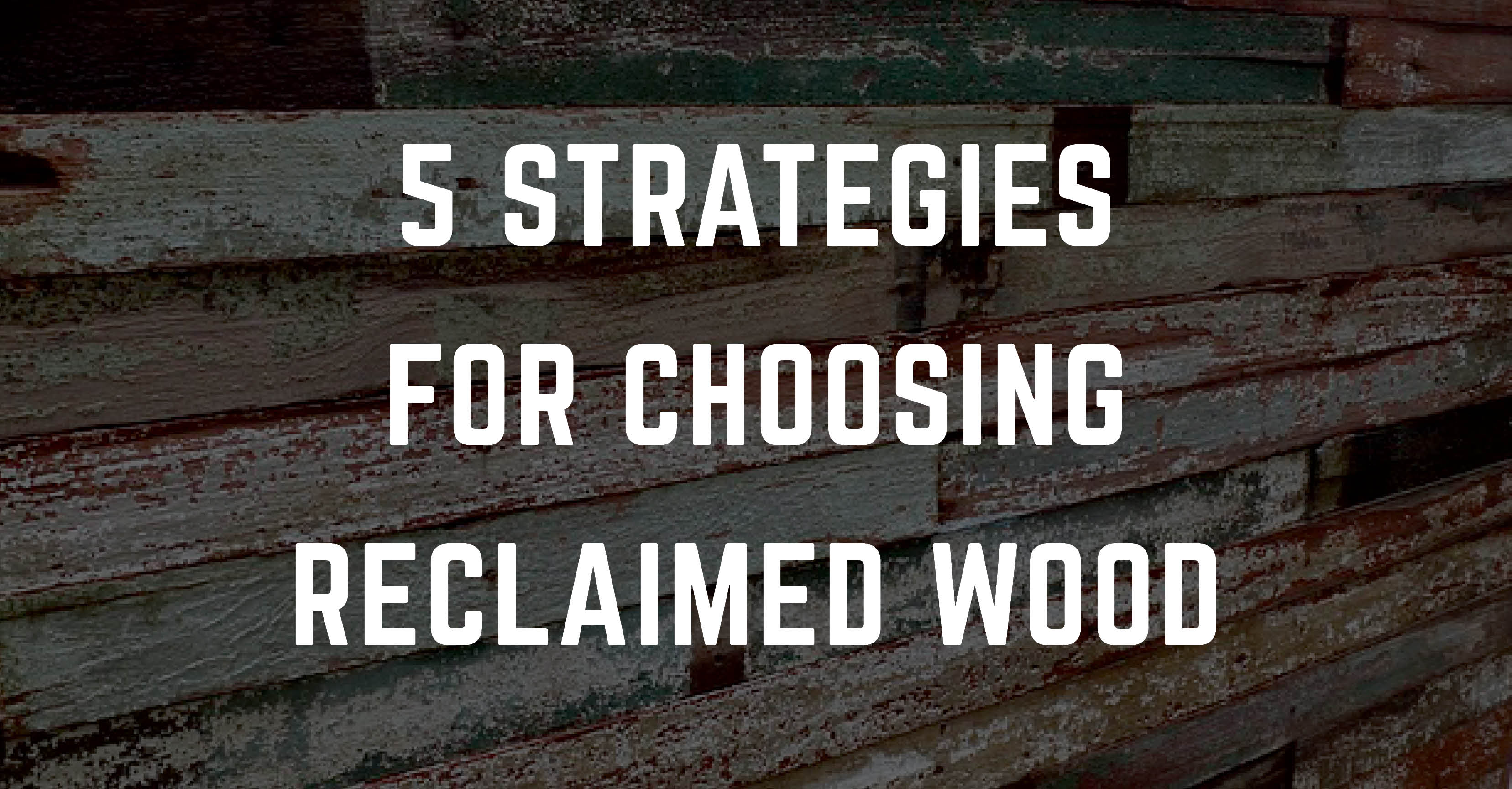 Upcycling, or turning old materials into new projects, is all the rage these days. With the cost of lumber rising, it's never been a better time to jump on the bandwagon. Multiple sources for reclaimed lumber exist, especially if you know where to look for them: recycling centers, Craigslist, the classifieds, the junkyard and friends.
Before you fill your shop with reclaimed lumber, however, make sure you're getting a quality product. Keep these five tips in mind, and you stand a much better chance of choosing quality materials.
Choose Dry, Tight Wood
Although reclaimed wood can be visually appealing and adds to your eco-friendly karma, it is pointless to use it if you're unable to work with it. Before purchase, assess the wood to make sure there's still enough useable material left. While most reclaimed wood will have cracks or splits, ensure that they are small enough to use as is, or fill with epoxy, so they don't ruin the look of your finished product or weaken its structural integrity. Also ensure it's completely dry and free from rot.
Examine Wood to Ensure Inner Stability
Stability is important, and reclaimed wood may be more stable than new stuff due to the long time it has had to dry, and the fact that "back in the day," wood was often harvested from old growth trees with tighter grain. However, since there's no telling how long reclaimed wood has been exposed to poor treatment, the elements or other poor conditions, you must make sure that the wood isn't rotten or otherwise ruined. Check for soft parts, rotting or moldy patches, or bits that look like they've got sawdust on them, which could indicate the presence of wood-eating insects. Lumber that shows signs of rot should be discarded. If the outside is sound, most likely the inside will be as well.

Before you get all excited and buy a batch of reclaimed wood that seems like a great deal, remember to keep your project in mind. If you're going for an antique look, then rough-sawn barn wood will make for great material. If you want a more polished project, you might choose reclaimed wood from an old floor which is worn smooth by the passage of time. Shabby chic is all the rage right now, so if you can find wood with paint partially worn off, you can save yourself the DIY hack of painting then sanding newer lumber. Keep your final project in mind and you'll have an easier time selecting wood that will match your final aesthetic.
Choose Distributors Wisely
If you really care about buying the best reclaimed wood products, you may want to avoid classified ads or broken-down barns in favor of a company that specializes in recycling materials. Many distributors, those that care about their product and their customers, painstakingly choose wood that has a lot of life left in it, then process it to make sure it's dry and free of nails, staples and other debris. If you choose to pay the higher costs associated with buying from a reclaimed wood distributor, make sure you research them first. You can find a reputable distributor by performing a browser search for reclaimed wood in your area. Have a look at their selection of material, and ask for contact info for woodworkers who have used their product.
Be Safe
Some old wood may have lead paint on its surface, which can be dangerous if you are not careful. Always sand outside and avoid working on windy days, as that can cause particulate matter to enter your home. Use a sander with a HEPA filter to catch paint dust and always wear a mask. Keep children away from unprocessed reclaimed wood that may have lead-based paint on it. If there's any chance of lead in the paint, don't use the material. This is another good reason for using a "middle man," a reclaimed wood supplier, since cleaning up the wood will their problem, not yours.
Remember Beauty
There's no reason you should have to forego beauty simply because you're buying a new-to-you product. Buying reclaimed wood doesn't mean you have to settle for materials that are warped, cracked or otherwise imperfect. Moreover, a beautiful piece of furniture depends on the ability to shape the wood to your needs so that its joinery fits well and it takes a nice finish. Just like with new wood, using quality reclaimed materials is crucial to a beautiful end product, even if part of that beauty is that the product contains the cracks, holes and defects that mark it as recycled.
Reclaimed wood is an excellent way to reduce your footprint and add some good old-fashioned character to your projects. But if you aren't careful, it's also a good way to be disappointed with the results of your hard work. Don't let that happen. Instead, remember these tips when making your next purchase and you'll do just fine.
Check out this video for more info on reclaimed and old growth timber:
You can also see a project made from reclaimed wood in this video.The table shown at the start of the video was made from Ponderosa Pine that was over 100 years old.