Our goal at WoodWorkers Guild of America is simple: to provide woodworkers with the highest-quality woodworking videos, tips, and technique instruction. We aim to foster a community where woodworkers – whether new hobbyists or seasoned professionals – can join together to exchange and share their ideas and experiences. Ultimately, we want to keep you safe and busy in the shop!
The Beginning
Several years ago, we decided that the Internet needed high-quality instructional woodworking videos, so we searched conferences, competitions, backyard workshops and website forums to find and enlist the nation's top instructors and editors to help us produce The Complete Woodworking Video Collection. We partnered with George Vondriska, owner of The Wild Earth Woodworking School and one of the premier instructors in the woodworking industry, and asked him to instruct our new video series and act as managing editor of WWGOA.com. Behind George's expertise and experience, WoodWorkers Guild of America was born.
The Rest of the Story
WoodWorkers Guild of America (WWGOA) has since become the home to thousands of woodworkers just like you who are hungry to learn and eager to share their knowledge. There are no prerequisites to use and enjoy the site; any enthusiast who wants to improve their craft can log on and start browsing. Our team of professional editors consists of leading woodworking instructors and skilled craftsmen who all take the time to listen to what you have to say. They hand-pick and teach every bit of our content to guarantee it is the highest-quality instructional material you'll find on the web.
Browse around the website to find topics on woodworking tips and techniques, skill building, shop improvements, tool buying advice, and more.
Become a Premium Member to unlock all the benefits WWGOA.com has to offer. Learn more about what that means here.
---
Meet Our Contributing Editors
George Vondriska – Managing Editor
George Vondriska has been teaching woodworking since 1986. In addition to teaching classes at his own Vondriska Woodworks School, George teaches at woodworking shows across the country and has taught woodworking for Peace Corps/Swaziland, Andersen Window, Northwest Airlines, and the Pentagon. George has had numerous magazine articles published, from tool reviews to shop improvement projects. Learn more about him and his school at vondriskawoodworks.com.
---
Tom Caspar
Tom Caspar has been a furniture maker since apprenticing to a Swedish cabinetmaker almost 40 years ago. Located in Minneapolis, Minnesota, he was for many years editor of Woodwork and American Woodworker magazines. Tom has shared his expertise through more than fifty articles on a huge range of techniques and projects, as well as through reports on tool tests. He has been teaching The Unplugged Woodshop, a 12-week introductory course on hand tools, for 25 years.
---
Seth Keller
Seth Keller designs and builds custom furniture in St. Paul, Minnesota. He sells his work locally and nationally. He studied literature and art at UW-Madison and UNC-Asheville and Interior Design at Parsons School of Design in New York City. His furniture skills are mostly self-taught, with the guidance of many mentors. Seth ascribes to the maxim that making mistakes is the best way to acquire knowledge.
---
Bruce Kieffer
Bruce Kieffer resides in Edina, Minnesota, and is a freelance woodworking author, technical illustrator, and custom furniture builder. He has built everything imaginable, including uniquely designed art furniture, Stickley and other reproductions, all types of household furniture and even canoes and a sailboat. Fine furniture and custom cabinets are his specialty. You can see a collection of his work from the past 30 years on his website at KCFI.biz
---
Paul Mayer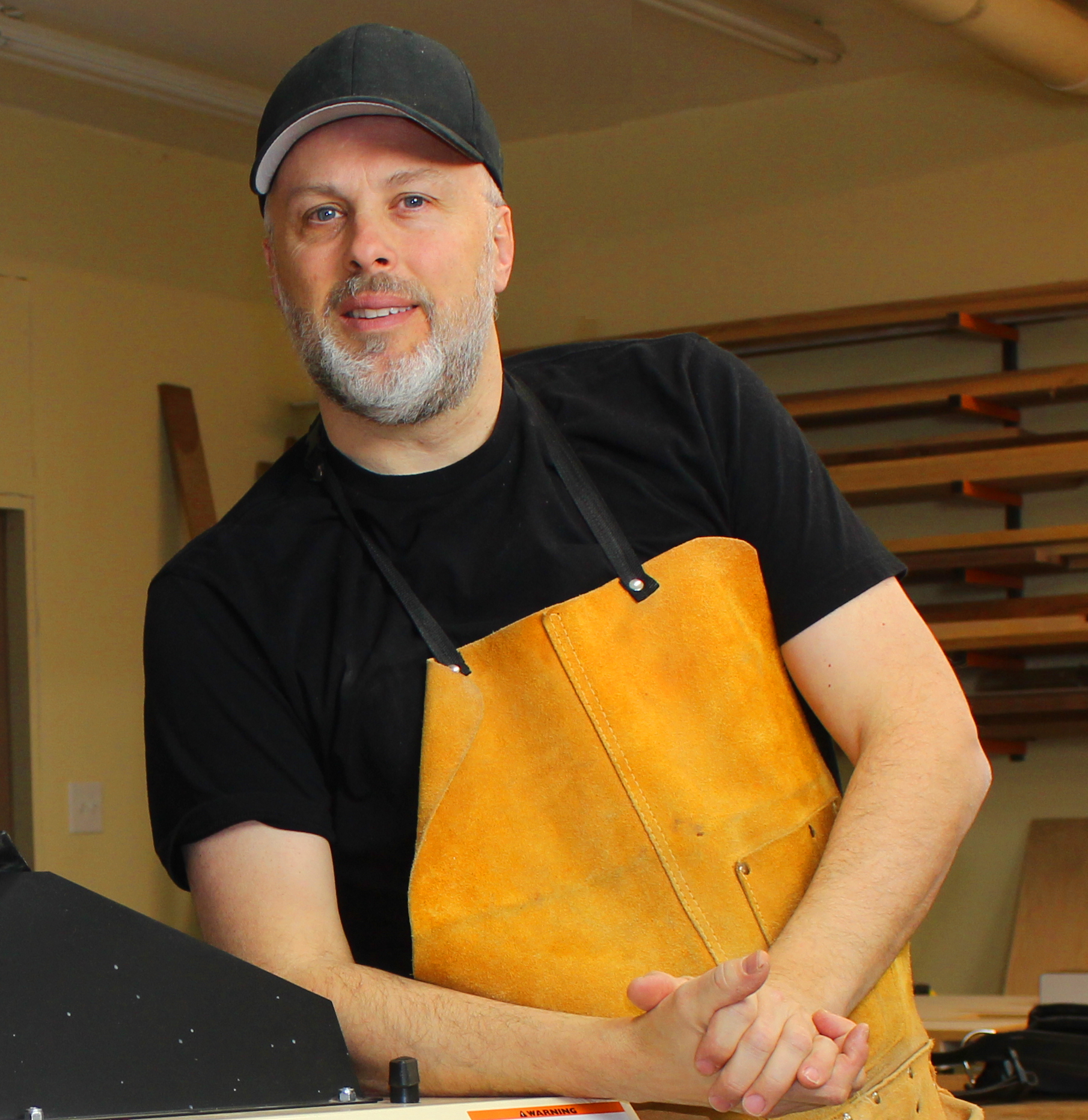 Paul Mayer lives in Lakeville, Minnesota, where he designs and builds furniture. He seeks inspiration from many art forms and has been taught by the work of others. Paul welcomes new obsessions that lead to unexpected projects, ranging from carved spoons to armoires. Mayer holds a master's degree in organizational management and has worked as: a director at a Fortune 500 company, a college instructor, and freelance writer. He recently established Vern's Wood Goods, a retirement business for his father.. Woodworkers please feel free to connect on Facebook: www.facebook.com/paul.mayer1
---
David Munkittrick
David Munkittrick lives in western Wisconsin and has been woodworking as a professional woodworker for 25 years. His property contains an old pig barn that he retrofitted to use as a woodwork shop. Over the years, he has had the opportunity to write numerous magazine articles for various publications on woodworking and home improvement. His passion is to build furniture and cabinets and tell the world of his experiences. He is continually amazed at the breadth and depth of woodworking throughout the world we live in. He sees his job as helping others get the information they need to develop their skills, make wise buying decisions and make their woodworking endeavors a success.
---
David Radtke
David Radtke is a custom cabinetmaker, woodworker, home design consultant and freelance writer living in Minneapolis, Minnesota. As a former Senior Editor of a popular home improvement magazine, he designed and built specialty bookcases, landscape architectural projects and a variety of home improvement projects. He currently designs and builds furniture and writes woodworking articles for woodworking magazines and custom publications. Other projects include writing scripts for The Home Pro television series and making guest appearances on Minnesota Public Radio's home improvement segments. He enjoys archery, bowmaking, woodturning, canoeing and cycling whenever he's not standing behind a table saw or sitting in front of the drawing board. Learn more about David at David Radtke Design.
---
Sandor Nagyszalanczy
Sandor Nagyszalanczy lives in Bonny Doon, California, and has more than 40 years of experience as a furniture designer/craftsman. He has been a Senior Editor of Fine Woodworking magazine, West Coast Editor of American Woodworker and is currently a Contributing Editor for the Woodworker's Journal. Sandor is the author and photographer of more than a dozen books on woodworking, tools and home improvement topics and is the winner of eight consecutive NAHWW-Vaughan first-place "Golden Hammer" Awards for his writing and photography. He's served as a consultant to several major power tool companies and has lectured at woodworking fairs and exhibitions around the country..