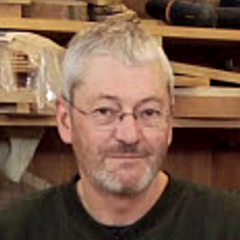 Cutting Plywood Without a Table Saw
David Munkittrick
Plenty of projects call for plywood or other sheet stock. If you don't own a table saw, you might figure those projects are out of reach for you. Not so! Dave Munkittrick has come up with a great way to handle sheet goods. If you have a plywood-hungry project in mind, check out Dave's great technique for cutting plywood without a table saw.
Tools Required
Dave's got this process dialed in very well. He uses a jigsaw to rough out the material, and a shop-made straight edge in conjunction with a hand-held router to complete the pieces The key to the router work is bit selection. He'll show you exactly what you need. A really cool aspect is that once you have one good piece, it becomes the template for your remaining pieces. It's like using a cookie cutter on plywood. You'll see that cutting plywood without a table saw is pretty simple.
Dave's Project
Dave has been using this technique for quite a while, and is showing it here as part of his article covering How to Build a Bat House. The bat house is a great project to do on your own, or with a group. How about having a group of kids in your shop working on bat houses? Why bats? Their habitat is endangered all over the world. Plus, they eat tons of bugs a day. They provide an insecticide-free way to keep an area clear of flying pests.
Or, a Bird House
Maybe bat houses aren't your thing, and you'd rather build for our feathered friends. If so, check out our bird house plans. They're very simple, making this another great project to do with kids.
You may also be interested in:
Shop-Made Circular Saw Guide
Explore videos by David Munkittrick