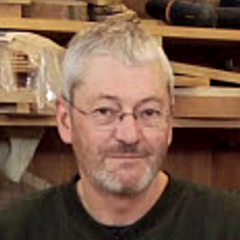 Clamping Cauls from Scrap 2x4s
David Munkittrick
Make big glue ups a cinch with clamping cauls made from scrap 2x4s. For cabinet cases and edge banding, you can't beat clamping cauls to make glue ups go faster and to spread clamping pressure evenly. These shop assistants allow you to do bigger glue ups with fewer clamps.
Shop Made Clamping Cauls
There's no reason to buy clamping cauls. All you need is scrap material. There are some distinct characteristics you need the caul material to have so they work as they're supposed to. We'll fill you in on the best material to use for cauls, and what you should avoid.
Making a caul is simple, and we'll teach you how to do it. There are a few steps in making sure the caul is straight and true, and shop-friendly, and we'll provide everything you need to make that happen.
In this video, you'll also learn about identifying the "crown" or high spot, toward the middle of the piece of wood you've turned into a caul. You'll mark the crown with arrows so you can take advantage of it when setting up your glue up.
You'll Use Your Cauls Often
Most of our woodworking projects involve some gluing and clamping. And most woodworkers have a collection of clamps used for woodworking, but you can never really have enough. With clamping cauls in you workshop, you'll be able to take on bigger projects. Plus, you'll find yourself wondering how you lived without them!
Explore videos by David Munkittrick