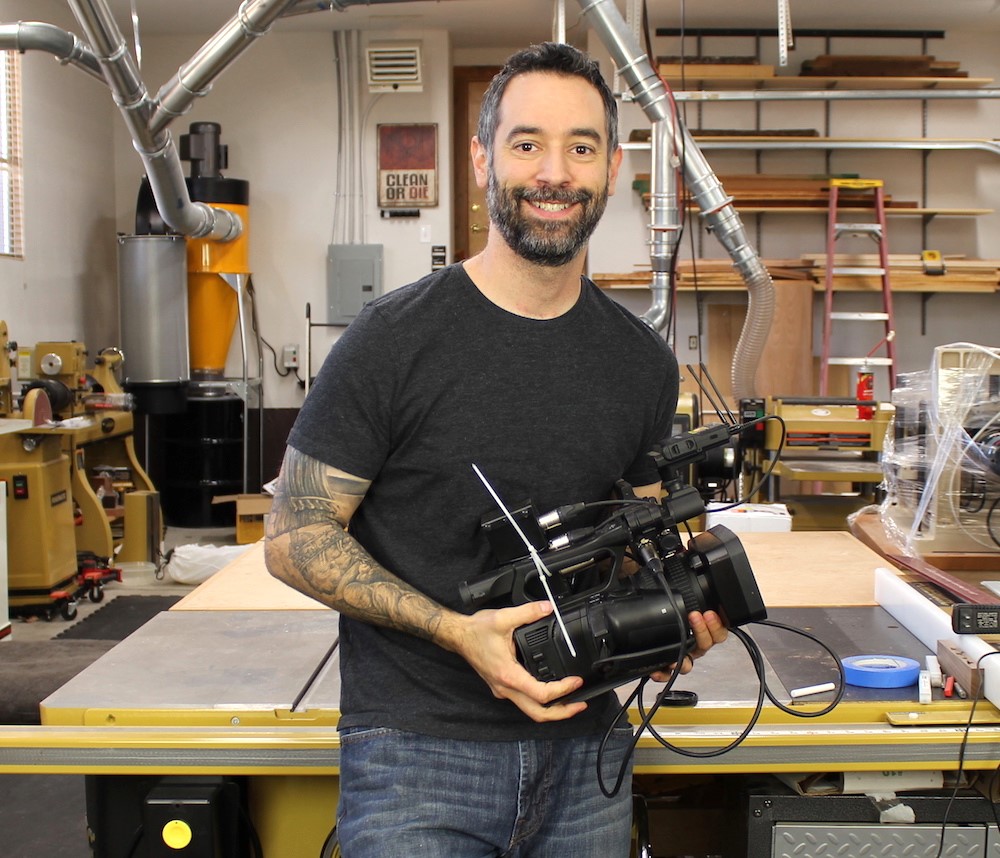 Meet Marc Spagnuolo, winner of the "Best Furniture Making Blog" category in the 2018 WWGOA Blogger Awards! In June 2018, WWGOA hosted a competition dedicated to finding the best of the best woodworking blogs on the web. We asked you to nominate and vote for your favorite bloggers, and now we're thrilled to be able to announce the winners!
Marc's blog, The Wood Whisperer, is a great resource for plans, projects, live shows, and tutorials of all kinds!
Marc also hosts podcast called WoodTalk which also has it's own forum, so be sure to check it out!
Learn more about Marc and his woodworking story below!
Q: When did you first begin woodworking?
I was never afraid to build stuff as a kid, from reptile enclosures to speaker boxes for my truck. But I began woodworking in earnest in 2004 after buying my first home. We bought a fixer-upper and I picked up a few tools to help me with DIY projects. Once those were done, I had the tools and a desire to build something with my hands after a long commute to/from a job I really didn't enjoy. And just like that my love for woodworking was born.
Q: Who taught you how to woodwork?
My biggest influence is David Marks. I had the good fortune of working with him directly in an apprenticeship-style role and I was a huge fan of his TV show Woodworks. I was also a big fan of Norm from the New Yankee Workshop. While I learned a lot from both of those guys, the majority of my learning came from books, magazines, DVDs and forums.
Q: What was your first project?
My first project ever was a speaker box for my truck, back in the day when I was trying to lose my hearing. It was a simple plywood affair with some holes in it for speakers, a couple of simple electronic components, and a coating of the finest paint my high school budget could afford at the time.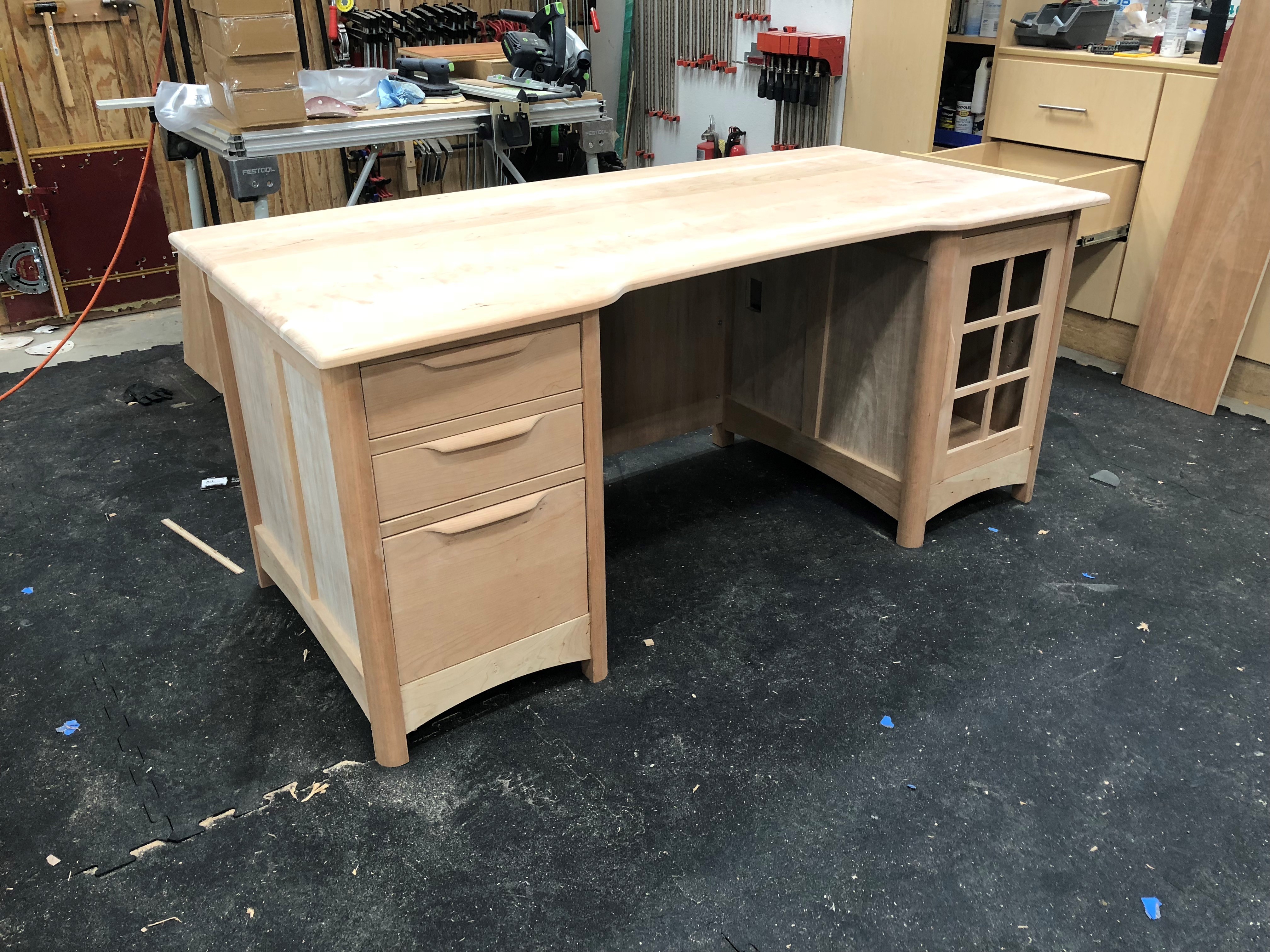 Q: What are you currently working on?
A cherry executive desk project featuring built-in power, ventilation fans for gear, and cable management.
Q: What is your favorite type of project to make in the shop?
I don't have a favorite project. I love building furniture. Anything from chairs to casework to those fun little one-off things. It's like the bumper sticker that says "a bad day of fishing is still better than a good day at work." Well, I'm a pretty busy guy and I do get stressed out by work, but in the end my job is more like fishing than work.
Q: What is your shop like?
It's a 4-car attached garage. Concrete floors which I covered with rubber anti-fatigue tiles, 11 ft high ceilings, three windows, and thankfully, insulation behind the walls.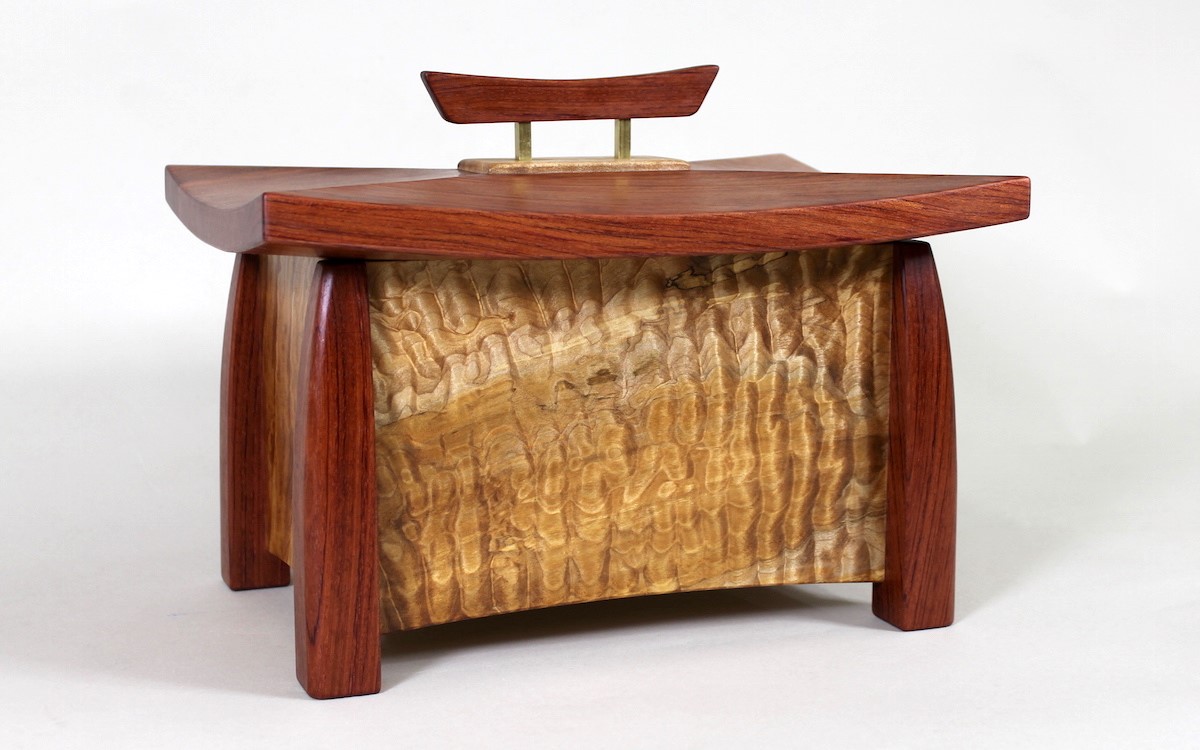 Q: What project have you been most proud of?
My Uncle's memorial box. My Uncle passed away a few years ago and I was tasked with building a box for my Aunt that would hold some keepsakes as well as his ashes. I built the box in a day or two but it was one of those straight from the heart projects. I didn't think too much during that build and the box that came out of it proved to be one of my favorite pieces I've ever made. No plans, not strategy, but wood and emotion.
Q: What woodworking tool could you not live without, and why?
The router. It's one of the most versatile tools in the shop and the more you use it, the more you realize it's capable of doing. It's truly the shop workhorse.
Q: What's your favorite species of wood to work with, and why?
Cherry. Because it's a domestic species I don't feel guilty about using it. It's obviously gorgeous and it's a wood that will never go out of style.
Q: What would you say to someone who is just beginning woodworking?
No! Stop! Don't! OK just kidding. Outside of my wife and kids, woodworking is the best thing to happen to me. So jump in head first! These days, there are so many resources at our fingertips and it can actually be quite intimidating to a new woodworker. Paralysis by analysis is a very real thing so beware of that. Don't let the fact that there are 15 woodworkers on YouTube with 15 different opinions stop you from jumping in and trying something out. Just get in there and get some sawdust under your fingernails. Also, trim your fingernails.
Q: What's your favorite thing about woodworking?
It may sound a little ironic as a guy who bases most of his career around the community of woodworkers and spends nearly all of his time filming himself so he can share the content with thousands of woodworkers around the world, but my favorite part of woodworking is being alone. I have two kids, ages 6 and 2, two dogs, a never-ending sea of emails, private messages, comments, and questions all vying for my attention every day. I cherish the simplicity, calm, and serenity of a shop day. Having that time alone energizes me for all of my other communal and family responsibilities.