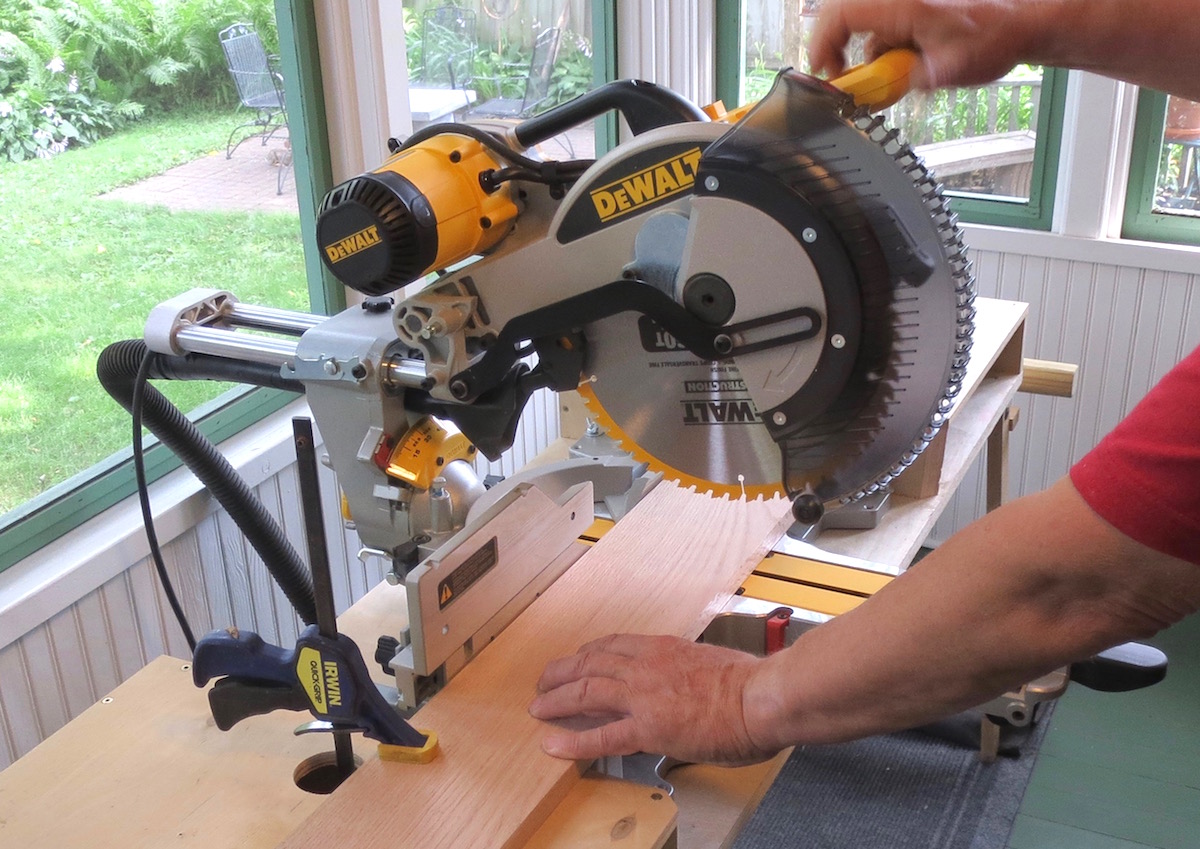 If you're considering adding a new miter saw to your shop, don't make a move until you've read this great product review of the DeWalt DWS780. Does it make the cut? Read on to find out.
I've owned several miter saws in my woodworking career. In fact, when I started out in carpentry, we were still using hand-powered miter saws to cut door and window casings. Great strides in safety and function have been made since my first Rockwell power miter saw in the 1970's (a really scary machine) through the various design changes of the stationary and slide miter saws. Needless to say, as I opened the box of my new Dewalt DWS780 sliding dual bevel miter saw I was eager to see the latest improvements!
This saw is impressive from the start. The retail cost is around $600 so your pocketbook tells you right away that it's definitely a saw designed for the professional. But keep an eye out for sale prices more in the $400 range. Since I carry my saw with me to installation jobs, I was hoping it would be a bit lighter than its 56 lbs., but I soon realized that a saw with this much stability and function couldn't be a featherweight. This saw was ready to go and cut accurately right out of the box. That being said, I encourage you to check yours with test cuts before plunging into a project. The machine is fully adjustable, and after set-up will give very precise results from a simple crosscut to a complex compound crown-molding cut.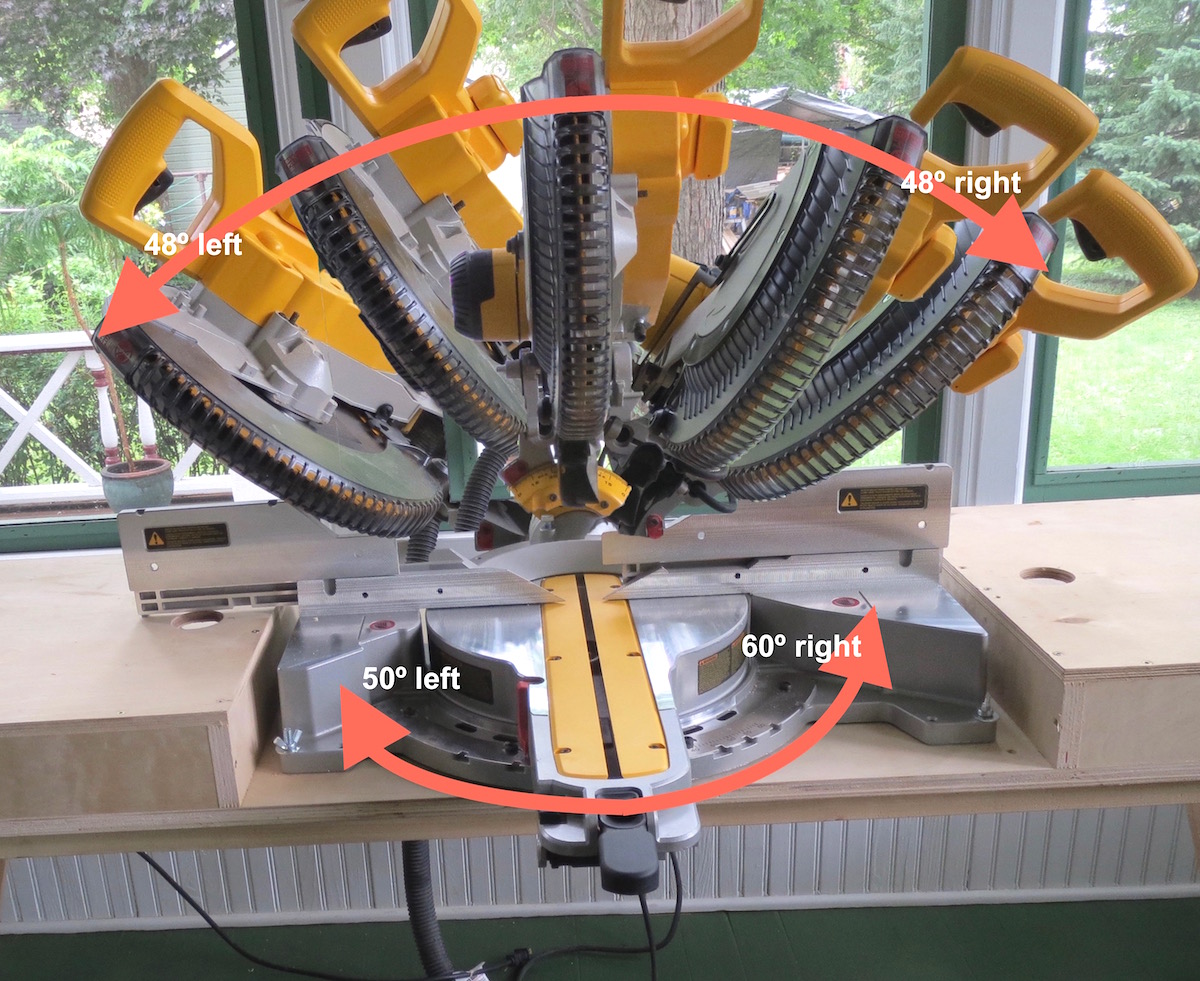 This saw is extremely versatile. You can cut a full 48-degree bevel to the right or left. Miters are equally versatile allowing you to cut 50-degrees to the left and a full 60-degrees to the right. The dual bevel feature allows you to cut your workpiece in the orientation you choose which will help minimize errors caused by flipping workpieces upside down or end-for-end (your only choice with single-bevel saws).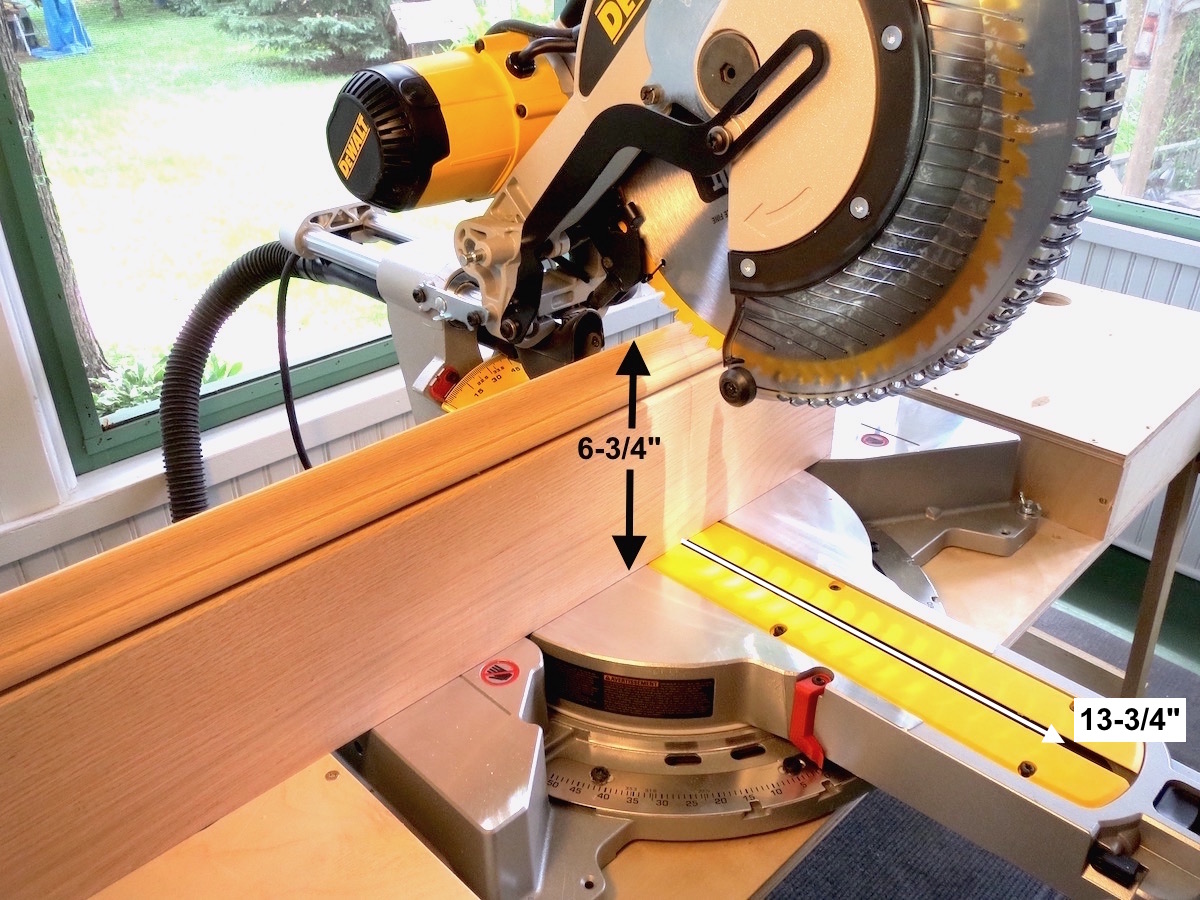 The saw is designed to satisfy large capacity needs. It can make straight horizontal cuts up to 13-3/4" which means you could crosscut a 2 x14 laid flat on the table. For cabinet makers, this means cutting shelving without having to flip the pieces over to finish the cuts. It also can cut baseboard pieces up to 6-3/4" high because the motor is stacked above the saw and driven with a belt, providing maximum depth of cut.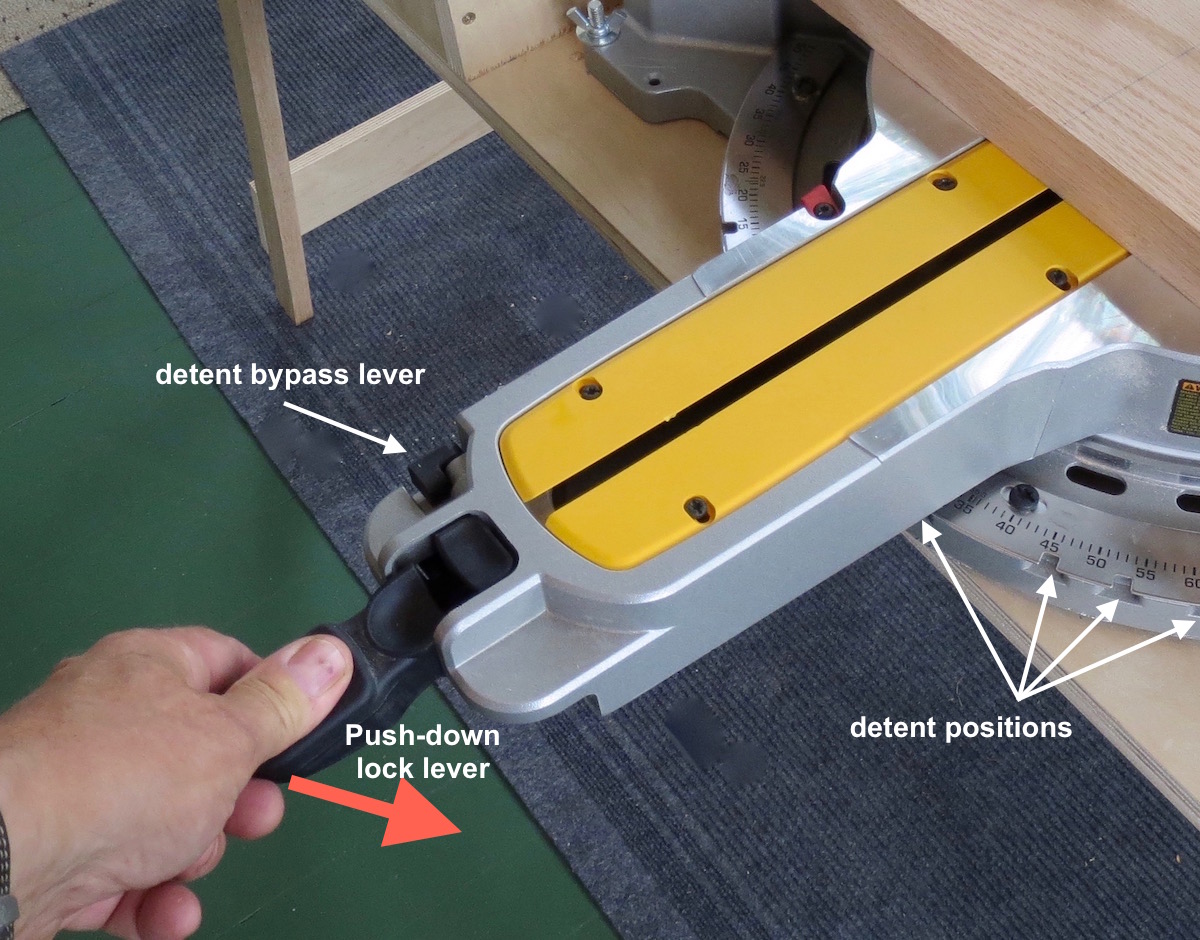 The saw table rotates nicely and is hassle-free. The lock lever needs just a downward push to lock the blade to any angle of miter cut. No more twisting and turning knobs. The table also stops at convenient detents for common cuts and for cutting crown molding flat against the table. If you need infinite variability, a bypass lever gets you free of detents and allows you to quickly move to any degree.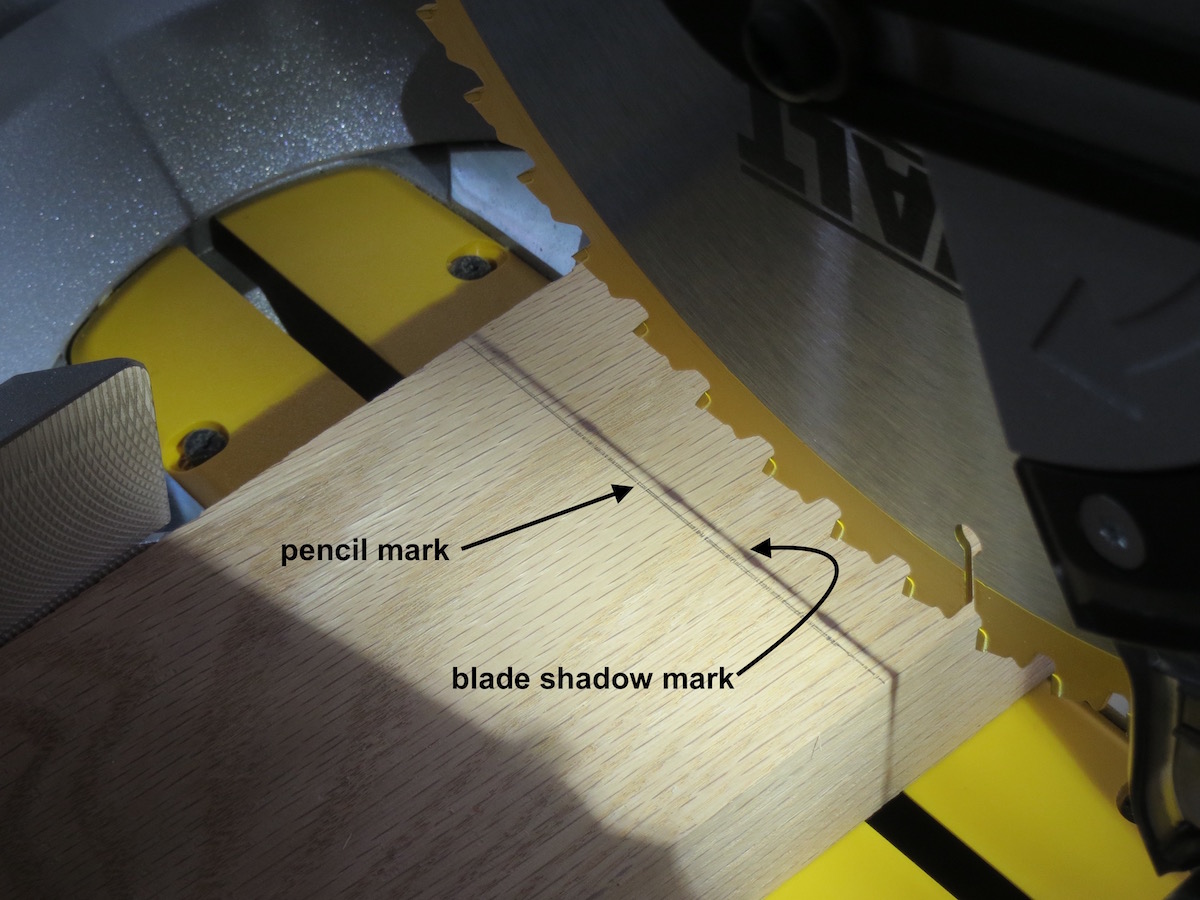 The blade shadow feature is really helpful. I've used laser guides before, but this is so accurate that even the teeth of the saw blade can be seen from the shadow cast from the bright LED lights that straddle the blade. Just align your pencil line with the saw blade shadow for an extremely accurate cut line. This feature is great indoors, but won't perform as well outdoors on a sunny day.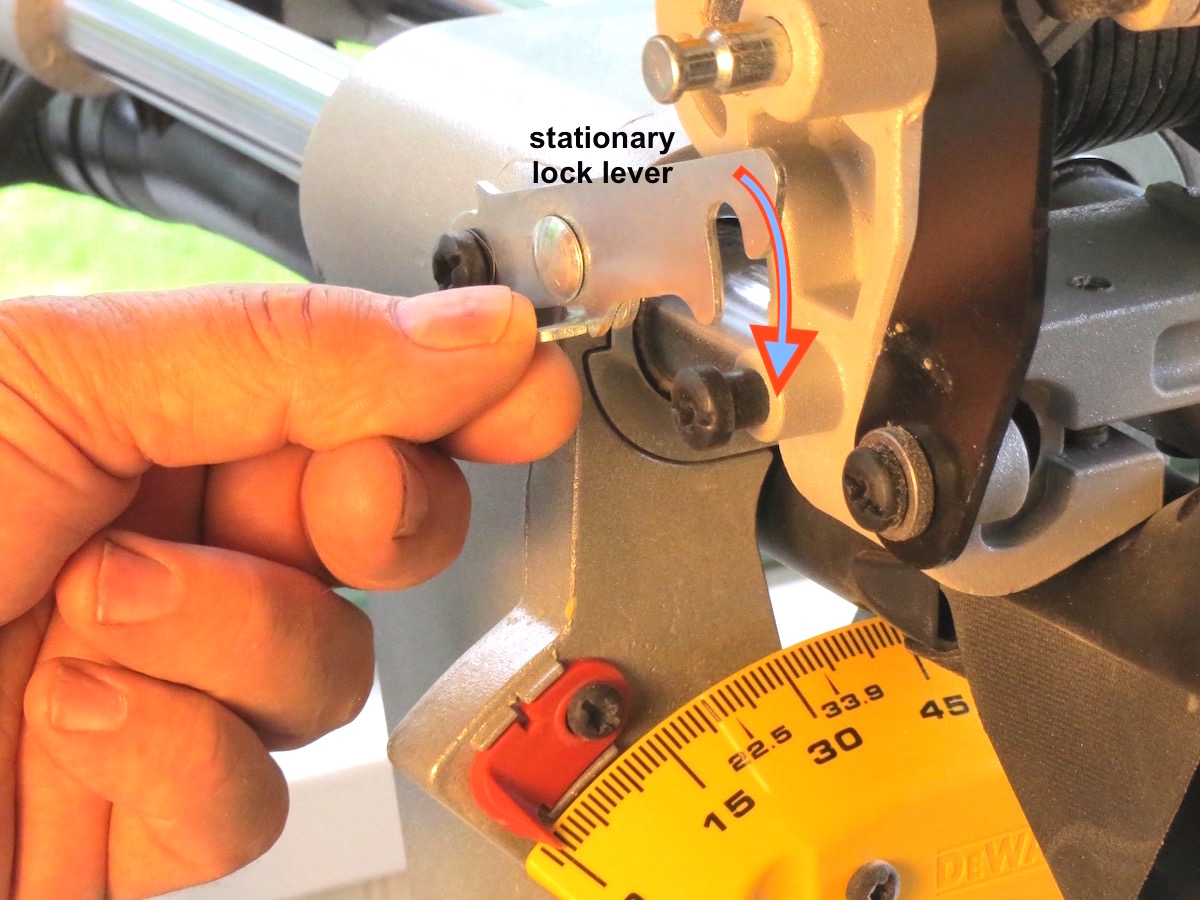 The stationary lever is a nice feature when you don't need to cut with the slide mechanism. The lever flips onto a stud and prevents the saw from sliding so you can cut smaller trim in the old-fashioned "chop" mode. For best results, turn the lock knob on top of the glide tube to ensure it stays locked even if the lever gets bumped.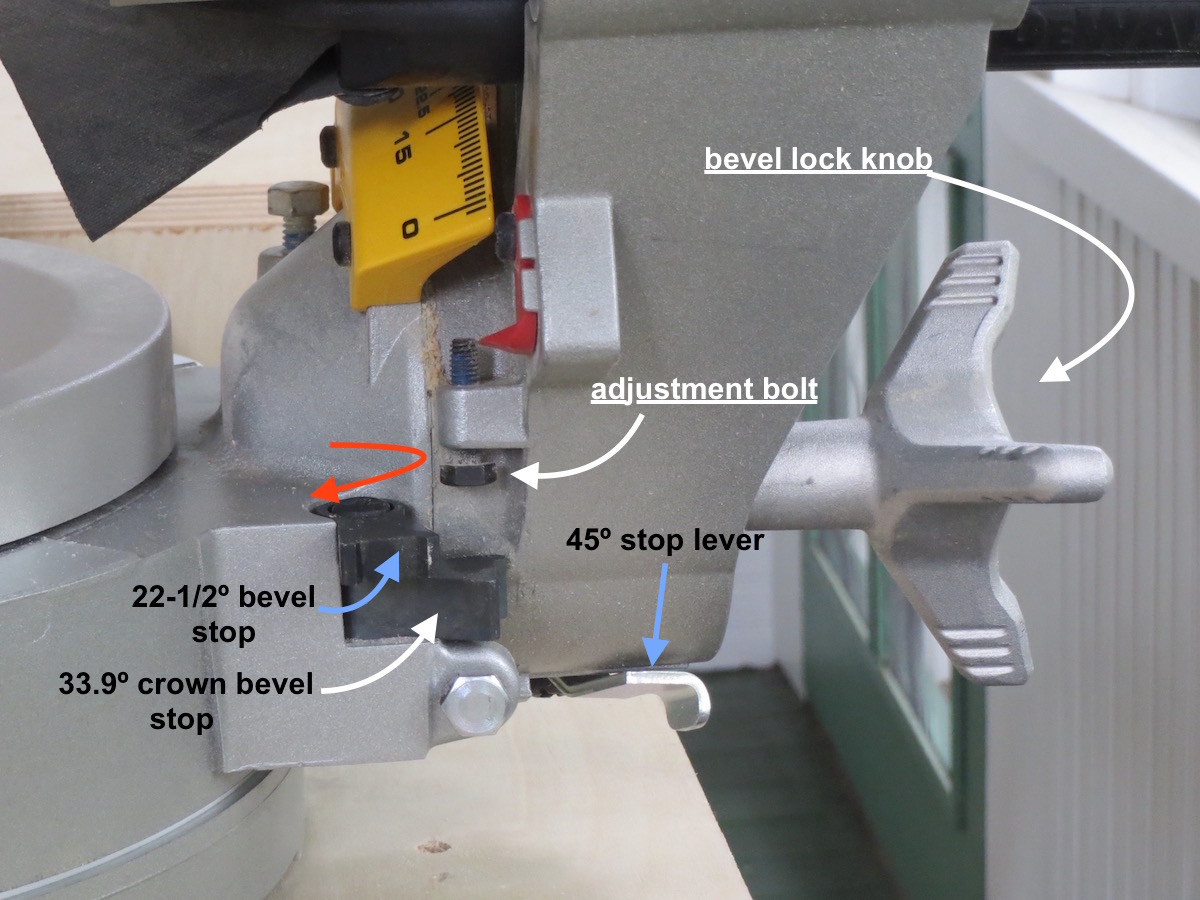 The saw has bevel adjustments galore! There are stop pawls for 22-1/2 degrees and 33.9 degrees that can be rotated into or out of position easily. You'll also find a 45-degree stop lever that you can turn out of the way if you need a bevel cut at 48+ degrees. The bevels are easily adjusted and will remain accurate as long as you are careful with your saw during transport.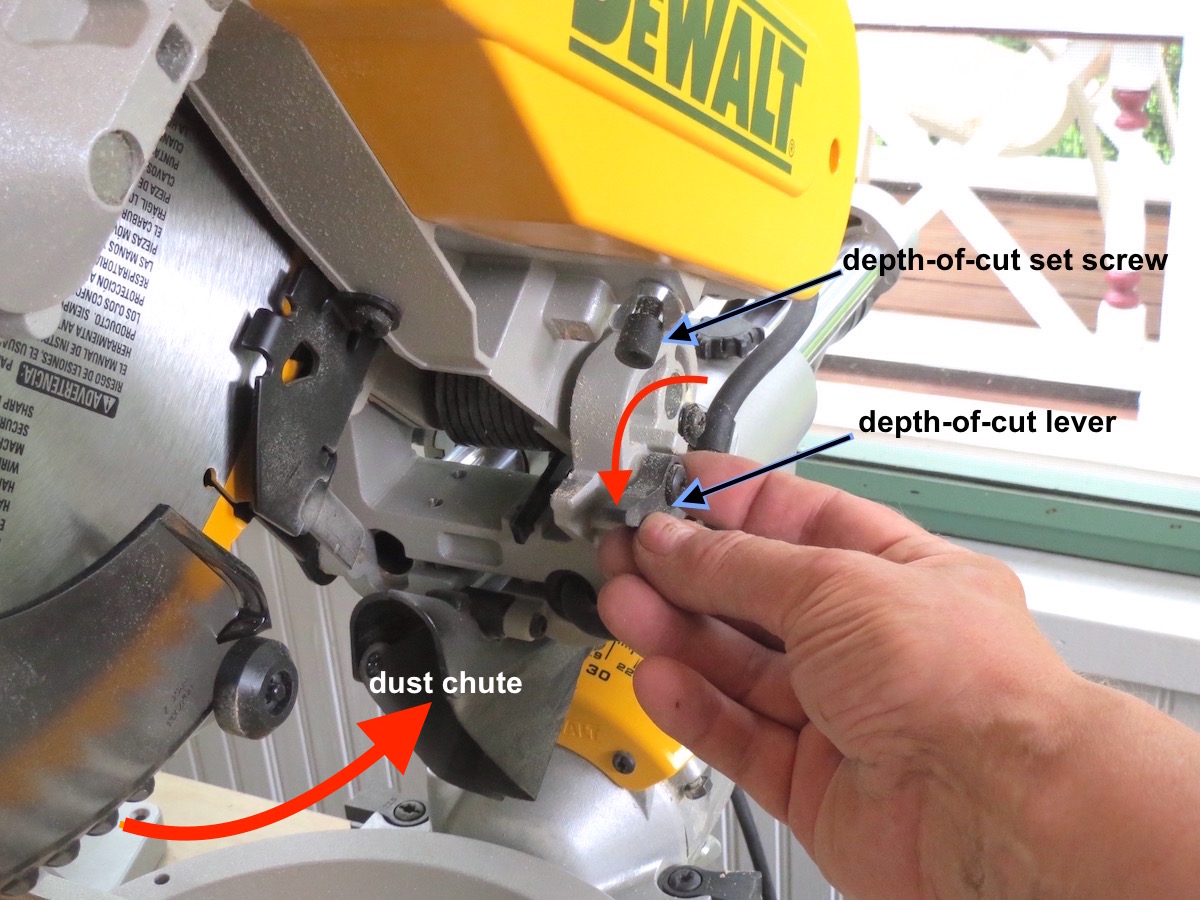 Another cool feature is the depth of cut lever. This lever can be pulled down so you can keep the blade from cutting through your workpiece. You can adjust the depth precisely by moving the depth-of-cut set screw in or out. This nifty adjustment will allow you to cut a dado across a board. To do this however, you'll need to position a spacer between the workpiece and the fence to ensure the dado cut will extend all the way to the back of the board.
The dust chute is strategically placed to collect the majority of sawdust. I used a vacuum attached to the vac port on the back of the saw, which was an improvement over the bag provided.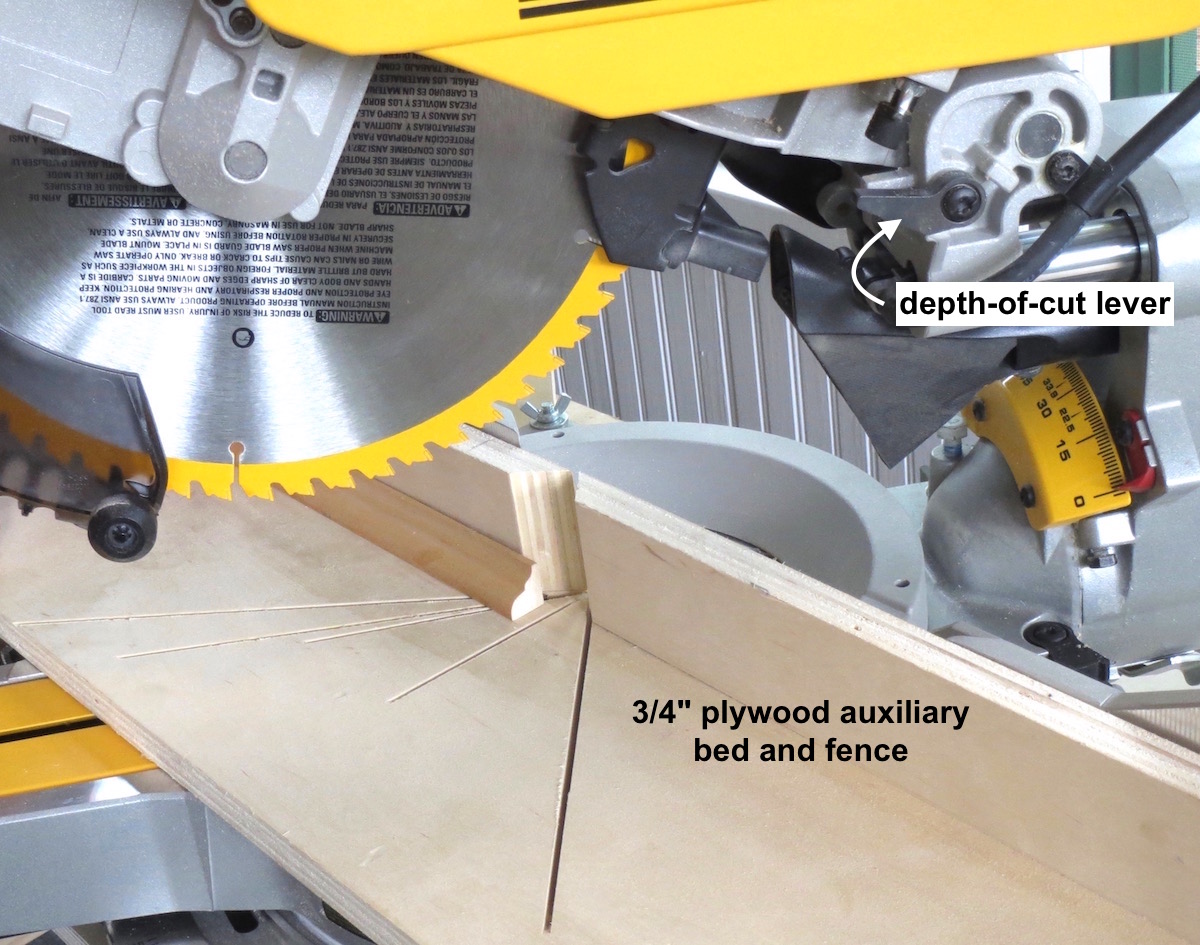 The depth-of-cut feature works well for an auxiliary bed and fence. I often cut small moldings with my miter saw but find that the factory fence doesn't give enough support for tiny pieces. That's when I mount my auxiliary fence to the saw. My bed and fence are permanently glued together. The depth-of-cut adjustment keeps the blade from cutting all the way through the plywood bed so I can focus on the cut and not worry about ruining the fixture.
In summary, if you're looking for an accurate, durable and smooth cutting saw with ample power for thick wood, this is a saw worth considering. You could spend more but in my opinion this saw is capable of the finest cuts you'll need to make especially if you upgrade from the 60-tooth to an 80-tooth or higher count blade. The saw doesn't come with extension supports but a good work support stand is available from Dewalt, or you could do like most woodworkers and build your own saw stand to suit your needs.