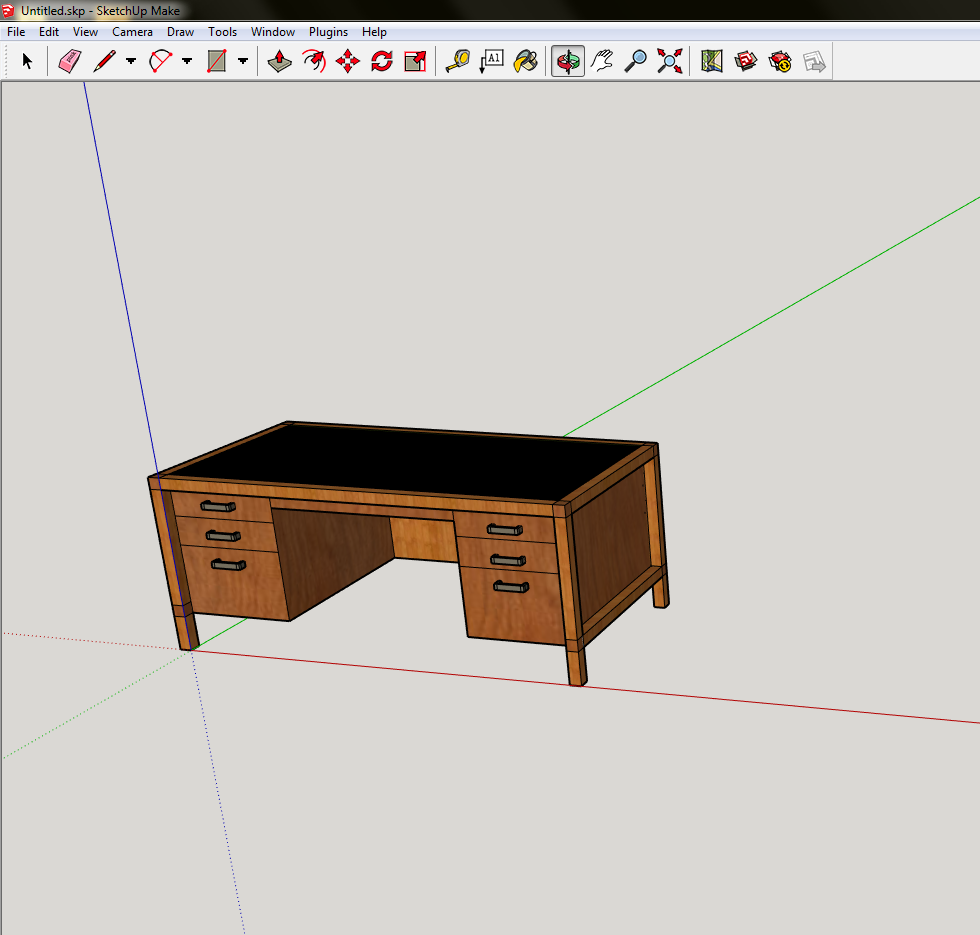 Most of the woodworking that I do is custom, requiring original design, or at minimum a bit of modification of an existing concept.  Prior to learning SketchUp, I had developed my designs over the years using pencil and paper, as well as a couple of general purpose computer applications that were not specifically intended for furniture design.  All of these approaches left me feeling constrained, and I felt that the limitations of the tools were negatively affecting my designs.  I wanted to gain the efficiency of a "real design tool" that would allow me to work in three dimensions with a tool set that was purpose-built for detailed illustrations, so I finally made a commitment to learn SketchUp.
SketchUp was a natural choice for me because A) there is a robust version available for free, B) I have seen many example drawings that represented exactly the type of projects that I wanted to design with the tool so I knew that it was capable of performing my intended tasks, and C) because it is so widely adopted, there is an abundance of free and inexpensive self-guided training materials available.
A few years back I had made a couple previous attempts to just "dive in" to the application but I found it difficult to master that way.  The tool set was different from other applications that I have used, and working in a 3D space using a 2D mouse proved challenging without some guidance.  Therefore, I came to the conclusion that this time around I would seek out the training materials necessary to improve my chances of success.
Getting Started with SketchUp for Woodworkers
There are two editions of Sketchup available on the SketchUp.com web site, so it will be important to choose the right one depending on your needs. If you are planning to use SketchUp for personal projects, "SketchUp Make" is the free version and probably the right option for you.  It is feature rich and offers more than enough functionality for most of us.  If you will use SketchUp to produce professional projects, "SketchUp Pro" is intended for you.
After the application is installed, you will want to determine your training plan.  Given that SketchUp is a versatile tool that can be used for many applications (construction, interior design, landscape design, etc.) I wanted to find training materials specifically targeted for woodworkers.  One resource that I found to be particularly useful was the web site https://SketchUpforwoodworkers.com/.  On this site I found a series of free video tutorials, where the host walks through the use of several key tools in the SketchUp arsenal.  After watching a handful of these videos and following along (I found it really helped my retention if I hit pause during the video and did exactly what the instructor was demonstrating), I felt that I was ready for a "real project".
As it happened, I was developing a story for WWGOA at the time that required the design of a dartboard cabinet.  So I started to design the project using SketchUp and the new skills that I had learned in the tutorials. It was slow going to say the least.  I found myself using Sketch-up's built-in help function a lot, and many of my answers were found easily that way. In other cases, I couldn't find what I needed there, so I scoured the internet, and with that approach I was able to find an answer to each of my questions. In many cases it was relatively easy to find a video on YouTube of someone demonstrating the answer to my exact question.  What a gold mine!
It took me the better part of a day to go through the tutorials and then design the dartboard cabinet.  It was a slow process, but by that point I felt that I had learned enough about SketchUp to design most cabinetry and rectangular projects.  While the new knowledge was still fresh in my mind, I decided that I wanted to take on a few more projects to reinforce the learning and help with retention.  Because I didn't have anything else in my project queue immediately, I reached out to George Vondriska to see if he had anything in the works that I could assist with.  As you might imagine, George had a plethora of activity going on, and he allowed me to put drawings together for a few of his projects.  Each one presented new challenges and helped me learn new skills.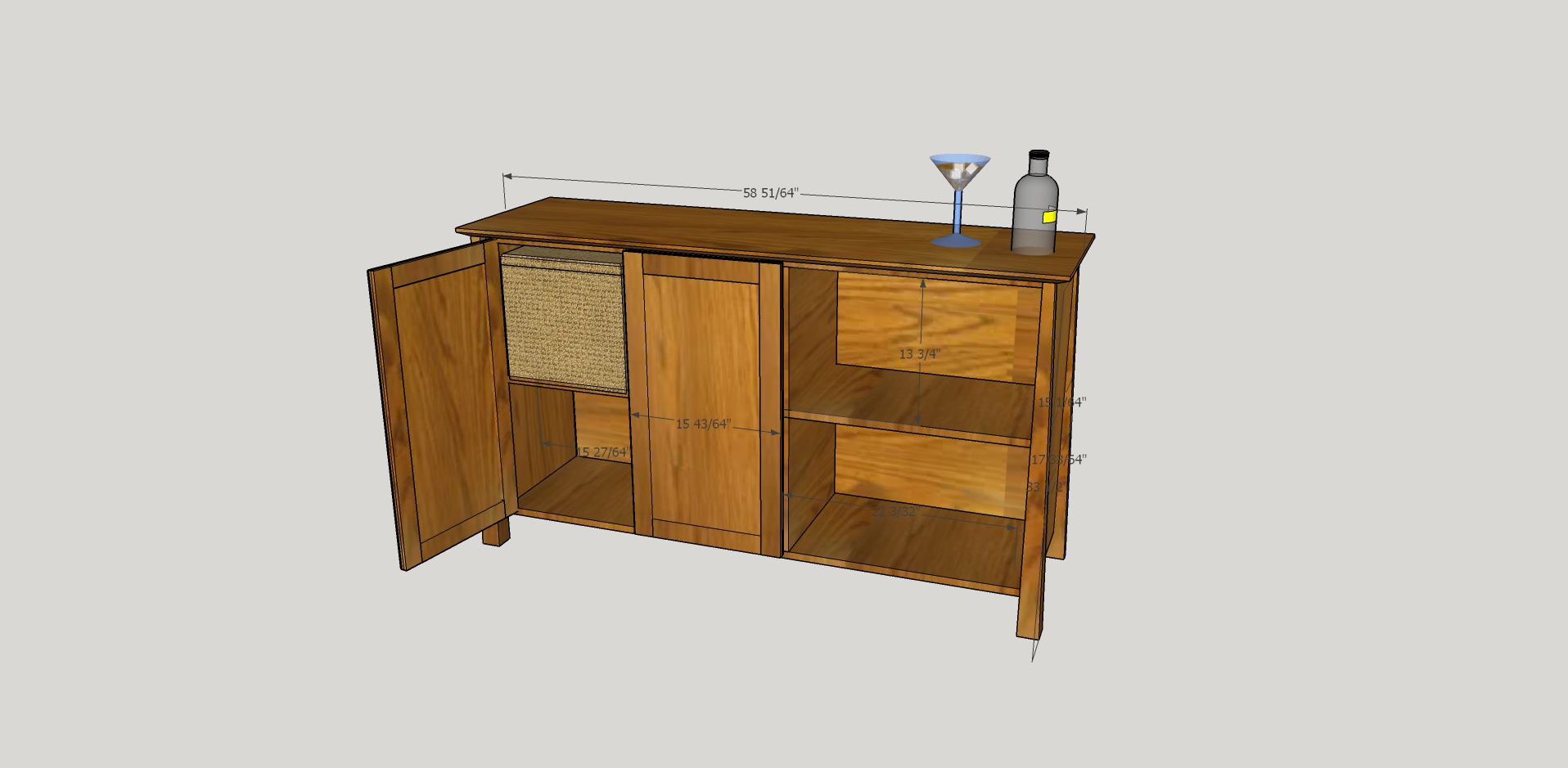 On this credenza project I learned how to create tapered legs and apply a custom wood color.  I also learned how to pull images in from the massive library of free models that are available.
When working on this desk design I had to figure out how to make major proportion modifications, add drawers, and flip the entire design end for end to accommodate change order requests from the end customer.  These changes were intimidating initially, but proved to be straightforward after a bit of investigation.
This liquor cabinet allowed me to incorporate glass shelves and a mirrored back panel, as well as a face frame that serves as a flange for easy installation.
SketchUp for Woodworkers: Next Level Training
While the SketchUp for Woodworkers site was a great resource to help me get started, I learned about another resource called "SketchUp Guide for Woodworkers – The Basics" by David Richards.  David is a SketchUp guru who does a lot of illustration and Skethchup tutorial work for Fine Woodworking.  This incredible resource helped me gain efficiency and greater confidence, and was loaded with pro tips and tricks.  I have continued the learning from David by following "Design.Click.Build", a blog hosted by Fine Woodworking at which David is a co-author, found at https://www.finewoodworking.com/blog/design-click-build .
SketchUp for Woodworkers Key Discoveries
Start slowly and build up one skill at a time.  In my first attempt to learn SketchUp, the main reason that I got frustrated and ultimately gave up was that I had attempted to learn everything all at the same time and without guidance.  In my second attempt, by following good tutorials, I was able to isolate the critical skills and learn them one at a time, which produced much better results.  When I was ready for real projects, I started with the relatively simple dartboard cabinet and from there I worked through progressively more challenging projects.   This approach allowed me to achieve the satisfaction of conquering one challenge before moving on to the next one.
Learn the visual cues that indicate which axis is being followed.  It can be extremely frustrating to attempt to move objects in a three dimensional space when using a two dimensional mouse and monitor.   For anyone who has used other mouse driven applications, Left/right and up/down are pretty obvious, but how do you move from front to back?   Fortunately SketchUp gives you some clear guidance as to which way you are moving, and it will be critical to learn these or you will be lost quickly.
Create a "component" immediately after drawing any object.  This effectively groups all of the subcomponents together and treats it as an independent object within the drawing.  It also allows the item to appear as an individual entity if you decide to automatically create a cut-list for your drawing using an available third party plugin.  Also, if you don't take this step, then the new geometry that you have created will likely connect itself to some other object within the sketch, making it difficult to edit independently later.
"Cheat" by using other people's work.  The Model Warehouse contains a massive collection of drawings that have been submitted by other SketchUp users.  There is a good chance that, no matter how unique your drawing is, there is something quite similar in the Model Warehouse to use as a reference.  Also, SketchUp as evolved into a highly extensible platform, upon which users create plug-in utilities that extend the functionality of the product.  For example, there are tools available that can render your sketch into a realistic photo quality image.  Or, another extension called "cutlist" allows the user to create a detailed breakdown of components that can be used as a cutlist in the woodworking shop.  If the capabilities of the application itself are not compelling enough, the community of brainpower that surrounds SketchUp makes it an even more attractive destination.
Check out the video below that covers these topics with examples from directly within SketchUp:
SketchUp for Woodworkers Conclusions
A good design tool can really extend your woodworking capabilities, and for anyone who is even the least bit computer savvy, I strongly suggesting giving SketchUp a try.  In my case, it required an up-front investment of about six hours to get a handle on the basics, and the skills that I have learned promise to pay ongoing dividends for as long as I am active in woodworking.  If you have an experience in using or attempting to learn SketchUp, I'd love to hear about it in the comments section below this article.
Source:
SketchUp Make (Free Version)
Trimble Navigation Limited
https://www.SketchUp.com/download
"SketchUp Guide for Woodworkers – The Basics" by David Richards
Taunton Press
866-325-2495
https://www.tauntonstore.com/fw-google-sketchup-basics-fwg0001.html
SketchUp for Woodworkers (free tutorials)