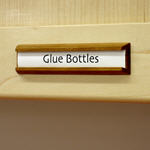 Handy Label Holders: Make a Bunch Using Simple Production Techniques. I'll admit it… I'm an organizing freak! Every tool, screw, nail, etc. in my shop, has a designated and labeled home. I designed these wooden label holders to accept 1/2″ wide labels I made and printed on the computer. They're a great addition to my new shop storage cabinets which you can see on this site. (See Modular Storage Cabinets article)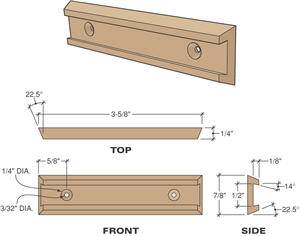 There are a lot of machine setups used to make these label holders. It would be inefficient to make only a few, but I may have gone overboard when I made over 100! I gave many of those away as gifts to fellow woodworkers. There's nothing complex about the work, and making the labels is rather simple too. I'll explain that later.
Over the years I've probably made a dozen or so different styles of wooden label holders. I'm very happy with this latest design. It's attractive, small, and functional. I used cherry to complement my new maple shop cabinets, and I made a few using purple heart to go with some of my older oak shop storage cabinets. The purple heart label holders were harder to make. The wood burned easily, and it was harder to sand. It's brittle too, and a few of the label holders cracked when I screwed them to the cabinets. I solved that problem by gently hand tightening the tiny #4 x 3/8″ mounting screws instead of driving them with a cordless drill. A printable PDF is provided at this article containing the diagram for the label holder as well as a label template.

Bits & Tools. Two router bits are needed to make these label holders. A dovetail bit and a chamfer bit (see sources at the end of the article). The dovetail bit cuts the slot for the label, and the chamfer bit cuts the profile of the side edges. The undercut provided by the dovetail bit captures the paper label.

For making my label holders, I used a table saw, jointer, thickness planer, two router tables, stationary sander, band saw, a drill press and a flap sander. There are many other ways to accomplish the same results should you lack any of these tools. If you don't own two router tables, you'll need to swap the dovetail and chamfer bits back and forth. (Read more on Bruce's easy-to-make second router table in the article Build Your Own Router Table.)

Make the Stock. Search your scrap bin for a nice piece of wood that's at least 3″ wide, 36″ long, and that will plane finished to 7/8″ thick. A blank that size will produce at least 40 label holders. You may need to glue two pieces face-to-face to get a thick enough blank. Plane the blank 7/8″ thick, and joint the edges square and parallel. Finish sand the edges of the blank. Make at least one extra blank from scrap to test your machining setups.

There are a couple of approaches to setting up to make these label holders. If you rout both edges of the 36″ long board and rip those edges off, you'll have enough material for 18 label holders. If you repeat the routing and ripping steps you'll get more label holders from the same board. That requires having two router tables or resetting each router bit a second time. If you want a lot of label holders but want to make them with one router table and as few set ups as possible, prep more than one board to start with.

Machining Steps. Make test cuts in your scrap blank to make certain the dovetail bit is centered, and the correct height. Then rout the dovetail slots on both edges of the blank.

Then, either swap bits or, using a second router table, rout the chamfered edges of the blank.

Sand the routed edges smooth, and ease the sharp dovetail routed inside edges.

Using a table saw, rip off the routed 1/4″ wide edge strips.

Joint and sand the sawn edges of the blank, and repeat the machining steps to make more strips. Using a correctly cut piece of scrap to reset the height of the dovetail bit and the position of the router table fence.Rough cut the lengths of the label holders.

Sand the ends of the label holders to 22.5°, bringing the finished length to 3-5/8″.

Smooth the exposed sharp end edges.

Drill the screw mounting countersink and clearance holes.

Finishing & Mounting. Apply your favorite finish.

After the finishing is done and dry, mount the label holders to your cabinet doors and/or drawers.

Make the Labels.

There are probably a million different ways to make the labels, but here's what works best for me: I buy 8-1/2″ x 11″ sheets of micro-perf business cards from my local office supply store. Using my computer and an illustration program, I set up a horizontal grid of dashed lines set 1/2″ apart and centered up and down on each set of 2 wide business cards. That gives me three labels per business card. I type in the label text, fill a sheet as best I can, and then cut along the dashed lines to separate the labels.

A printable PDF is included at the end of the article with a sample label template. The blue rectangles in the template indicate the edges of the business cards. That layer is turned off before printing.

Slide the labels into the label holders. If they're tight, curl the paper a bit to make sliding them in easier.

Click here for the Label Holder PDF for a printable diagram of the design that appears earlier in the article.

Click here for the Labels Template PDF for a printable version of the labels Bruce used for his label holders.

Sources:
Rockler Woodworking & Hardware
1/2" Dia., 14° Dovetail Router Bit
22.5-degree Chamfer Router Bit
(800) 279-4441
Photos By Author

2

Responses to "Shop-Made Wooden Label Holders"