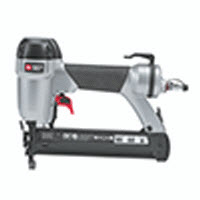 Have you tried a headless pin nailer yet? They're really amazing. The 23-gauge pin they drive is so tiny you barely need to putty the hole it leaves. Porter Cable's new PIN138 Nailer handles 23-gauge headless or slight head pins from 5/8″ to 1-3/8″ long. It's cool that it takes both types of 23-gauge pins, giving you the options of a nearly invisible hole, or slightly more holding power.
They've included another feature I really like in air nailers; no dry fire. Out of nails, the gun won't shoot. How many times have you fired away with a nail, only to find there's nobody home inside all those holes you peppered into your project?
The PIN138 is also oil free, so there's one less maintenance item to worry about in your shop. Nice.
Porter Cable PIN138
$160
(888) 848-5175