The Connecticut Historical Society Museum recently opened an exhibition called New Life For Connecticut Trees: furniture by City Bench. The show focuses on the rich history of Connecticut trees through photos and text as well as the furniture making process of City Bench, a wood reclamation and furniture fabrication organization based in New Haven, CT. While the museum has over 8,000 priceless objects ranging from tavern signs and textiles to traditional New England furniture, CHS director Kate Steinway sought to mount a show proving that, "history is a relevant, living thing." This exhibition is unique in that visitors are encouraged to sit in the chairs and run their fingers across the silky smooth table-tops, allowing a transfer of history from the past to the present.City Bench was founded two years ago by brothers Ted and Zeb Esselstyn. Ted was working as an artist, muralist and furniture maker in Connecticut, and Zeb had recently completed graduate studies in journalism in New York. While working on an educational display for the Connecticut Resource and Recovery Authority for school children, Ted learned that the average American generates over one ton of garbage a year, and had an epiphany about the material consumption in his own artistic practice. After a couple of conversations, Ted and Zeb identified 'street trees' as an available and wasted resource. They began collecting them from throughout New England, and City Bench was born. Now, two years later, they not only have a great show at the CHS but have also forged a standing relationship with the city of New Haven to save all valuable hardwoods within the city limits to mill and turn into furniture.

A SLAB FROM THE IVORYTON PLAYHOUSE SPALTED SUGAR MAPLE. Initially, City Bench focused on unique trees with remarkable stories. The Ivoryton Playhouse, a theater in Ivoryton, CT had a beautiful Sugar Maple on its property that was beginning to lose limbs. Actors like Marlon Brando and Kathryn Hepburn used to rehearse their lines in the shade of this majestic tree. When it finally fell, the groundskeeper identified decay and spalting in the wood. Deeming it unusable for even firewood, he chopped up the tree and brought it to a 'stump dump' in Old Saybrook, CT. When Ted heard the fate of the tree, he drove to Ivoryton and had the groundskeeper accompany him to the dump. Ted collected over half of the wood, put it back in his truck, and later had it milled into thick slabs.Eventually City Bench realized that every tree has a poignant story to tell. They started collecting every type of tree, including less traditional 'street hardwoods' like Sweet Gum, Mulberrry, Plum, Gingko, and London Plane, and are now excited about the opportunity to share those stories as well.
WALNUT TABLE WITH OAK BASE. This Walnut table initially looks like it could have come from the Nakashima workshop, considering the hallmark dark heartwood framed by creamy white sapwood, but the base confirms it comes from a different source. City Bench tends to mix and match woods less conscientiously than Nakashima; this is natural considering City Bench is limited (or blessed, considering your point of view) by the materials that they acquire from trees throughout New England. They pair Maple with Oak, Beech with Cherry, and in some cases even utilize metal for a bench base.
TULIP POPLAR BENCH WITH STEEL BASE. Even seasoned woodworkers and sawyers would be surprised to see the dark heartwood of this Tulip Poplar bench (where did that color come from?). Each piece in the show displays a card highlighting the species of the wood along with the location where the tree came down. Along with taxonomy, a short story or anecdote is included explaining how City Bench derived the form or was inspired by the tree.
SILVER MAPLE BENCH WITH RED OAK WINDSOR BACK. As the gang at City Bench got going on the task of producing 30 objects for the show, they were inspired by the furniture collection at CHS, which is full of traditional furniture. One member of the team, Tim Spratlin is mostly trained in traditional woodworking. Utilizing the broad spectrum of talent and possibility at City Bench, this bench/chair defies typology by merging three distinct styles contemporary slab design, a steam-bent Windsor chair back, and a free-form carved arm support thrown in for good measure. The exhibition similarly features double comb-back chairs with atypical, almost cartoon-like proportions. Of course, the gnarly sap-pockets, irregular edges and uncontrollable cracks are celebrated rather than hidden or cut out.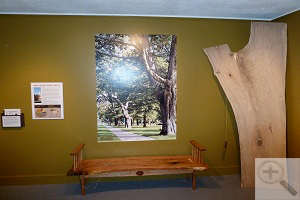 A DISPLAY WITH PHOTO, BLACK OAK BENCH FROM THE BRUCE MUSEUM, AND AN ENORMOUS RED OAK SLAB! The exhibition merges the past, present and future in each and every room. Historical research and data sits alongside furniture and unfinished slabs of oak or maple. Visitors can easily envision the future of the raw cross sections of a tree while reading about the Urban Canopy of New Haven, for example. This red oak came from Elizabeth Park, in Hartford where the tree fell near the rose garden.
A BOULE OF SILVER MAPLE. One room is dedicated to City Bench's process. A six-minute video runs on continuous loop, where visitors can watch a boom truck loading staged trees from New Haven onto a tree-truck, and then see Ted and Zeb operating the massive 60 inch Lucas chainsaw mill and the 28 inch Woodmizer bandsaw mill. They slice through a giant log and reveal the unique grain in each slab. In the corner near the video, a Y-shaped log is stacked and stickered in boule form to further remind museum-goers of the process at hand.
A SUGAR MAPLE BENCH FROM THE IVORYTON PLAYHOUSE. In the end, the show is a pleasure to partake, where wood, tree, lumber, and furniture merge into one seamless process of creation. Ted and Zeb actually remember and love to share the story of each tree. They know what was happening in history when each tree was a wee sapling (sometimes before there was even a United States!), and can regale you with tales, like the one about the homeowner who used to have a swing for the grandchildren in the tree, and they can even remember the weather conditions when they were milling the tree! Each event seems evident in the final piece of furniture. CHS saw the work of the craftspeople at City Bench and identified it within the continuum of history. The show has a universal appeal, not only to wood guys (like the ones reading WWGOA) but to anyone who appreciates craft, history or a personal narrative. The exhibition closes on March 17th, 2012, so there is still plenty of time to visit and explore the urban forest created by City Bench and the Connecticut Historical Society.
Photos By Author
**The Connecticut Historical Society has hundreds of pieces of antique furniture in storage, which are available for study should you make the trek to Hartford. While you can access this trove of artifacts at any time, the CHS would appreciate a call in advance to accommodate your visit to the archive.
**In addition to designing and fabricating furniture, City Bench sells large air-dried and kiln-dried slabs milled from a wide variety of New England trees, including Ash, Gingko, Elm, Plum, Apple, and every variety of Oak and Maple. These would be perfect for unique pieces of furniture. Contact them with your inquiry.
Sources:
Connecticut Historical Society
(860) 236-5621
One Elizabeth Street, Hartford, CT 06105
City Bench Furniture www.city-bench.com