I've long wanted some type of hold-down hold-in system that was faster, easier, safer, and more flexible than the traditional feather boards. Here it is! Thank you JessEm for figuring this out. Plus these new clear-cut stock guides are darn cool looking… and I'm a sucker for cool looking tools!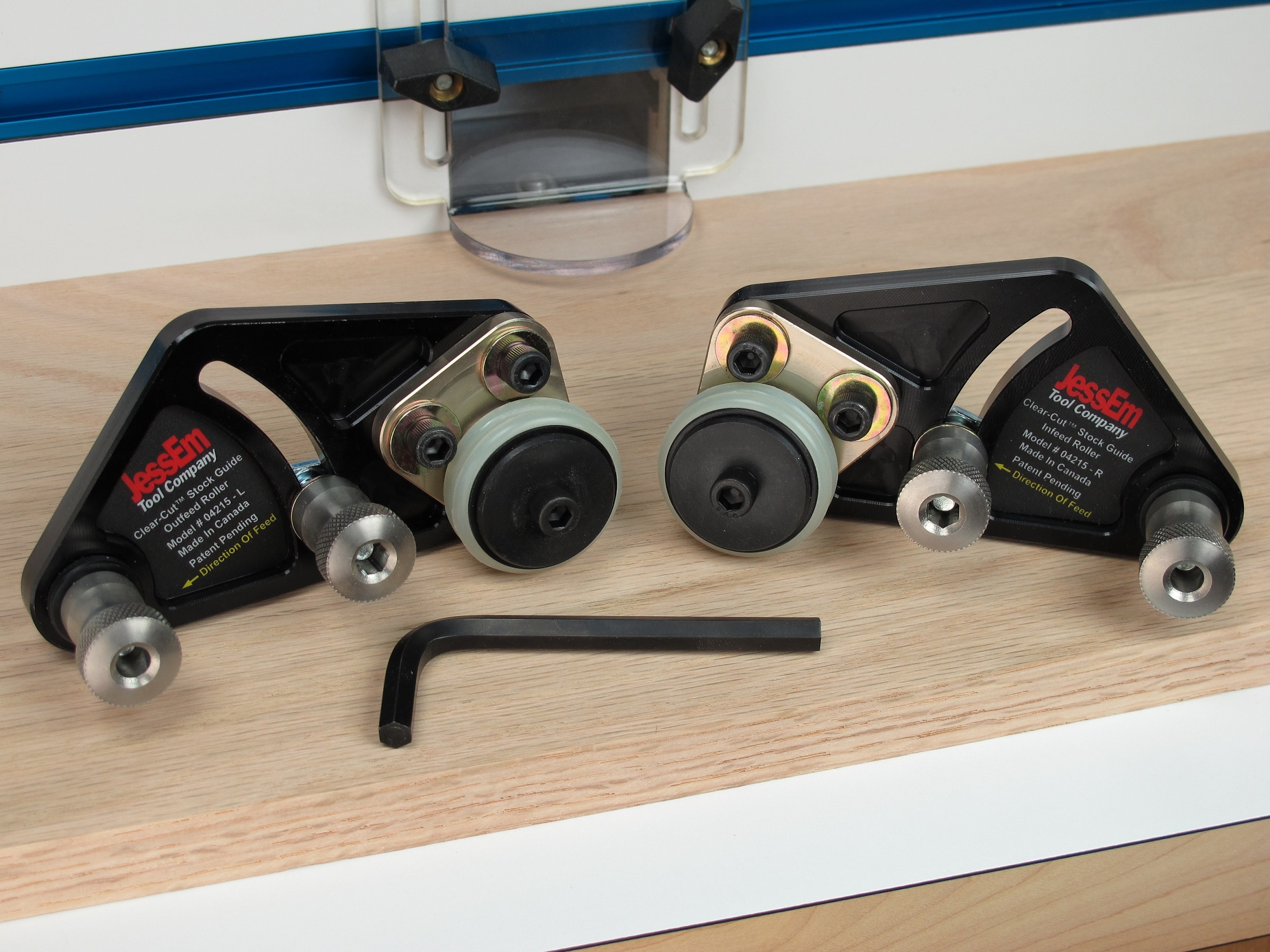 What they are
The system consists of a pair of guides that mount to any 1/4″ t-slot track (there's also a shop-made fence mounting kit available). There's an infeed guide and an outfeed guide. Each guide has a mounting bolt and a pivoting lock bolt. The height range when mounted on my router table is from 0″ to 2-3/8″. Plenty of capacity, and I can get more if I use my tall fence. The rubber-tire rollers are angled inward 5° to keep stock tight to the fence; this is their hold-in feature. Also, the rollers only rotate in the feed direction; this is their anti-kickback feature. An allen wrench (included) is used in the pivot bolt thumb knob to "extra" tighten the guides to the fence.
How they work
Mount your bit and guard and bring your fence forward out of the way of the router bit. Loosely mount the JessEm Clear-Cut infeed and outfeed guides. Set your stock under each guide, press the guide down with slight pressure, tighten the non-pivoting mounting bolt knob, then tighten the pivoting lock bolt knob, and then secure the guides in place using the allen wrench. Set the router table fence to the proper depth and run your cut. The guides precisely hold and guide the stock as you feed it past the bit.
Pros
Small, well made, smooth running and precise. Eliminates the need for a hold-in, and I feel that's their greatest advantage. One-direction rollers eliminate kickback (JessEm's claim).
Cons
High $119.99 retail price, $99.95 introductory price. Allen wrench needed to lock the guides. My Rockler t-track is non-standard so I had to change the guide hex head bolts to t-bolts; this is not JessEm's fault.
Photos by Author
Source:
JessEm Tool Company
www.jessem.com
866-272-7492