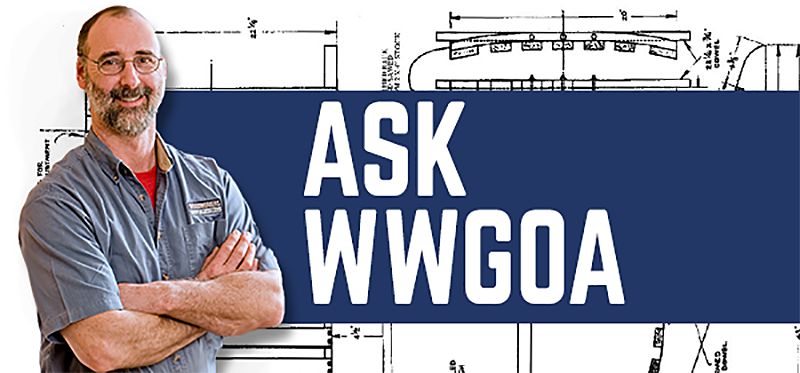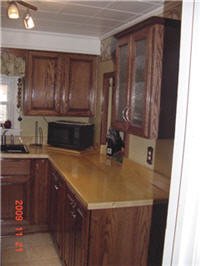 Question: I built a kitchen for my nephew from the ground up and it didn't turn out too shabby–for a beginner. The top is white hard maple and the rest is red oak. (See attached photo.) These have been installed in his kitchen since June 09. A problem has developed on the cabinet side at the end of the long "L". The panel is solid oak, not the cabinet grade plywood. It has warped inward about 3/16″. No other warping has occurred in any of the other cabinets. What could have caused this to happen? The panel was pieced together from two pieces and is 3/4″ thick."
Submitted by ggleixner
Answer:
That's a very impressive job. Nice work!
When you refer to an end panel, I don't know if you mean a base cabinet or upper. If you glued two boards together to make a 24″ wide base cabinet end panel, the problem is that the boards you put together were too wide to use this way. It's best if the boards in your glue-up are 4″-6″ wide, so two boards for a 12″ wide upper would work.
A couple things can lead to a glued up panel warping. It's possible that the material wasn't dried correctly. This is often called case hardening, and leads to the outside surfaces being at a different moisture content than the core of the piece. If you planed the wood, did you remove the same amount from both faces? If a lot of planing is done and more material comes off one face than the other, the board can warp. Did the wood have plenty of time to acclimate to your shop before you used it? I'm in Wisconsin and in the winter, I make sure my material is in the shop 2-3 days before I plan on using it. If your shop is a separate building, are you controlling heat and humidity there? It's best if the conditions in which you build the project are the same as the conditions in which it'll live. For me, this meant adding a humidifier to my shop in the winter, because everyone up here humidifies their houses all winter long. And, of course, I've got heat in the shop. How about the location of that specific panel? Is it near a dishwasher or other steam source? Excessive ambient humidity could make a panel warp.
If all the material you used came from the same source, and you're not seeing warping anywhere else, you could simply have a couple of hinky boards. Plenty of woodworkers recommend alternating the direction of the annual rings to make certain movement of each board counteracts its neighbor. If I have followed all the guidelines above, I don't worry about alternating the ring pattern. However, on future glue ups, if you want a little extra stability insurance, take the extra step of alternating the rings.
George
Do you have a question for WWGOA? Ask us on Facebook or email editor@wwgoa.com. Note: questions may be edited for clarity and relevance.