Impact Driver vs Drill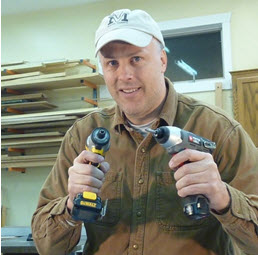 I'm going to spoil the ending. Yes you do need an impact driver, right away. Stop reading. Go to store. Buy an impact driver. Thank me later. If you feel the need to understand why, read on.
Impact drivers are creating a lot of buzz on the internet these days, and I'm sure a common debate is forming in thousands of households across the country; "Honey, I could really use an impact driver for the shop"… "Don't you already have a big fancy cordless drill?" "Yes, but these are different, and I can't go on living without one."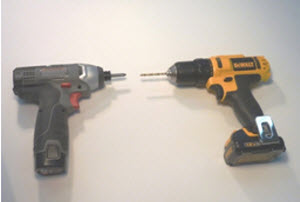 Impact Driver vs drill; what's the diff? Let's sort out the differences between traditional cordless drills and impact drivers, so that woodworkers everywhere can prepare for this potential dialog in their own home.

An impact driver combines much higher rotational torque than traditional drills, with fast paced rotational tapping (not to be confused with hammer drills with deliver tapping from the rear to help power through concrete and other hard materials) which serves to nudge the fastener along while keeping the screw tip in place without spinning out of the slots. To understand this better, picture a wrench placed securely onto a bolt, and a hammer tapping it to give it some additional power as it turns the bolt. It essentially does what you intuitively do when you are driving a long screw and the goin' starts to get tough. You stop the constant drilling, and start bumping the trigger and letting go to give the screw a bit more "umph". This approach works to an extent, but the human reflex is only able to do about one bump per second, while an impact driver can deliver about 50 bumps per second. You might ask, "Don't all those bumps make for a rough ride?" Well, think about driving down a rough road in a car. If you go slow it feels bumpy, but at high speeds, it just turns into a loud hum. It feels smooth in spite of all that bumping, but you do hear a loud hum as a result of all those impacts. Loud enough that you will want to wear ear protection if you are driving a lot of screws. Also loud enough that it will make you unpopular if you do a demonstration for your friends in a quiet office setting (yes, there is a story there.)
Where does an impact driver fit in a woodworking shop?
Woodworkers use drills for a combination of drilling holes and driving fasteners. Some of the work is lightweight, and some requires some brute force. Although I prefer building fine furniture with nearly invisible fasteners, I find myself driving long sheet rock screws on many projects in the shop, and that's what the impact driver does best. For installing cabinets, building shop furniture, theater set construction, framing anything with dimensional lumber, or building a deck, the impact driver will be your new best friend.
But, it won't replace your drill, and there are a few reasons why. Due to the extreme torque that is delivered by an impact driver vs. a drill, the impact drivers feature a hexagonal chuck design that doesn't allow the shank to spin in the chuck when it is under load. This is a nice feature for driving fasteners, but I am not ready to discard the 200 or so round shank drill bits that I have accumulated over the years. So, if I want the ability to drive screws using my drill bit collection, and have the ability to drive fasteners without stripping the head or straining myself, I am going to need both. (You may have seen that coming.)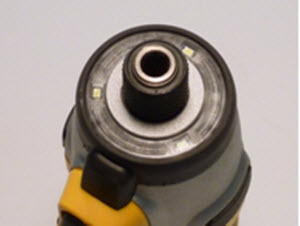 Hey, where's my clutch? Another reason an impact driver won't replace your drill is that most drivers do not provide a clutch, which is their primary downside in my view. Regarding the clutch, the trade-off is length and weight. A keyless chuck adds a bit of mass and (more importantly) length to a drill, which can make it an unwieldy fit in tight spaces. Drivers are noticeably shorter, so you can get them into places where your cordless drill doesn't have a chance. There are impact drivers on the market with a clutch, but they are quite a bit more expensive, and much longer than those without, and current generation designs do not allow the clutch to be used when the impact feature is engaged. So, it's either a clutched drill, OR an impact driver, but not both at the same time. The optimal approach is to use a cordless drill with a clutch to drive lighter weight fasteners where a feather touch is important, and pull out the driver when you need the additional torque.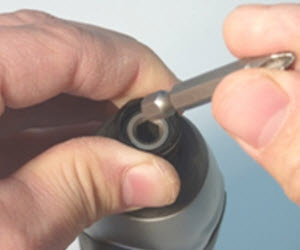 Upside of a quick release hex chuck. When it comes to changing bits, the hex chucks on impact drivers are impressive. Just slide the outer ring forward, drop in the bit, let it slide back and it is locked and loaded. Very nice design.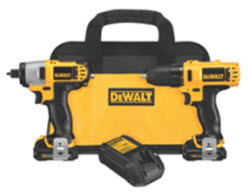 Let's take a look at impact drivers from DeWALT and Porter Cable. When I performed my search for an impact driver, I found quite a few options that seemed like good choices. Several manufacturers are offering "combo kits" that include an impact driver along with a traditional cordless drill, using the same Lithium Ion battery (as someone with a cabinet full of different chargers and batteries, I say battery standardization is a great thing). When I compare the prices of these tools sold separately with the cost of the bundle, it is clear that the manufacturers are delivering significant value in the bundles. I like a good deal, and besides, the light, compact, fast charging Lithium Ion trumps my old Ni-cad batteries across the board, so I was sold on the upgrade. For applications that require pilot holes prior to driving fasteners (pretty common scenario), having a drill bit chucked up in the drill and a screw tip in the driver is a great approach. So, a combo kit it is.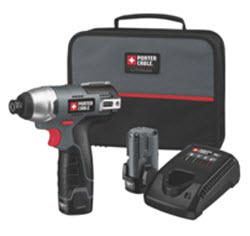 Based on features, value, and brand strength, I chose a combo kit from DeWALT for my shop and an impact driver from Porter Cable for use around the house as it will see a bit lighter use. I decided on 12V models rather than their 18V big brothers, because 12V delivers plenty of torque for woodworking and most DIY projects, and they are lighter and less expensive. If you are commonly driving massive lag bolts, or want to use it to remove the lug nuts from your truck, you might consider going with one of the beefier 18V models.
Not surprising, given that they are both from the same parent company, I found both the DeWALT and Porter Cable units to have a similar form factor and feature set. The DeWALT units are slightly lighter on paper, but not noticeably in my hand. All of these tools are so light compared to their NiCad cousins that a few ounces difference is negligible. Since DeWALT is targeted mainly for extreme demands of the contractor crowd, and Porter Cable seems to target both the tradesman and DIY market, I suspect that if you cut one open (I couldn't get myself to do it) you would find some additional durability built into the DeWALT design, but that is speculation on my part. I am a fan of both brands, and I think either of these tools would adequately meet my needs as a serious hobbyist woodworker, and occasional DIYer.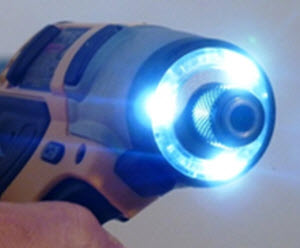 How about little light on the subject? Both brands also include an integrated light that comes on when the trigger is pressed, a feature that I will love the next time I am installing cabinets, or other projects where I am working in an enclosed space.
As I was trying to determine some basic real-world tests to put an impact driver through its paces, I came up with a project that was perfect. I signed up for a father/son project to build a 4′ x 8′ Lego tournament table which requires a lot of screwing together of 1/2″ plywood and 2 x 4s. The project called for about (40) 2-1/2″ drywall screws, countersunk into birch plywood. In order to make it a decent test, I rounded the screw count up to an even 100. The impact drivers never broke a sweat while driving these screws. It worked great to pre-drill with the drill, and drive screws with the impact driver. Perfect results on 100 out of 100, and no fatigue in my wrists whatsoever.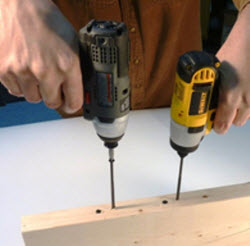 Can they drive 4″ screws? In addition to driving all those 2-1/2″ screws, I wanted to raise the stakes a bit. To me, a great test was thick shank 4″ sheetrock screws. I attempt to drive these from time to time with my traditional cordless drill, and it doesn't like it much (in fact, it can't finish the job). I was able to drive 4″ screws into framing lumber with ease using either driver. No kickback, stripping or slipping. It was fun. I couldn't stop. I couldn't believe it, and I still can't. I let my 10 year old son try it. He, too, could drive long screws, although he didn't get quite as giddy about it as I did. But he's never experienced the "joys" of attempting it with a regular-old-drill either.
Downsides. I would like to have a clutch built into the impact driver but that feature was not readily available in this class of product. The combination of high torque and no clutch makes it less than ideal for driving lightweight fasteners. Having said that, if I had the choice of getting a nice drill along with the impact driver or getting an impact driver with an integrated clutch, I would take the combo kit with the drill, and that is essentially what is being offered. Also, I would like to see a third battery in the combo kit. With two tools and two batteries, I am down when a battery dies, or sharing a battery which is no fun. But with a thirty minute charge time and impressive run time on a charge, I admit this is a minor concern for a weekend warrior. Frankly, there is not much else that I find lacking in these tools. So far, my expectations have been surpassed, and now the only question is longevity. Based upon the solid construction I am reasonably confident that I won't wear these out, and I anticipate only buying again when the batteries no longer hold a reasonable charge.
Conclusions
As I said in the opening paragraph, impact drivers are absolutely amazing, and you will be glad that you bought one. To review some of the points covered in this article, here is a table that summarizes some of the key differences between an impact driver and a traditional cordless drill: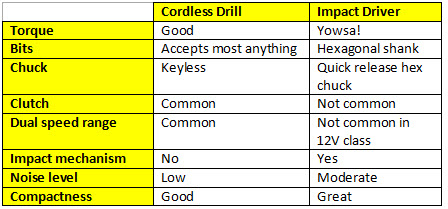 Based on the advantages of impact drivers in securing fasteners, I believe they are a good fit in a woodworking shop. Given the lack of a clutch on most models, and the inability to support round shank drill bits, drivers are not a substitute for a traditional cordless drill. Combo kits that include both an impact driver and a drill/driver using the same 12V lithium ion batteries offer a great spectrum of capabilities for woodworkers, and a great value as well. The tools that I looked at from DeWALT and Porter Cable are both superb choices for the woodworker. The DeWALT impact driver delivered slightly better power and performance, and the Porter Cable offers impressive value and very good performance (more than enough for my woodworking and DIY needs), so either one is a great choice. If you use your tools all day, and/or tend to be rough on them, you might lean toward the DeWALT. If you are looking for good price/performance, then the Porter Cable unit might appeal to you. Porter Cable also offers a comparable combo kit to the DeWALT, which would be worth consideration as well. Bottom line; you really can't make a bad choice here.
Well, I have done my best, but if I have not given you ample ammo for your "yes, dear, I really DO need another drill" debate with your significant other, feel free to send him or her my way and I will help represent your case. Also, below you will see our youtube woodworking projects video reviewing both the impact driver and drills.
Photos By Author
Sources:
DeWALT DCK211S2 12-Volt Max Drill/Driver and Impact Driver Combo Kit, $179
DeWALT Industrial Tool Company
1-800-4DeWALT (1-800-433-9258)
www.DeWALT.com
Porter-Cable T22216 PC120IDK-2 12V Impact Driver, $129
Delta Porter Cable
1-888-848-5175
www.deltaportercable.com

HM

Doug

Allen Eastcott

Petr

John bailey

Commander. Dr Bob

tablesawed

paulcomi

william c cummins

John Dudzik

Jeff Monti

Grandpaj

G. Griffin

Christopher

Paul Mayer

Derek Taylor

Paul Mayer

Joe

paul mayer

Tim

Jack2wheels

John Graves

jake

Fiona a

gary

Graham E

Sue

Cid Young

WWGOA Team

william hassink iii

Michael Peirce

Jason

Steve

Robert zBridges

Steven smith

JfDnn

WWGOA Team

JfDnn

Sawdust Mike

Jerry Sparks

Micki

Adolph "Hal" Hebert

Ken Stott

Michael Harris

Ashok

Efrain Martinez

Customer Service

Bongo

Martin

Customer Service

Gale Green

Michelle

Customer Service

Jer

Bret

lana

Customer Service

Steve Bright

Allen Eastcott

William

John Rau

Alvin R Smith

John Williams

Mark Ellis

Loxmyth

Gene Durkin

Jack Welsh

Robert Reeder

Jeffro

Robert

Ted

Fleetwood

Joe Christensen

christopher

David Moffett