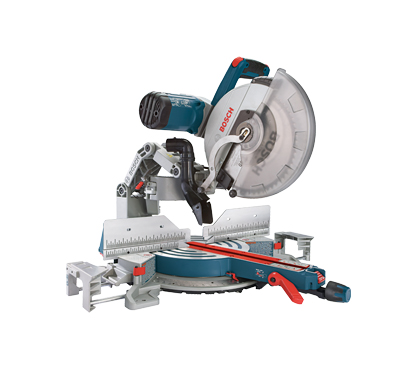 I love the capacity I get from a sliding miter saw. Where most miter saws cross-cut to 6″ – 8″, a sliding saw can crosscut out to 12-1/2″ or so. Very useful in the shop. What I don't like about sliding saws is their mongo footprint. It would be best if you had a lot of real estate behind the tool to allow the saw's tube room to travel. Bosch's new Dual Bevel Glide Miter, $550, doesn't have any tubes. It operates on a trunnion/knuckle system that folds open and closed as the saw travels from front to back. There's no need for a room behind the saw. Very nice. I operated this saw briefly at IWF 2010 and was amazed at how smooth the travel was.
With its 12″ blade, the saw will cross-cut up to 14″, and it has a vertical capacity of up to 6-1/2″ for crown molding. It's beveled 48 degrees left and right, and miter 52 degrees left and 60 degrees right.

This is a cool, space-saving tool. Watch for an upcoming video product review of this new saw.
$550
(877) 267-2499