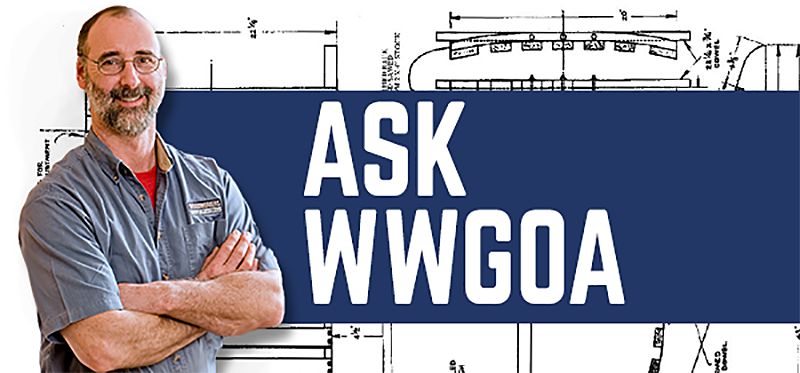 Question:
"I have a 10″ band saw. I am considering selling it and getting a 14″ band saw. Would I be better off keeping the 10″ band saw and getting a scroll saw?"
Submitted by: Daryl Bender
WWGOA Editor Response:
While band saws and scroll saws are slightly similar, they're not the same. The big question on your purchase is, "What will you use the tool for?" If your woodworking is going in a direction that requires cutting thick stock, such as prepping large bowl blanks or resawing wide boards, an upgrade to a 14″ band saw is a good idea. Along with the greater capacity comes a larger motor that will help horse through heavier cuts. Remember that the thickness capacity on many band saws hovers around 6″, unless you go to a large machine or get a 14″ machine that accepts a riser block. A riser block is an accessory you can purchase that, once added to the body of the saw, increases the thickness capacity by another 6″. So, using a riser block, you could have a 14″ band saw with a 12″ thickness capacity. (By the way, 14″ refers to the diameter of the band saw wheels.) If your intended use of a band saw is to cut gentle curves in flat stock– for instance, a curved apron on the bottom of a piece of furniture, wheels for toys, or prepping small bowl blanks, you'd probably be OK keeping your 10″ band saw.
Scroll saws excel at cutting extremely tight curves, including 90-degree corners. When the right blade is used, they leave behind an edge that requires little, if any, sanding. Thickness capacity on most scroll saws top out at about 2″. Scroll saws are capable of pierce cuts, meaning an internal cut, made in a piece, with no entry or exit cut. This can be done by drilling a hole in your material and threading the scroll saw blade through it. This cannot be done on a band saw.
George Vondriska
Managing Editor
Got a woodworking question you need answered? Comment or Email us at editor@wwgoa.com.