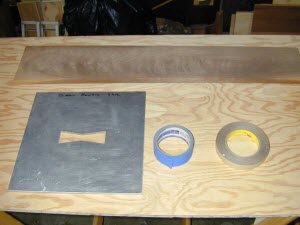 My wife saw me struggling to remove double face tape from an aluminum pattern I used for cutting a wood part. She suggested I place painter's masking tape on both surfaces first, then use the double-face tape to attach the two pieces.
When finished cutting the part, simply separate both pieces, remove the painter's tape with the double-faced tape stuck to it, and you're done. No clean up and both pattern and wood are clean! I use this method all the time on my shop projects.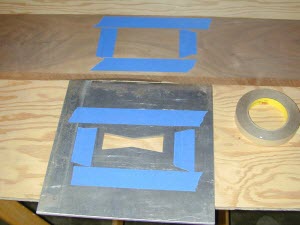 Attach Templates For Easier Removal
Here's how it's done. Gather your wood, template, painter's tape and double-faced tape. I use 3M brand double-faced tape, but any good, thin double-faced tape should work. Do not use foam backed tape as it allows for too much movement between the pattern and the wood.
Apply low-tack painter's tape to the surface of the template as well as the wood, making sure they will mate fairly close.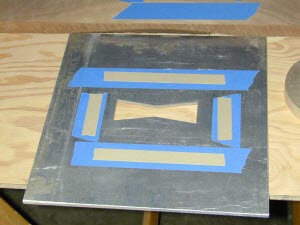 Attach Templates For Easier Removal
Apply the double-faced tape to the painter's tape on the pattern. This photo shows the double-faced tape on the painter's tape, but the backing is not pulled off yet.
Remove the backing from the double-faced tape, align the pattern to the wood and complete the cut.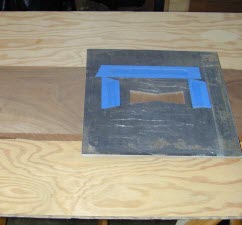 Attach Templates For Easier Removal
When you're finished cutting the wood, remove the template and the double-faced tape from the wood. Note how cleanly it comes off of the wood. The painter's tape also removes easily from the template making cleanup a snap.
One word of advice: you do not need to use a lot of double-faced tape because you don't need it in all areas of the template or material you're working on. As you can see, I just use it where I think it is needed most, and not all over the template and material. This method can be used in many applications where you need to hold something secure for a short time, such as hold something on a drill press (stop blocks to drill multiple pieces), or even something as simple as a stop block or gauge on a table saw for cutting a few pieces of wood to the same length.
Photos By Author
Harold Stewart is a registered member of WWGOA.

One

Response to "Attach Templates for Easier Removal"